Sims 3 season hooray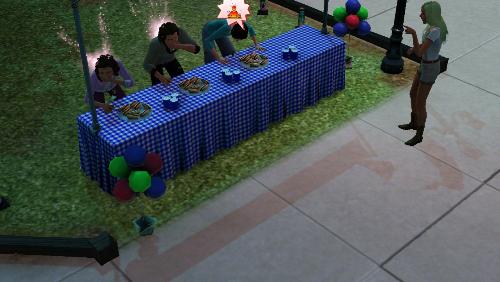 United States
6 responses

• United States
20 Nov 12
Yea, I know you are having so much fun playing with it. I got mine since it first came out and have been playing with it every chance I get. I love that game and have so much fun playing with all the seasons and all the fun things we can do with it now. It is so much fun. I love going to all the festivals. I have only run into aliens when they come into my yard. I want to get abducted by one though

and well that hasn't happened yet. Oh well, I hear that it just happens randomly, so I'm randomly waiting around to get abducted.

Hope you enjoy playing the game though as much as I have. I too have been having some glitches, but I'm hoping they too get fixed. But it hasn't stopped me from playing the game for sure.

• Calgary, Alberta
20 Nov 12
try to collect those space rocks, like the meteors then make a male sim who have them on their inventory use the telescope all day long, he must be a loner too. I think that s what the producer said in a live broadcast before. male pregnancy is really funny, I bet that is the reason why you want your sim to be abducted.

• United States
20 Nov 12
Trisha ,,, Yes I am having a lot of fun lol , If I was in America I would have tried to get it faster also . I just finish downloading some new mods , hoping to fix a glitch I am having when gardening . I hope I get abducted also lol . Yes we cant make the glitch stop us from playing .

CaptAlbert thanks for the info , I didnt know we need the space rocks .I agree male pregnancy is really funny lol ? Will alien children will be able to married other alien sim? because in sims 2 they couldn't .

• United States
21 Nov 12
Aw okay, I guess I'll have to make him a loner and look for space rocks. Thanks. I'll have to go and try that out now lol

. Yeah it is funny when the guys get pregnant and I'm wanting an alien baby. I've been downloading a couple of mods myself silver, hopes it fixes some glitches it would definitely be great.



• United States
21 Nov 12
I enjoy playing it a lot , its just nice and different from most games .

• United States
2 Dec 12
Yes it help to relax you , clear your mind while you play .

• United States
20 Nov 12
I really want Seasons, it looked like it had so much cool stuff in it. I've only been playing Sims 3 for a few months, and I have no expansion packs. I don't know how the game will run if I get expansion packs because right now it runs okay but it usually crashes every once and awhile. If I were to get an expansion pack, I think Seasons or Supernatural would be the first on my list because I just love the features I saw available in those.

• United States
20 Nov 12
Yes its nice , a lot of new things to do , flowers blooming in your yard and fun festivals. The best expansions in my opinions are , late night , supernatural , season and ambition . The two you selected supernatural and season are great . You could try using a mod to refresh and clear your town to stop the crashing . I have not experience any crash and you should try and check if there are any mod you running in the game that may not match your game update.

• United States
30 Nov 12
I'm not running any mods or custom content. Too paranoid.

Though I have heard of mods that supposedly help the game run better. I'll have to look first. I've not had great luck getting 3rd party software to play well with official game software in the past.

• United States
2 Dec 12
You can try , you will always have to keep the mod up to date if you wish to continue used it . You could used the mod then remove it from your game .

• Philippines
20 Nov 12
Argh, i want the sims 3 so badly but my computer doesn't have enough capacity for the game so i had to settle for sims 2.

But it's alright. sims 2 is good too.

• United States
21 Nov 12
I loved sims two , i had the complete collection its quite fun . I like that you can go to university in it and open business and run it . I hope sims 3 will be able to operate business like sims 2 one day .

• Philippines
6 Dec 12
I also miss the Open for Business EP. I've been meaning to install Sims 2 on my computer also but I think some of my CDs are too old and can't be read anymore. So sad. Don't get me wrong, I love playing Sims 3 but sometimes I get a bit nostalgic and I want to play the Sims 1 and 2.

• Philippines
20 Nov 12
Ohh wow congrats

I must have it also. I love playing sims all of them but since it is the latest I will try to buy the season expansion now.


• United States
20 Nov 12
Thanks yes its a nice expansion . I am a big sims fan also , I have played all three sims games

• Philippines
6 Dec 12
Same here! So happy they finally, finally, FINALLY added weather to the Sims 3. I think I've been wanting that since day 1. LOL. I was a bit fan of the seasons in Sims 2 so naturally I missed it in the Sims 3. Anyway, I haven't been abducted my aliens just yet. Perhaps I should push my luck and make a male Sim use the telescope every night so I'll end up with a pregnant male sim with alien babies!