bali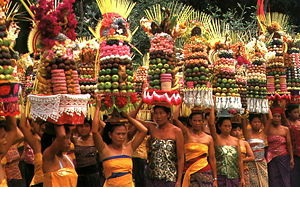 Indonesia
November 20, 2012 6:23pm CST
have you ever been to bali before? if so, what do you think about bali? I'v been there four time, and I really enjoy the culture, foods, beach and also the sun..I think bali is really one of paradise islan in the world.. how about you?
4 responses

• Belgium
21 Nov 12
Good evening dea mylloter friend , to be honest with you , i am currently living accross the worl from Bali , but if one day i will get to winn the lottery then thats where i'l do my first visit , first because i love exotical places , but not only , i cann verry eassilly fall in love with mountains ; and i surely love to do camping , but as regarding Balli , honestly it would need me alot of money to be able to do such a voyage , but i am trully happy for you to hear you had enjoyed yoursellf over there. I wish you a nice evening dear EthnicBilly HosmanF,

• Indonesia
21 Nov 12
I wish you can visit bali too, hopefully... Bali is trully a most wonderfull Island I ever seen.. But, now there are to many visitor there and sometimes it's not good for bali and the people.. the people now has slowly change..

• Philippines
21 Nov 12
i love that place well i like the food as well the people are very nice and friendly i love nasigoreng meal its yummy and the sinanggoreng i love the sea food i love jimbaran and the market hahaha i brought 1 short its cost me 125k rupiah all in all i love bali i will go on holiday next month i will try Thailand want to have a nice memories there like i did in bali


• Indonesia
21 Nov 12
wow, I think you've enjoyed your time there. I'm glad for u.. If you visit indonesia try to visit jogja to, and if I have a time, I'll guide you in jogja:)


• Indonesia
21 Nov 12
thanks for the comment.. I hope you'll be there soon:)

• Malaysia
4 Dec 12
Bali is one of the most popular destination in Asia. It is relatively cheaper and it has so much to offer. I was contemplating to visit Bali too, but a bit worry about safety since quite a number of bombings incidents there. I think I should get some friends to come along and have a wonderful holiday there. Bali - the paradise!

• United Kingdom
21 Nov 12
Bali is an island in beautiful Indonesia and have only visited Sumatra in that lovely country. Each island in Indonesia is very different. Island hopping from Bali would be a wonderful trip. I know Bali is a small island with paradise like tropical beaches and it has fascinating places to see inland. A film is called Eat, Pray and Love. It is set in beautiful Bali. It has Julia Roberts in it. I have seen that film and enjoyed it. I would love to visit the gorgeous tropical island of Bali. It would be the ideal stopover on the way from the UK and Australia along with Thailand.

• Indonesia
21 Nov 12
Thanks for comment. I hope you'll visited bali soon,I if you have time dont forget to visit jogja to, and I'll glad to guide you there:)