Who is the women's tennis player of all generations...anyone?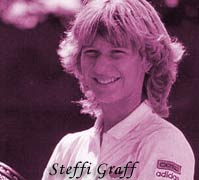 India
November 22, 2006 5:57am CST
Many of Mylotians have watched women' s tennis right? now, who do you think is the greeatest of all women's players till now...is it Martina Navratilova....Steffi Graph....Billy Jean King....who do you think is greatest here and who is your favourite...give me your views here?
6 responses

• United States
19 Dec 06
for me it is a tie between steffi grapgh and monica seles. i met steffi in person at a mall in flroida she was so sweet and i got her autograpgh. i am actually in a newpaper article at age 10 for winning a huge tennis tournament and in the article i stated my dream was to meet steffi, so luckily my dream came true. i played prof tennis till age 18

• India
21 Dec 06
Well...Congrats on meeting Steffi and i should say you are lucky to have met your idol. its your view and monica seles was also a good player and stil she is..But, i think after she got stabbed at the back, she is not the same monica we have seen before...so, altogteher, steffi graf remains my all time favourite in women' tennis..i have watched almost all matches of steffi graf and to tell you she is the most dominating player till now i have seen.... Anyway's, thanks for responding

• United States
15 Jan 07
yes i know and boy was i upset when that happened to monica and you are 100 percent correct - she was never ever the same. but i do remember the monica before and i do truly believe it would have been abig fight for number one if that didnt happen to monica. well i envy and respect both so much for what they have acheived and for thier talent!

• India
17 Jan 07
yes, i do agree with you here as monica would have been a bigger threat had not that stabbing incident happened inn her life and thatw as worse of a kind as she was really going stronger at that point of time isn't it? anyway's, steffi was ultimate palyer of all geenrations for me... Anyway's, thanks for responding

• India
16 Mar 07
steffi graf is also one of my favorite tennis players.i think tat she is one of the greatest tennis players of all time.she not only created a lot of records but also inspired a lot of youngsters in her own country as wellas abroad to play the game.i wasfortunate to see her play at wimbledon

• India
17 Mar 07
Yes, Steffi Graff was one of the all time greats and to see her quit quite early is also strange and sad isn't it? she has too many fans across the world and many youngsters have come after her exit, but still no where near to her and she remains the greatest player of tennis and you should be really lucky to have witnessed live match of hers and that too, wimbeldon and i envy you for that.

• United States
18 Feb 07
Tennis is one of my favourite game. I have a bunch of favourite payer in this game. But I always liked Steffi Graph more, I think she is really a great tennis player.

• India
18 Feb 07
Yes, Steffi Graf is the greatest tennis player and is missed by all tennis lovers all over the world isn't it? she was the most dominating players i have ever seen and undoubtadly world number 1 at her time and even now she is remembered as the greatest tennis player in history isn't it? she had more fans than anyone in tennis.. Anyway's, thanks for responding

• India
17 Feb 07
I will certainly go with Steffi Graf. She won 22 grand slams in a span of only about 12 years... the others took well around 16-20 years to come anywhere near her. I loved to see every aspect of her game!! And yes, you mustn't forget Monica Seles. Had she not been stabbed by that maniac, she might have taken Steffi's position today.

• India
17 Feb 07
Good that you are also liking Steffi Grsff and nice to hear that and indeed Steffi was an amazing player and i am really missing her matches and sometimesi do watch some of her old matches which is shown in espn or star sports once in while.Steffi was more of agressive and more dominating than others and Monica was also at peak form when she got stabbed and i also do agree.But, Monica reaching Stefi's heights is just logic here and i really cannot comment on that

• United Arab Emirates
19 Dec 06
well even i like Steffi Graph shes nice..and i actuly like her alot!

• India
21 Dec 06
She was the most dominating of all the players in her era isn't it? i have watched most of her matches and i loved the way she approached her game.Most of teh times she used to win but in some matches, she used bto lose because of her own faultsand i used to feel sad for that...... Anyway's, thanks for responding

• India
23 Nov 06
he....thank you...happy to know that you are also liking steffi graff.She was one of the top women's player the world will never see for generations....in my list of favourites, she has to be at the top....