Can you tell me what my dogs breed is?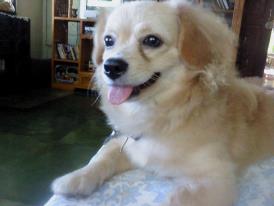 Philippines
4 responses

• Romania
25 Nov 12
Hello Cgicale, I am glad that, despite the disappointment your dog is not a Shih Tzu, you still love her and want to keep her. There are many people that decide to abandon their pets once they realize they have been cheated. Unfortunately, this is the risk when you decide to buy a dog online. People should learn that dogs are not objects and they can't be bought online. You should go to the breeder, see both parents and find out about their health and temperament. Only if you like what you see there, you buy a puppy. Now I hope you learnt something from this experience and you won't repeat the mistake. As for the breed of Sophie, I don't think she is from a particular breed. In my country, dogs that looks like Sophie are called 'Pichinezi'. They look like some kind of small spaniels but they have the size of a Pekingneese, that's where they took their name from. What I know for sure about this dogs is they are really healthy dogs. I rarely saw such a dog in the vet's office, though they are the most common kind of dogs in my country.

• United States
24 Nov 12
She's definitely not a Shih Tzu, as they have the little pushed in faces. As mrsuniega said she looks like a mixed breed. You were cheated, in a way. You paid for something you didn't get but on the other hand you have a beautiful little dog and I'm sure you love her very much and that she loves you, too. Sophie looks like a very sweet dog. I don't know what she is but you're lucky to have her. People that would lie and cheat like that don't deserve to have animals. I'm sure she has a much better home with you.

Maybe someone who knows dog breeds would be able to tell.

• United States
2 Dec 12
You have to work on making her realize that mean behavior is not acceptable. Otherwise as she gets older she's liable to bite someone. They need to be trained when they're young. Those little Shih Tzu's are darling dogs but they can be mean. I used to know someone that had one and it was darling but sometimes mean. It bit me on the nose once. A little training will fix it.


• Philippines
25 Nov 12
She's probably a mixed breed. Not really sure but she is really cute. I think she is a mixed Pomeranian, Shih tzu and papillon. But definitely not a pure breed shih tzu.

• Philippines
24 Nov 12
hi cgicale, your dog doesn't look like a shi tzu or a lassa. I guess its a mix breed of dogs. Im not really sure about the breed of your dog. a shi tzu and lassa sometimes have the same look they are furry, small and belongs to toy dogs. your dog looks like an american eskimo dog or maybe it has a shi tzu blood.