A gift for my husband

United States
November 25, 2012 2:25am CST
Yet another discussion about my adventures in Christmas shopping on Black Friday. One of the purchases that I ended up making was a new comforter for our bed. Now, this is something that I had mentioned that I wanted for Christmas, but I ended up buying it with the intention of giving it to my husband for Christmas. The reason that I decided on that is because of the fact that we will both be using the comforter in our bed room. In addition to that, I really don't have any clue what else I could get for him this year (his dad took away my original idea on Thanksgiving Day when he just gave Tom a 300 piece Mechanic's Tool set out of the blue). This leads me to the purpose for this discussion. Have you ever been guilty of buying a gift for your spouse or significant other just because of the fact that it was something that you wanted as well? If you have done this, what was the gift that you purchased for him/her (yourself). I'd love to attach a picture of the comforter that I got, but I really don't want to get it out yet so that I could take a picture.
9 responses

• India
26 Nov 12
I have never gifted anything with me in mind

It has always been something exclusive!


• United States
27 Nov 12
I suppose it wasn't so much the gift that I had myself in mind for because we had both agreed that we needed a new comforter. It was more the design, it is a purple color-block comforter. I'll share a picture after we've opened it up after Christmas.

• India
27 Nov 12
"
Have you ever been guilty of buying a gift for your spouse or significant other just because of the fact that it was something that you wanted as well?
" My response was in reply to what you said and I assumed you felt guilty!


• United States
28 Nov 12
I only felt guilty because of the fact that I know the color and design that I picked was more for me than for him. However, not because of the actual gift itself.

• Holiday, Florida
25 Nov 12

done it quite a bit through the years. one year i actually bought a nic nac i liked for John, my late hubby and another year a tree decoration


• United States
27 Nov 12
I am so glad to learn that I'm not alone with this one. It really does seem to me that the hardest people to buy a gift for are the people that you are the closest to.

• United States
27 Nov 12
When I give an IOU gift I wrap it in a package so the person receiving this has something to open under the tree. We have a rule that when Ii am going to buy something I want for both of us we agree before hand, that way both of us feel we have a choice. it seems to make it even more special, and there are no hurt feelings. Merry Christmas to you both.

• United States
28 Nov 12
I'm kind of doing something similar to giving my daughter an IOU for Christmas. She is difficult to shop for when it comes to clothes so I've decided that instead of buying clothes for her this year, I'm going to be wrapping up a little bit of money for her and then I will take her shopping right after Christmas when she can pick out her own clothes.

• India
27 Nov 12
That's the best thing you could possibly gift your husband because it would make you both feel warm and happy. And I bet he would gladly share it with you.

. We will await the Christmas time for the snap though.


• United States
28 Nov 12
I know that we are definitely both going to love it because it is going to be something that is warm and comfy for us. Now the only thing that we need to make our bed perfect is that we need to get a memory foam mattress topper. We've been wanting one for a while now and since our mattress is getting older, it is definitely something that we want.

• Philippines
26 Nov 12
Wow! how sweet of you. I don't have any experiences like that.I gave my husband some presents but it's only him that can use it, like men perfume, silver necklace,shorts and shoes. But I do buy something for my daughter that bought of us can use. :D, I think that's one of the advantages and yet disadvantages of having a daughter. Both of you can use, but sometimes some one needs to sacrifice not to use the thing because the other one wanted to use today.

• United States
27 Nov 12
Actually, this hasn't been too much of an issue between myself and my daughter. There are some things that we share, like movies and such, but I'm not a girly girl, so there is no need to share make-up and curling irons and such.

• United States
26 Nov 12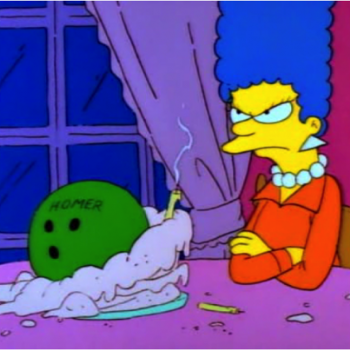 I'm glad you posted this discussion because you've just reminded me that I'd also like a new comforter and there is not time like the present to purchase one lol. Honestly I haven't brought anyone anything because I wanted it however I will say that if its something you both want then I don't see any harm in it. Your post reminded me of this episode of The Simpsons. Marge gets this lovely bowling ball for her birthday from Homer. lol

• United States
27 Nov 12
Well, we had both agreed that it definitely wouldn't hurt to have a new comforter. However, the one that I picked is one that I don't think that my husband would ever purchase for himself because it's purple. But then, I could be mistaken as well because of the fact that he was the one that decided to paint our bedroom purple when we bought our house when I'd decided that I was kind of tired of a purple bathroom.


• United States
27 Nov 12
Last year the gift that my husband and the children gave to me was a Keurig coffee maker. I absolutely love that thing, it is perfect for me because I don't drink coffee all the time and when I do, there is no way that I would be able to drink an entire pot of coffee.

•
25 Nov 12
That sounds like a great gift, at least you know it is a gift that will be used.I have never got a gift for someone that I know that I would use it as well.I never know what to get some people for christmas, so I tend to try to think of things that they could use or need. I hate it when people steel my ideas of what to get people and also copy the idea, as some times it gets rather annoying trying what else to get a person. I even buy for all the pets as well, lol.

• United States
27 Nov 12
I honestly think that this comforter is kind of funny because the last new one that we got, I had asked him for one and he went out and picked one, which I will admit was very warm, but it really wasn't a design that I would have picked. This time, he is getting one that should be warm and comfy as well, but it is a design that he would never have chosen.

• United States
25 Nov 12
Often I have found that those close to me are the most difficult to buy for, either they don't want or need anything or they need to much for the budget. I have even resorted to IOU's for future acitons instead of other gifts.

• United States
27 Nov 12
I know that if I was lucky enough to have an endless stream of money, then it wouldn't be hard at all for me to be able to shop for my husband. You see, the thing that he wants the most this year is shocks for his classic Beetle. However, I just don't have the money to do that for him right now. I have told him, however, that I will get him some after the first of the year when our tax money and hopefully my settlement should come in.