mY caT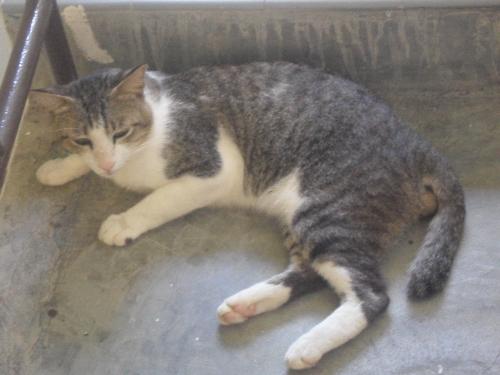 Malaysia
November 25, 2012 11:44pm CST
i took care a cat when i was doing my degree. so, after i graduate it been 3 month i leave him at the hostel. i also found he on my way back to hostel last years. now, he maybe around 1 to 1 and half years already. i miss him a lot. i cannot take him back to my home, because of transportation and my mum also will not agreed if i took him back. so, after 3 month to see him. i think he had quite good living while i'm gone. he already not scare to people, not like before, when ever he see other people beside me and my roomate, he will run away. but, look now he can go to cafe. so, like he already become more independent i think.
5 responses


• Malaysia
26 Nov 12
yes, if we took care them good, they will good to us too. i remember my neighbor about her cat. they kid like to tease my neighbor, they always hide her slipper. so, one day , when she want to go out,she said to the cat, please look after the slipper. few hour later when she come back home, she see the cat sit on her slipper, suddenly one of her neighbor come and said the cat bite her son. haha..then finally she remember what she said to the cat before she went out


• United States
28 Nov 12
I personally would not be able to do what you've done with your cat because I am one of the people that is of the belief that when you adopt a pet you are adopting them for life, not just when you can keep them. Therefore, I know that if I ever move, my pets will be going with us and if I ever end up living somewhere where the pets weren't welcome, then I wouldn't feel like I was welcome there earlier.

• United States
30 Nov 12
I totally agree with you. My kitty is like my baby. You would not give up a child just because you had to move,, so I could not fathom giving up a beloved pet.

• United States
30 Nov 12
Well, I do not think that I could ever give up my cat. Not for anyone. He is a special friend. I miss him even if I am gone for a couple days.

• Philippines
26 Nov 12
cat will learn eventually to live on their own it`s their natural ability i think.. i have a cat too that my parents don`t want me to have because he always eat our food even we keep it away.. so they let the cat live in the market where there lots of food.. and whenever we go to the market we always see my cat and his so fat now.. i think hes happy now with his new environment..

• Malaysia
26 Nov 12
haha

..look like you cats really get enough food there. ya, there a lot stray cat can be found especially in wet market i think. i know that he will survive. it just he never been far from me. before i left him, he really don't like other people except both of us. that why i'm so sad when to leave him .but, look now, he already adapt with his new world. being more independent i think.

• Philippines
26 Nov 12
I am also a cat lover eversince... I also have a cat right now, he is old now, but I love him. Actually, me and my family love him. So sad to learn that you left your cat... But I'm sure your cat will live its life to what supposed to be. :(

• Malaysia
26 Nov 12
its better i left him here rather than i take home. i was at my university, so , i'm sure there will be other people that love cat will took care of him. and look like he survive even i don't stay here anymore. i come today because i need to settle my administration that i will further study here.