Is the Hundred Islands of the Philippines Worthwhile to Go?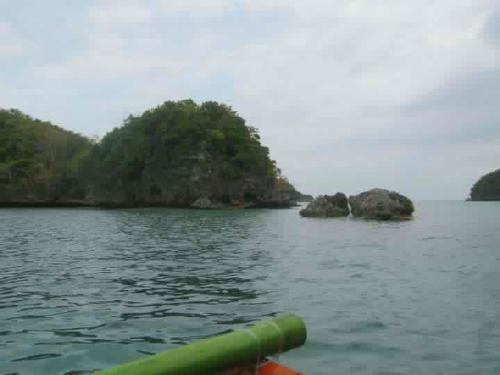 Philippines
November 26, 2012 7:23am CST
I and my family visited the hundred Islands of the Philippines in Pangasinan last year and we found it good but I think there are things that must be improve. I am a Filipino so I do promote the Philippine Tourism Industry and one of my way of doing that is to tell the World how beautiful our tourist spots are. Nevertheless, our authorities in charge of this place should not set back and relax, rather do something to renovate and innovate this wonderful tourist spots such as the hundred Islands.
6 responses

• Philippines
27 Nov 12
i have been to the hundred islands and well if you have been to palawan.. it is really not worth as much, through it is is wonderful to see quite a lot of mini islands... there isn't much fun when you are only in the boat and would just look at them. there is really just a place to stay and it wasn't that lovely when we went there too. going to hundred islands is just like being on a boat trip with lots of rocks / limestone formation. :D Though it is really special... Our country has a lot more to offer, really. =)

• Philippines
27 Nov 12
I've never been to hundred island but my cousins said that its a good place to explore. though there is not yet resort in the island there are place there to buy snacks since the island is not too big to build a resort. you can go there by touring around riding on a motor banca. island hopping is the prime why people want to go to the place.

• Philippines
27 Nov 12
Hundred Islands of the Philippines is really wonderful. One can take a ride in a boat and this will lead one to these islands. One can have a stop over in one island and swim along the island shore too. The water is very clear and clean.You can take a walk in the island too. It is really beautiful and a worthehile to go there. Thanks for this. Have a nice day!

• Philippines
26 Nov 12
The last time I visited the place was years and years ago when I was still a kid

. It was such a rustic place then, calm, peaceful, not yet commercialized. I don't know how the islands look now. I also hope the islands aren't neglected by the local government there as well as the PTA.


• Philippines
26 Nov 12
If I am one of the in charge of a place, I can immediately notice the place it self. While the place is yes beautiful, it is not as clean as should be. While I believe the spot is earning, the management should do the best to fortify and beautify the lovely place.

• Philippines
26 Nov 12
I have been to Pangasinan like 15 years ago... but not in the Hundred Islands area... i forgot the place but i really liked it there... the place was very simple and relaxing... it is not the white beach sort like in Boracay... but a beach is a beach where anyone can swim... as long as it is clean... There are so many thing in our country that should be improved first before we really promote this It's More Fun in the Philippines... but aside for government support... we also need a lot of investors... and it would take time to attract a lot of them...

• Philippines
26 Nov 12
You're right. It is easy to promote our country with articles describing how beautiful the tourists destinations are. However, we cannot deny the fact that there are things that must be done. I think the issue is not lack of fund, the issue is corruption.