...Oh my Fresh Spring Rolls!!..

Japan
November 26, 2012 9:10am CST
I was looking for some recipe online and found this very delicious looking spring rolls. I check my my stuff from the kitchen and I had all the ingredients to make and tried to make my first spring rolls and boom I made a ver delicious breakfast again! I will looking for more recipes online and try an learn to cooked them. Look at the picture for the spring rolls I made this morning??very delicious!
4 responses

• Chile
27 Nov 12
I don`t know why I cannot see any picture. Could you download them again? As for the recipe, you could tell me the ingredients you used. Mylot won`t be mad for that

. I love spring rolls! Yummy!!!

• Japan
29 Nov 12
I uploaded one picture above I am using my phone to mylot haha and the recipe was gotten online too hahaha
@sishy
, thank you for updating my spring rolls hahah

• Chile
29 Nov 12
I finally saw they. They look fantastic. Why don`t you give us the recipe?




• Japan
27 Nov 12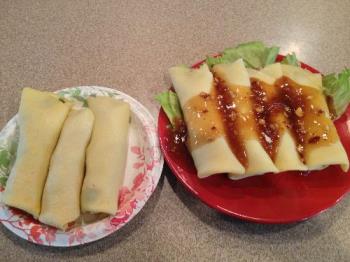 There you go sweetie I just didn't propert upload it haha

• Japan
27 Nov 12
They are just the same kind the other one is not finished it and it was placed in a paper plate haha the fillings are the same too I can't find the original feeling posted from the recipe and I just change it instead hahaha

• Philippines
26 Nov 12
hi there, it looks like your spring rolls are very delicious. just wondering if i can have one from here. as i loved to eat spring rolls since this is one of my favorite dish. thinking if i can order one plate


• Japan
26 Nov 12
Hahaha I would love to make you one but it will get spoil by the time you got them??

• Philippines
27 Nov 12
for that maybe, you can send it through an air cargo so it can reach my hand quickly.

as i missed eating this dish.


• United States
27 Nov 12
I've never made spring rolls, but I think I'd like to try. Right now, though, I am eagerly awaiting my boyfriend's return. Hopefully, he picked up the stuff I asked him to, so I can have the dinner of which I am currently dreaming... Of course, since I'm ready to eat, I keep ending up reading things about food and looking at photos of food. So typically me...

• Japan
29 Nov 12
These are good dish that you'll love! I got the recipe online and pretty sure you can get one too and try em??