Anime dollar??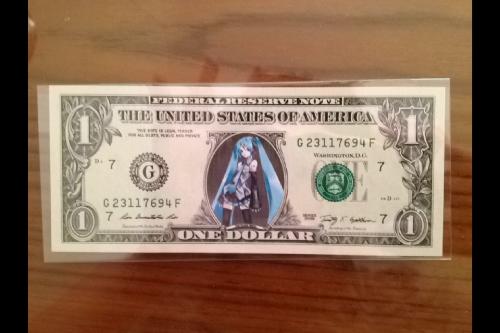 China
December 1, 2012 1:53am CST
Today I saw in a Chinese forum that there is a website called Celebrity Cash which provide individualized USD paper currency, and an act was passed in the Federal Fiscal Department in 1967 which allows these individualized USD to circulate in the US. A Chinese netizen ordered some USD paper currency with Hatsune Miku (leading female role of anime Hatsune Miku) instead of George Washington in the middle of the lettuce.
2 responses


• Colombo, Sri Lanka
1 Dec 12
I did not knew that it was possible for dollars. I don't think it is possible for Euros ; at least I have never seen an individualized Euro bank note. In France it is possible to order your own individualized post office stamps by just sending to the administration the picture/drawing you want on them, but a copyrighted drawing would probably be rejected, and I am surprised that a character from a cartoon has been authorized on a dollar, because it is probably also copyrighted.