It reached the destination

India
December 3, 2012 4:44am CST
I always send gifts for my friends abroad on festive occasions, on 30th November I had sent gift packets to friends in Philippines, one friend had birthday on 10th of December, the gift for her was Indian sari with matching blouse, and others were Christmas gifts. [b]My wife wanted that the packets should reach before our marriage anniversary; we were married on 7th December 1966. [/b] I am happy to learn that all packets reached the destination between 1st to 3rd of December; I was tracking the progress; all had reached Manila on 12th November. It takes a month by 'AIR PARCEL' I am happy all packets reached in time

. [b]Do you send gifts to friends abroad; is it via air, ship or land parcels? At times the postal charge for air parcel is more than the material inside. Please respond and share your views. [/b] Thanks in advance.
Professor 'Bhuwan'.
. 3/12/2012 [i][/i]
11 responses


• India
3 Dec 12
hi, Though this may be too expensive we should see how much care the person has taken to send the gifts to a far country . The affection is important. These people are really lucky.

• Philippines
3 Dec 12
Yes, I know but we usually do the other way.

Like when my father was still working abroad, and one of his co-workers will go home here in the Philippines, we will send him some stuffs he needs and wants when his co-worker will go back abroad.

Saves money, isn't it?



• Philippines
4 Dec 12
Wow! Very kind and generous of you. The Lord bless your heart, not most people will think of that specially with the global financial crisis the world is suffering right now people will always think of themselves before giving to others. I haven't done sending gifts via mail but I did sends gift through another friend who gets there. It's easier to do that since I don't have to pay and it reaches its destination in no time too.

• India
5 Dec 12
Sending through a person is the best option, you are safe. I have some students working in usa mostly, they visit india; they meet me; in the past i have sent gifts through them.

• Philippines
5 Dec 12
Yeah, so true! Sending a gift with a trustworthy person is the safest of all. I hope and pray that the Lord bless you with your kindness.

• Thailand
3 Dec 12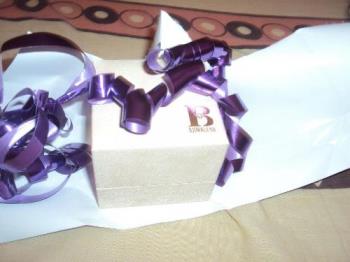 No, I am scared. LOL, but I like to receive a gift from you. You may try it to Thailand for a change. Yes, the price is my number reason why I don't like to send parcel. 3. I don't have enough budget to send to my friends.

• India
5 Dec 12
Well, am glad to know you like to get a gift from me, but i don't have your address.. Thanks for sharing


• Thailand
5 Dec 12

really? i will just give you my address and I will get one? whooo hoooot

am so lucky wheeeee...

thanksssss

• Philippines
5 Dec 12
I can give my address to professor!

I would love a sari or malong.


• Philippines
3 Dec 12
How thoughtful that you give and send gift to your friends.

I think the sari is nice. I would like to add that I received one just today from a niece who travelled. Back to the topic, the carrier that you used is good.

It only takes how many days to be delivered. They are really on time! I would like to share that a few months ago, a fellow mylotter send me free cross stitch materials from the US. I am not so sure but I think she used the postal system. The bad news is that it takes two months to reach me and the package was almost torn. :( The parcel from US have a stamp from the post office saying that my package is in good condition but it is different when they delivered it to me.

• India
5 Dec 12
hi I always use the postal service it takes one month only; private couriers are not safe and costly, i have the bad experience earlier Thanks for sharing your experience


• Philippines
5 Dec 12
Maybe the postal service will took a month in your area and another month in our country that is why it took two months for the parcel to arrive to me. :( I really think the postal system here in my country isn't good. An example is the postmaster gave the mails in the baranggay center that they think isn't important and they let the local officials deliver it. Mails like from pawnshops and demand letters. I mean, post office here shouldnt be like that. They should think that there are private couriers nowadays and internet that makes people to lessen use the postal service. And yet, they still give bad service?!

• China
4 Dec 12
tanks God, all packets reached the destination between 1st to 3rd of December. I have never send gifts abroad since I do not have friends overseas. If i need to send gifts abroad, I will air to my friends abroad since It may be fast and my friends can get my gifts in time. By the way, air transfer may be a little expensive, I guess.

• India
5 Dec 12
Dear betty One packet sent to Wisconsin in usa reached today, as confirmed by email. Yes air parcel is costlier lol.

• India
4 Dec 12
well its good certainly because it was able to reach the recipient just before on time and hope they would have been extremely surprised about it

• India
5 Dec 12
lol just now i knew the parcel sent to Wisconsin reached safe too, i am happy lol

• Philippines
3 Dec 12
I haven't tried sending gifts though i wanted to but they just told me , never mind sending , messages and wishes are enough. Good attribute you got ! Cheers.

• India
3 Dec 12
Hi, I have never sent any gifts outside India , though i have friends (not very close friends) we are in contact through social networking sites. So nice that you have friends and you care a lot about them. Good. Such friends/friendships are rarely seen these days.



• India
5 Dec 12
hi prashu Well if you like, send me a gift haha (joking)


• Philippines
3 Dec 12
hello professor, i love the gifts! i love the color of the sari. thank you thank you!!! and it fitted just right except for the length which i need to shorten a little

because i will step on it if i dont. it is true that postal sending is expensive but the personal touch is never the same as emails or text messages. there is one thing i have seen and compared with: in your country the couple celebrating, usually gives gifts. unlike here, the person celebrating receives.

id like to say that you are so thoughtful and i am very lucky i am your friend. ann


• India
5 Dec 12
Honey

As i said the sari and blouse is pure Sambalpuri silk, the weavers live near my home. Postage is costly no doubt but it is safe, each time i sent it reached you, though at your end they charged few peso as duty. About the gifts; yes the couples give the gifts; i receive gifts on such occasions only from my didi and mother in law


• China
3 Dec 12

I am glad for you. Sometimes it's like that, whatever we send arrives on dates we didn't expect. I usually send packages to my mom by air parcel. Yes, from China to Philippines it also takes a month. For this Christmas I didn;t send anything though I have been filling in a box since summer. I asked my mom to come to China on January so I decided not to send. Anyway I already asked a cousin who came here to give my mom some chocolates which I also gave to his family. Though it is late to send I will still send Christmas cards to my friends in the Philippines, the US and in Switzerland. I want to include in the card a picture of me and my husband with the Christmas tree. So since the tree has been decorated last night, I'll just have to buy cards and I'll send them. So happy for you!


• India
5 Dec 12
So you are working in China now

If your mom is coming there why should you send.. Thanks for sharing


•
3 Dec 12
I'm really hoping to ship some presents from the UK to Canada this year for Christmas, but I'm, leaving it a bit late and am short on cash. We shall see! Very worried about shipping fees though like you said. Great to know yours turned up, gives me confidence!!

• India
5 Dec 12
Welcome to mylot and my posts. Hope you can do it safely, but choose the safest courier Thanks for sharing