Messi is scoreless in last game of Barcelona in champions league

Indonesia
December 6, 2012 2:20pm CST
the last game of Barcelona (group stage of champions league) against Benfinca barcelona coach is asked when he seems push Messi play in the games that didn`t influence step of Barcelona... several key player of barcelona like Javier Mascherano, Iniesta, Xavi, Jordi Alba, pedro and fabregas is not played by Tito Vilanova..but Messi still play even he starts from bench it seems that Tito takes bigger risky with playing messi... and the end of the game, Messi get injured.. several journalist ask him in press conference...why Tito still play messi in this game? only for hunting Muller goals or another reason? even tito said that messi never talk about record of Muller, but the games show against what Tito said... it`s not good if one coach never take rest his key player..it`s not didn`t respect your opponent but sometimes football needs the smart tactics..Making messi rest and play in important games is better than pushing him for hunting Muller record.. What do you say about it?
3 responses

• Indonesia
7 Dec 12
Yes, i think you are right adhyz. Although i am not Barca fan, but i would like to say it's not good decision when Tito Villanova played Leo Messi against Benfica cos they were already slip away from group stage. I think Tito shouldn't played Messi cos this will be dangerous if Messi get injury and the fact was Messi got injury on his feet. Now, Tito hope Messi's injury isn't seriously


• Malaysia
8 Dec 12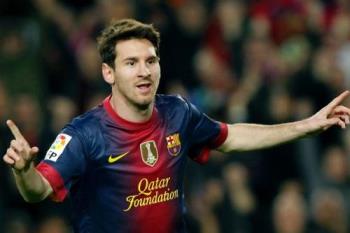 I agree with you. It was not smart to play Messi in the meaningless game. The Barcelona coach should have let a young and inexperience player of his squad to take that opportunity to get a feel of the UCL. Knowing how important Messi is to his team, knowing that Messi must be called upon to play in all the big and important matches coming up soon, that was a good chance for Messi to rest. But it could be the request from Messi himself to play in that match so that he could pursue the Muller record. I believe that was the most probable and logical explanation. Tito Vilanova is a smart coach. He knows the value of Messi and won't take unnecessary risks. It had to be Messi who wanted that record too badly.

• India
7 Dec 12
More than not scoring, the fact that Messi was injured and stretchered off was the major concern. But the reports from Barcelona state nothing serious and Messi will still be able to play the 4 games to equal or better Muller's record. So let's wait and watch if the Little Maestro can conjure up his magic and get the record. Cheers! Ram