The fastest way to stop your dog from pulling on leash ...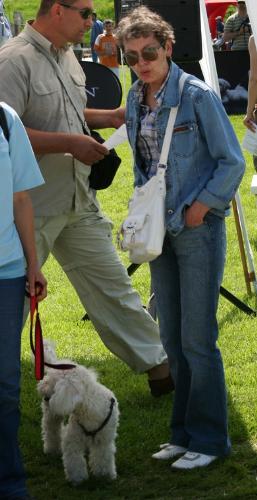 Romania
December 7, 2012 2:10pm CST
...is to stop pulling on the leash. As unbelievable as it sounds, it is true. I may have already mentioned my friend with Yoko, the Bichon Frise . For those who don't know, she's a lady in her 60's and she's desperate about her dog being safe. This spring I took them to a dog show. We were only visitors there. (I love being a visitor in canine shows, yet I couldn't say the same thing about participating in one.

) There were dozens of dogs of all sizes, but most of them were large dogs. My friend doesn't like large dogs too much and she was desperate thinking those 'giants' could harm her little love. I told her that dogs in canine shows are usually well behaved and there seldom happens to see dog fighting in this kind of events, but all was in vain. She was like desperate. She was holding the leash and Yoko was pulling like a Rottweiler. I never imagined such a small dog can pull so hard! The more she was pulling on the leash with fear, the more Yoko was pulling on leash. It wasn't something nice to see. So I took the leash and applied the same treatment I apply to my dog. I let the leash loose, holding only the end of it. Yoko was a little confused at first, but soon she started to walk closer, then closer, without any tension in the leash. For the next two hours we spent there, Yoko didn't pull on leash at all. She was like charmed. My friend couldn't believe her eyes. She never thought her dog could be like that. I explained her she's guilty, not Yoko, but I am not sure she understood how this happened. The theory says there is this "opposition reflex". As you apply pressure on your dog, your dog will resist and apply counter pressure. (By the way, opposition reflex occurs also with people. Just think of the last time you were told to do something - told, not asked!) So the next time you walk your dog, just try this trick: stop pulling on the leash. I am curious if any of you has noticed this opposition reflex in the relationship with your dog. Does your dog walk nicely on leash? If the answer is yes, how did you trained him/her to do so?
4 responses

•
7 Dec 12
Well, I think anyone that has trained their dog to walk on a lead to heal knows this, it is not a reflex so much as a game. If you pull on the lead, it is a game to the dog to pull back. In fact, sometimes when I am training the dog to walk at heal, either on or off lead, I will push its head away, instantly the dog tries to move in closer, again a game but one whereby it learns. Another technique worth employing is as the dog pulls to instantly turn and walk the other way all the best, urban

• Romania
8 Dec 12
Game for the dog or not, it works!

I also tried your other technique. In fact, I used something like that to teach Binne to walk nicely on leash. When she started to walk ahead me, I stopped and turned. Once she got at the end of the leash, the shock made her look back. She saw me with my back at her, so she might have thought: it wasn't mom who put that shock in my leash!

Now when she feels any kind of tension in the leash, she slows down and looks at me.

• United States
7 Dec 12
Well, I guess when I am completely better I will try that on Penny she still pulls. I even took a picture of my son walking each dog for a science project he did and then I cropped out the dog. Anyone who knows my dogs, can tell which is Penny and which is Ciara. Of course when I put them on the double leash, then both pull, that is even more frustrating..


• Romania
7 Dec 12
You must get well soon, not necessarily to try this trick, but to do that dance, remember?

I think the trick could work even with two dogs at a time, I remember I saw a lady dog trainer explaining how, in a video on youtube. I'll try to find it again to share it.

• United States
7 Dec 12
I think they get a sibling rivalry going on when they on together, but separately, they behave better, except Penny and her pulling...lol I know, I tried taking them once when I was sick and regretted it..:P


• United States
8 Dec 12
Yes, dogs need training. Even dogs who are not show dogs. It is important that dogs know how to behave on a leash, they know how to sit and know how to heal. This is actually for the safety of your dog. If they don't know how to come when they are called, it could put your dog in danger. It is important that your dog obeys and respects you because you are responsible for your dog. Training a dog is very important.

• Romania
10 Dec 12
So, you say it also works for humans? I don't think so. I thought about the last time you told me to bake some pancakes. Remember what I did? I don't think the result would have been different if you asked, instead of command.

Back on topic, I can say from my experience that the more you pull on the leash, the more the dog pulls. It is better to create short jerks in the leash instead of pulling continuously.