Well I did it and now I watch!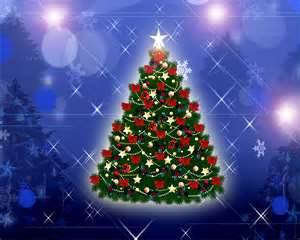 United States
December 7, 2012 5:25pm CST
Yup, I put up my christmas tree! My big guys (2 cats) are very inquisitive since they haven't seen anything like that in our apartment. One of them is a bit more interested in the other one and I sit here spray bottle in hand just waiting for one of them to try to climb it because they do love to climb. When I put the lights on they looked like 2 little kids seeing a Christmas tree for the first time. It was very funny to watch. So I'll be off to bed in about an hour and can't wait to see what happens. Will they come to bed with me as usual or will they tear down my tree?....I hope if they knock it down during the night I will hear it. Actually, I hope they don't knock it down and are finally tired of looking at it. Any bets on what will happen...lol.....
6 responses

• South Africa
8 Dec 12
You have just reminded me..... I must get one too! Perhaps new decorations too... I love the real tree... love the pine smell...

• Japan
8 Dec 12
Sadly, I've never had the comfort of getting a real pine tree in my living room for Christmas. I just set up a small plastic one instead, since I don't really wanna bother with waiting for a real pine tree to die, then hauling it out.

• South Africa
8 Dec 12
Yah, the smell of the tree may set on some allergies. Glad that we can choose our trees, hey? Now that I'm thinking, the real tree's leaves (thorns?) falls off as it dries.... It can be quite a mess to clean! I'm from South Africa, and the trees dries out quickly because of the warm weather we have.


• United States
8 Dec 12
I think the curiosity will eventally disappear, but I might be wrong, haha. All cats are so different so it's hard to say. I'm glad to see you're in more of a Christmas spirit now than you were a couple of weeks ago. If anything, they'll be funny to watch as they check everything out. Anything that looks like fun the cats will love and a tree to climb?..what more can they ask for. Who knows, it might work out great.

• United States
8 Dec 12
Aww, that's good they didn't do anything more than just move it over a bit, hahaha. I guess they were just doing some interior decorating during the night. Can you see the two of them talking to each other...no, it's not right, just a little bit more, ok, perfect!


• Thailand
7 Dec 12
LOL. congratulations. Actually, our cat usually sleeps in the branches of the tree... grrrrr and she broke already several branches. grrrr ... she is white and our tree is white, so whenever we don't see her around the house we know where to find her, just there in on of the branches of the tree. The dogs play on the christmas balls, so we will just hear.. clang and we knew that someone has it in her mouth. or sometimes we find the balls scattered everywhere the house without the pins anymore. so it is totally her toy now.

• Thailand
7 Dec 12
so you imagined how the branches now are. we need to repair them with sticky tape.


and be very very upset... but it is okay we all have fun with them.. even with the dogs. One of the dogs have this hording tendency, so we found a lot of stuff in her basket. she put everything she found in her basket, if we lose a comb we know where to find it. If we lose a sock we know where to find it. so her basket were full of christmas ornaments... and we will told her.. shaggy... you are again decorating your bed. javascript:__doPostBack('ctl00$cphMainContent$lbStart','')


• Thailand
7 Dec 12
and oh yes, they watch .. as we do it.. watching and i think they are trying to figure out.. Cat... hmm I know where I will sleep. Dogs... hmmm aha.. that's my favorite christmas ball so shiny...

• United States
8 Dec 12
My cat Smyles has tried eating the branches of our artificial tree while my female cats (Kali and Blackee) sleep under the tree. I will put up my decorations Sunday and if my cats want their Christmas stockings this year they will leave the ornaments alone. Last year Blackee climbed in the tree once and got caught in the branches and never did it again.

•
8 Dec 12
I have a artifical christmas tree and I will say that all of my cats like the fiber optic bits on the branches, they try to eat the optics. One of my cats climbed up our tree and I will say that it realised it was not that great or safe, so it soon got down. My cats got very bored of the tree after a few days, they just walk past it now and do not really bother with it.Good Luck.