Christmas presents under tree....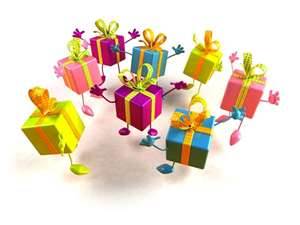 United States
December 7, 2012 5:31pm CST
I should have thought of this when I wrote about my tree but the thought just struck me because I haven't done it yet. I usually put Christmas presents under my tree but since I'm worried about the tree staying up at all what will they do when the presents are under it? Years ago my s/i/l had a couple of cats and for some reason one of them peed on her Christmas presents. She never knew why because they always used the litter box and never had an accident so why now? It was a crazy thing that she never figured out and it never happened again. So what am I to do? Should I wait until tomorrow to see how the night goes or put the presents under the tree tonight?
4 responses

• Philippines
8 Dec 12
ahaha naughty kitty.! well i think try to observe first the kitty, you can put something under the tree aside from those presents you have and figure out what will happen,so that when the kitty pee again there your gifts won't be damaged. I think you should try to teach the kitty not to pee on that spot.

•
8 Dec 12
I would put a few under there, rather than all of them, just to see what your cats will do, that way if they do pee on them there will only be two to sort out.Some cats will pee on things if they smell different to the other things that are in your house, some cats like to mark as in spray as well, others pee out side a litter tray if they are nervous, hope that helps.

• United States
8 Dec 12
I am not taking any responsibility for this, haha. I would put the presents under the tree but without bows. If you have bags, better yet as the tissue paper sticks up so they don't think they can get into them. I was surprised that my cats never bothered with anything other than sniffing and checking it all out, and laying under it. They never tried to climb it as there was no room between the branches but I always had a real tree. I don't know if that makes a difference on how the branches lay and how much room there is. Why those cats peed on the presents I have no idea and can't even imagine.