2014 years ago .... Mylot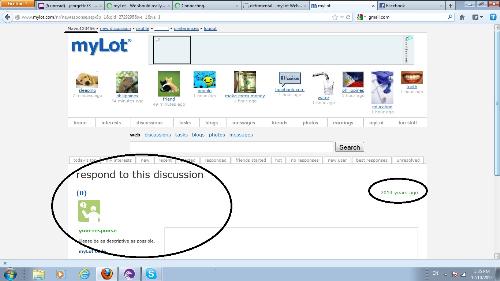 Thailand
December 10, 2012 5:02am CST
This shocked me. As I kept on telling to some discussions, I was commenting to mylot through my email notifications, so I will not have a chance of missing one from my friends. Sometimes, I find mylot too slow to load so what I usually do, is open around 6 tabs of discussions and responses. After replying from one to another, I close the previously answered one if my response has been posted. Then go to another tab. and so on... Then if all tabs are closed, go back to my email and start loading again notifications. and so on again... I was surprised to see a notification from one of tabs.. As the user name 0 and the date, 2014 years ago. Whaaaaaaaat???? Then I tried to go back where it came from but i just went to my previous tab. Weird.. I tried to open my trash to see where it came from .. none. I just wonder if anyone here have encountered this. Just a thought of sharing this something different. and this was just funny and strange.

9 responses

• Romania
10 Dec 12
Homaygad!!!!! You have travelled to future in a few seconds using mylot time traveller!! You could have looked outside how it looks in 2014 and took some pics.. Wouldn't it be amazing to have a glimpse of future? I do wish for it, but it's just impossible, I know. Well..so much for daydreaming, because we all know it was just a glitch.

• Thailand
10 Dec 12
I wonder.. how much i will earn ... for traveling so fast from 2012 to 2014. hehehe.. fantastic. 2 years advance... yes, what if I really traveled from that time on? wowww...


• Malaysia
10 Dec 12
No i think it's not a glitch, Mavic has travel to year 2014. I hope after this you travel to year 1947 which is Ms Deazil born. :D


• Perth, Australia
3 Sep
@Mavic123456
It is so weird seeing how MyLot used to look. I really like how it is now! And that is so odd!

Don't even know how that is possible! hehe but obviously a glitch!

• Thailand
3 Sep
hahaha I don't know if I was active last 2014, for some time I got very very busy with work here so I was absent for years. now it's 2018, so nice.

• Perth, Australia
3 Sep
@Mavic123456
I am glad you came back!


• Thailand
3 Sep
@VivaLaDani13
ahhh of course I always have the intention to come back. I like to write. I like to improve my English language skills.


• Cambridge, England
10 Dec 12
That post was a 'glitch'. Not only was the date field blank (or possibly negative) so that it calculated 'time ago' wrong but there was no subject and no text. It is something which happens very occasionally and is simply an error in posting. Admin will delete the post when he is next here.

• Thailand
10 Dec 12
thanks owlings... it is just cute.. it is just like.. back to the future. okay you may delete the post.

• Pune, India
26 Dec 12
Sorry i am not aware of it and not experienced also so far. But really it is shocking. There must be some mistake either of you or others. But its funny to read about that anything can happen.

• Thailand
26 Dec 12
Yup so cute. And funny, like back to the future. Hmmmmmm

• United States
13 Dec 12
I have never experienced this in here unless it was a glitch with my email somehow. So chances are it was a small glitch somewhere. I always feel that many times the best thing is to come in here and post as you can and just hope for the best.

• Thailand
13 Dec 12
LOL. that's just funny. This is not really a good discussion that will help people in life. This is just a funny one.

• Philippines
11 Dec 12
HAHA it's a glitch,don't worry about it.It always happen on the internet,But if I'm you i'd really get goosebumps, It's like I been taken to the future or something.Well don't mind it, Glitches happens in the internet everyday, it's just yours are funny and you even caught and screen captured it because the username was hidden and anonymous and posted 2014 years ago, I though you're just being sarcastic but you do have an odd glitch.

• Thailand
11 Dec 12
I don't really mind it, I just want to share some cute glitches.. and odd. most of the time we just get something like blank screen if there's a glitch but this time it has date... cute really. I tried to come back though to see if there is any tricks to make it appear. but no.. there is nothing there anymore... twilight zone like Miss Deazil told


• Holiday, Florida
10 Dec 12

glad i didnt see it. im paranoid enough with weird happenings

id be afraid it was a freaking omen.

jeesh cant imagine why mylot would have something that weird. i wonder if thats how long i will have to wait to ever load a pic again? lol

• Thailand
10 Dec 12
hahaha that's funny. but yes, I was just

but then since I was a computer science graduate I figured it out that it was a glitch. and it looks like funny and interesting to me. This what I wondered, if that was 2014, what year I was currently in when I opened it?, 2016? 2020?

Good evening.. and good morning here. have a great


• India
10 Dec 12
Hi mavic I have come across this glitch ,day before yesterday. At first i did not understand what was it and how it came. Then i thought it as glitch as that sort of things happen here on mylot quiet often.


• Thailand
10 Dec 12
heheeh so cute actually .. oh well, just to cut the monotony of love discussions.


• United States
10 Dec 12
That's very funny. And must be surprising when you first see it. But of course, someone with no sense of humor or adventure will come along and explain it logically and blow your whole discussion rather than just have fun with it for a while.

Maybe you slipped into the Twilight Zone for a minute or two. Sometimes mylot seems like it's populated with incidents that could be considered Twilight Zone-ish.

• Thailand
10 Dec 12
Yes, it was just like, back to the future thing.

It is going to be deleted soon...