Pacquiao's Number One Persecutor is his own Mom.

Philippines
December 10, 2012 6:35am CST
Mommy Dionisia, Manny Pacquiao's mom, is a devoted Catholic and she always prays at those saints and makes him wear a rosary whenever he had a fight. But during his last fight with Marquez, it was different, Pacquiao changed his perceptions about God and is able to find a real relationship with Jesus when he became a Christian Born Again. I will emphasize here that it is not a religion, but merely a requirement, to go to Heaven. It is said in John 3:3. (It is also a better way to have a real relationship with God. Again, it is not a religion. We don't even have a religion, but a relationship with The Almighty.) Anyway, his mom kept saying that he lost this fight because he changed his beliefs. I think the argument is considerable. I think God really let Manny to lose because Boxing in a way is a form of gambling. And most importantly, it causes many people to bet against each other, wasting so much money. He has to give up everything to Him, and let Him handle all that work in order to follow Jesus. Let's be thankful that Jesus did not let him win. Even if so many people hated him because of that. Even if his mom did. He is experiencing persecution. Therefore, he is blessed! Matthew 5:10 says so. :D
7 responses

• Philippines
13 Dec 12
In my opinion he lose the fight because he over confident and being careless. There is no connection with religion here. He made up next time the rematch is done. If he win that rematch I don't know if people still saying there is a purpose why he win the fight or he win because he change his religion?

• Philippines
14 Dec 12
The rematch that he wanted, I really don't think it's a good idea. :(

• Philippines
15 Dec 12
You're right about Marquez' behavior, but I think almost all of the boxers are that way when it comes to Pacquiao because he is the most famous boxer now. Some people just couldn't accept defeat.

• Philippines
10 Dec 12
In everything that happens to us, there's always a purpose for such. This is what I believe in. Everything, good or bad, is sort of a test of our faith in God. And I think that how we handle these tribulations or joy is what makes us, well, good or bad Christians.

• Philippines
10 Dec 12
Yes, He sometimes chose to be away so He will know if we will still seek Him when He seems far away. If we are still clinging to Him, and not just Him holding so tightly to us. Plus, trials are needed to mold us to become the best "us." :)

• Greece
11 Dec 12
Cheers to this conversation, Cessybear!

This is what I love about mylot, sharing ideas!



• Philippines
12 Dec 12
Me, too. Just one of the many things I love about myLot. It's all bout sharing experiences, and opinions. Heh heh.

• Philippines
10 Dec 12
I had not expected that Mommy Dionisia can do that. I understand her she was just carried by her emotions. She was so angry. Hope she's calm now. It was just a fight, one is supposed to win and the other will lose. That was not for Manny. He accepted his defeat gracefully and how I wish Mommy Dionisia would also do the same. We can not blame one's belief as the cause for this. It was the will of God.

• Philippines
10 Dec 12
It is indeed the will of God. We were so happy when we knew that Manny lost his fight. And I was really blessed when I saw him smiling despite of his defeat. He really showed grace, I think he knew that it was the will of God. Because of his lost, God showed him that he is not meant for the world, but for Him. :D

• Greece
10 Dec 12
What a post! I truly admire you for this. This only shows that you are a mature daughter of God. I was also disappointed about what happened during the fight but I got even more disappointed when Madam Dionisia said those words on air(media). I might sound rude and disrespectful but this is what I though,'the mother only showed the world how immature her faith is'. And I think that Pacquiao just realized a bigger challenge and responsibility, not only to his social life but more importantly, his spiritual life.

• Philippines
10 Dec 12
To God be the glory. :D I agree with you. There's the term "a bigger challenge and responsibility." God did not said that the path toward Him will be easy. Instead, he said that we will be persecuted and be hated by the world, as it hated Him. It's not the easy way. So Pacquiao really is becoming a real Christian, I guess. God is molding him to become the best Manny Pacquiao ever through these challenges he is facing right now. He should praise God in this storm. :D

• Philippines
4 Jan 13
Though I think it's not a little factor but most catholics can say that it really affected his fight. Psychologically, even if Manny does not admit it, what his mom is saying is likely sticking to his head and heart. But for me, the loss is not about religion but his preparation going to the fight. He is destined to loss because he is also destined to be far greater than he was before. I just hope so.

• Philippines
11 Dec 12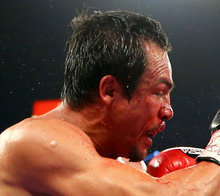 Manny Pacquiao's defeat has nothing to do with his religion. All is going his way till run six and Marquez had already a bloody nose and face but he gambled by being too aggressive and in the end he take off his guard and Marquez luckily sneak a right punch that take him down. Had he play it cool and go his usual play, I believe he could have knock Marquez in round 9! Have a nice day! Ciao!