Leftover rambutan, what to do?

Malaysia
December 11, 2012 7:53am CST
There's two rambutan trees behind our house, and it's in season. They are so juicy since it's raining season. There's lots of them, my family didn't know what to do with them. Aside from eating it fresh, we have made a jar of jam out of it. Dad also sent some to his friend's shop. But the price's so low since there's so much of it in the market, it didn't worth the work. Since the fruit didn't last for long, i think we might need to turn the rest into rambutan jam. Do anyone have other idea?
4 responses



• Malaysia
15 Dec 12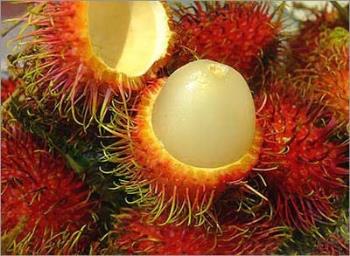 This is the first time I heard of rambutan jam. Care to share the ways how you did it? The rambutan is also in season here. Everywhere we can see the fruit is on sale. It is good if the excess fruit can be turned into jam so that it won't go to waste. To dry it to preserve maybe is also a way.

• Malaysia
16 Dec 12
I'm more than happy to share

First, remove the outer skin. Then, use a knife to cut the white, juicy flesh from the seed. Did it to the rest of your rambutan. Then, blend them with some water, just enough to make blending easier. Pour the mashed rambutan into big pot on low heat, and stir until it thickens. After that, pour in the sugar. The ratio that I'm using is 3 cup of mashed rambutan to a cup of sugar. Stir some more, then let them cool off before putting them in jar or bottles. It's easy, and you can use the same recipe for other fruits.


• Malaysia
13 Dec 12
We also have a rambutan tree in farm. There a lot of rambutan fruit we cannot take it all. Some we eat some we give to a people. That is a great idea to make rambutan as a jam. How about if you make rambutan as a juice? :D

• Philippines
11 Dec 12
It is great to preserve it into jam. The rest it may rotten, so you can chopped into small pieces. Then you can use as a composition on the soil.