Let There Be Light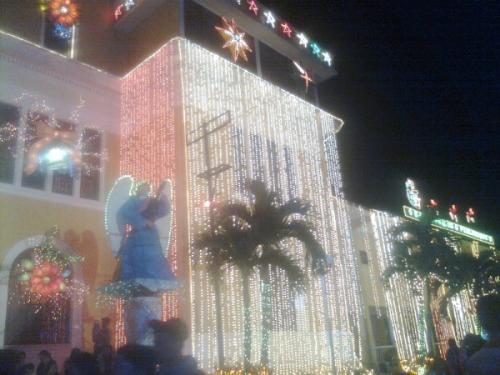 Philippines
December 17, 2012 11:00am CST
A Christmas seasons couldn't be fully well appreciated when there are no lights that glitter, glisten to every house, Church, plaza and trees. Do lights have great value in this yuletide season? Gifts, Santa, Snowman, mistletoe, cane and candies are among the things that are connected with Christmas. What about the star? The shining star from afar? The big light that it emits? Recently, our place has conducted its opening of lights to usher the 19 days of song, music and dance Christmas presentation. Kids and adults do an active part in this nightly show of their talents. The fireworks display that wow the audience of its amazing, continuous explosion of varied color sparklers in the air for 30-minute to one-hour duration, spectacularly open the activity at the full-packed plaza in the evening. And this will be repeated at the last day which falls on new year's eve, January 1. It's the guiding light that led the three kings of Orient to visit the stable where the Son of God is born. It is the same light of star that calls the attention of the shepherds at night, heralding the birth of the savior Jesus Christ. Light from the star has open the eyes and mind of every people who believe and has faith the greatest and perfect love of the Heavenly Father. Christmas lives. Christmas continues. Christmas never dies in every one's heart as long as the light of Christ is their, nurtured and recognized through works, examples, and by living it without reservation. Therefore, in the beginning God said, "Let there be light and there was light!" And this very light, hope shines eternal. Merry Christmas!
5 responses

• Philippines
18 Dec 12
Seeing twinkling lights of different colors and forms can really bring cheers and it somehow uplifts those grieving souls. When I feel sad or frustrated, and suddenly I'd come across beautifully orchestrated Christmas lights and decorations, it somehow takes away the negative vibes, and I could notice myself putting a light smile on my face.

• Philippines
26 Dec 12
Last night, as we drive from my mother's place to our house, about an hour drive, I was just quiet on the passenger seat watching at the colorful lights on the streets of the main road. It was relaxing.

• Thailand
18 Dec 12
I like Christmas lights. I am missing christmas lights actually... Last week, one time I went out of my house for no reason, to breathe and think of my response to one of the discussions, (If I like the discussion, I pause by the way and think of the good comment I will be posting on it). While I was out of my house, (very cold, dark and quiet night) I saw my neighbor's big house with a lot of christmas lights around ..... it all the way to their garden too. Wow, i was just like this ---

Their house is the only house here with fiery Christmas lights ...I was looking at the flickering and glowing multicolored lights and as the coldness of the night embraced me then... I felt a "miss". I went back to my notebook ... I did not post a comment here in ... what I did, book a roundtrip ticket back home. I don't really care about the price of the tickets.. I just did., LOL Thanks for the lights that I saw from my neighbor's house, all the while I was forgetting about christmas since there is no christmas here and since I will not go home. I conditioned myself not to be affected of my nieces' and sisters' request for me to go home. Oh yes, I am good in self conditioned...I should not be sad and not miss the christmas and nothing here reminds me of christmas (except the extremely cold weather).. Those lights... those lights... just told me,
hey, it is christmas time, it is the time to celebrate his birthday and you used to do it with the people you love and who love you. Forget about the money... you will still earn them, but the time of togetherness it can not be earned anymore once you missed it.
Now, I will be coming home this christmas .. I will be arriving on the 25th of December morning, and people at home don't know that I will be.. It is just a surprise. Let there be light...God did not show me just a single light that I might miss seeing, but he showed me a lot of glowing lights, to clearly tell me... Merry Christmas, they are waiting for you, they miss you.

• Philippines
18 Dec 12
I was touched upon reading your post here. The flickering and glowing of multicolored lights of your neighbor's house so reminded you that it is Christmas time, that you should be home for Christmas with your loved ones. It's good that you've come across reading this post of mine and prompted you to surprise them. The Lord has touched your heart to spend again a "time of togetherness" with your family. Don't forget to tell us when you go home the happiness that your family might be having you back in the morning of December 25. Take care. Von Voyage!

• India
18 Dec 12
Let there be light,to guide the ones in spiritual darkness, Let there be light in us to help the poor,the unwanted and the needy, Let there be light to make us known about the darkness and the evil, Let their be light in us to surmount the evil and the darkness, And be a bright light for Jesus,to shine for others.Merry Christmas!

• Philippines
18 Dec 12
You see how important is the light in the life of every people. No one will stumble when there is light. No one will keep it or hide, for the light will gives off its illumination to shine upon those who are in darkness, those who are blinded with cunning of the prince of darkness. Jesus is the light in this Christmas, giving hope for everyone that peace will reign the earth when He comes soon.

• India
17 Dec 12
Thanks a ton for sharing this discussion. Yes u are absolutely right, let there be light everywhere and this is the essence of Christmas. There is light every where on the streets and in every house. It gives u a different feeling altogether. U can see the happiness on everyone's face and there is some excitement every where to spread the pious message of happiness, peace, brotherhood and oneness. I hope the blessings of Lord Jesus is present on every one. What say?

• Philippines
17 Dec 12
Light couldn't be kept, couldn't be hidden, but it shines to give proper direction to anyone. Like Christmas, light is important. Its influence to everyone is very vital. It brings the lesson of the love of God through Jesus, the central figure of Christmas season. Merry Christmas!

• Canada
17 Dec 12
i have to say that i love Christmas lights that people put up and you are right, the tradition of Christmas has gone through good times and bad and war and peace and has even caused waring people to stop fighting if only for a day (ww1 1914 there was a one day truce where enemies shared as friends). Jesus is the reason for the season!