i barely have time for mylot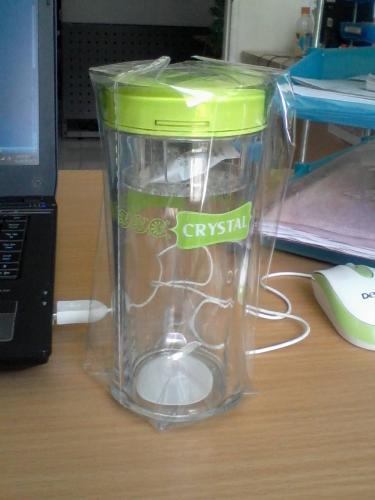 Philippines
December 17, 2012 11:31pm CST
Since yesterday, we were always at the mall, buying the prizes for our games and also for the raffle prizes, since what we solicited is only about 50 so we still lack 32 , so everybody can have a prize for our raffle draw. The prizes will have 1st, 2nd and 3rd prize. For the consolation prizes, we bought some nice crystal like glasses of different colors which has a removable strainer for the juice , priced at 149.00 pesos. Not bad, because they are so nice indeed. See for yourselves guys , a sample of one of some of the consolation prizes.
7 responses


• Philippines
19 Dec 12
Despite our full time jobs and works we make it a point to always come to Mylot to participate. This site actually enables me to relax, when i am able to share my thought, actually.



• Philippines
19 Dec 12
Same thing has happened to me. I have been very much buy these past days and after 14 days, this is the first time that I have checked on myLot. Good thing you have won some prizes, as for me, I have been in 3 different parties but I haven't won anything yet!


• Philippines
19 Dec 12
So you see, despite being busy, we always come back to Mylot, given the chance. No, i haven't won any prize yet my friend, because the party will just be tonight yet. I just showed you some of the consolation prizes.


• Thailand
18 Dec 12
Me too... I wanted here so much but my schedule is now killing me.


• Philippines
18 Dec 12
I guess, us employees are now busy for our own Christmas parties. Busy bying the gift for the exhange gift or Kris Kringle, or for our new clothes for the Christmas parties.

• Philippines
19 Dec 12
It is really a busy day for you my friend since you are one of the in charge in making those prizes, but i know all of your hard work will turn into a smile when you see the people who will receive those gifts happy to have that prizes.I also am busy nowadays coz we are putting much time on our practice for the dance competition, and since it will be held this saturday, we must really settle the costumes that aren't done yet.i hope e can make it till saturday! have a wonderful Christmas party out there
@

• Philippines
20 Dec 12
Yes that's true, jeztrose.

Last night, everybody was so happy because all of them got a raffle prize. WE were able to solicit a lot of raffle prizes. The cash were also used to purchase more raffle prizes. Electric fan, flat irons, microwave, washing machine, oven toasters, airpots , multipurpose cooker and the like were the raffle prizes. I got a desk fan from the raffle. And i got a flat iron for one of the two winners from amongst the matured employees like me, that were made to dance the Gangnam!



• Philippines
18 Dec 12
I am also a bit busy for these past few days. I miss a lot of mylot activities and only get the chance to visit the site late at night (most of the time) I haven't even started a new topic to discuss, but it's fine since I am enjoying commenting and reading to other mylotters topic...

The prices are nice...wish to have one


• Philippines
18 Dec 12
well, us employed people are busy these days in preparation for our Christmas parties, the gifts to give and the clothes to wear, jaiho. I too, like that one, if i can't have the grand prize or even the big ones.


• Australia
18 Dec 12
That's nice that everyone would receive a prize. The consolation prizes look nice too; at least no one would feel left out if they did not get the major prizes... It seems many are out shopping as you were and barely have time to myLot; it feels rather quiet here lately...

• Philippines
18 Dec 12
Yeah, everybody will have their own raffle prize, be it a grand one or not. I like that glass too. I will buy one for myself too, if ever i don't get one .

I guess, most of the employed are busy preparing for their Christmas parties too, sishy.

• United States
18 Dec 12
I saw someone at the dollar tree buying a whole lot of glasses. I was wondering what they were for.

• Philippines
18 Dec 12
Perhaps they will be giving them out as gifts, or as prizes, my friend.