how can i make my daughter walk earlier?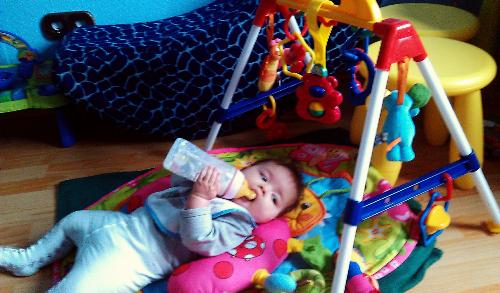 Germany
December 25, 2012 9:00am CST
My second child is 4months now. She's more active and more cryingful too,haha. But its normal. My 1st child was a little late walker, he walks when he was 1year old + already. This time, I want her to walk earlier than my other child. Is there any tips out there?
10 responses

• Bulgaria
25 Dec 12
I think you just have to let your child to develop. passes it will when the time comes. I have two children, twins. one of my passes of 10 months and the other is 1 year old that its up to the child. so just leave it as it is actively passages earlier did not worry! good day!


• Bulgaria
26 Dec 12
and I wish sometimes things can become fast friends but this is nature and we can not change it. importantly our children are alive and healthy and the rest will be ordered only. nice day! Merry Christmas!


• India
2 Feb 13
Thanks for sharing lol. All babies don't start walking same time, this i have observed in case of my kids and grandkids, leave her to develop of her own, you can buy a walker for her later, it has a circular handle at top, wheels at base and an adjustable sit, you can put a baby there, she automatically tries to walk.

• United States
2 Feb 13
Keep crawling Crawling is very good for babies. It helps with their motor skills. The longer they can be allowed to go at their own pace and learn on their own the better they will be off in the long run.

•
30 Jan 13
Children will walk when they are ready, my oldest walked at 8 months and only one took till 12 months to walk. Don't rush it they grow up way to quickly as it is.

• India
30 Dec 12
Friend no problem about walker because some child start walking late and some are early walking. hmmmm your second child is naughty crying, playing means your time is going fast nice...

• United States
28 Dec 12
There is a normal range for walking - between 9 months to 16 months. You can't force babies and toddlers to develop earlier. And it doesn't matter later in life if they learn to walk later. By the time they are three years old, it doesn't matter at what age they learned to walk. They will have all caught up to each other in their ability to walk, run and jump. If you try to force your baby to develop earlier then you will only frustrate your baby. You will put a demand on your child that could affect your relationship with your daughter. Just give your baby lots of room. Put your baby on the floor, on her belly and let her learn on her own. Get down on the floor with her and play and encourage her but don't demand or force her. When she fusses to let you know, she has had enough, pick her up and hug her. Better to tune into your children and let them develop on their own, rather than demand from them.

• South Africa
28 Dec 12
Liezel25, you need to relax and do not put pressure on your baby, please. Every child is different and should be treated differently. Let your baby develop in her own space and just enjoy her!

• United States
26 Dec 12
Lots of second children walk earlier because they see their older sibling walking. Now, my roomie's great-niece walked late, but she had a lot of problems. In fact, when she was 14 months old they had their son's 4th birthday party. At the party there was a little girl who was just a few days younger than the great-niece and I think that really was the first time her parents realized HOW delayed she was. She's now walking and talking at about the right level for her age, but it took some physical therapy to get her there.

• Guangzhou, China
26 Dec 12
In fact it is quite normal for a child to walk around 1 year old. It is not suggested to let the children walk earlier. Since it is very important for them to crawl on the floor. It is a kind of useful practice for them and I heard that this will be good for their improvement, too. Especially if you let your daughter learn how to walk so early, I am afraid that her legs will have a bad shape since her muscles and bones are not strong yet. So let her take the time and let it be.

• Pune, India
26 Dec 12
First of all welcome to Mylot and be in touch and share your views. Wish you a Mary Christmas and a happy new year. Now refer your question. In my opinion do not try to go against nature and a God. They are there always to take care of everything smoothly.Don't make comparison at all because it may be harmful sometimes. So take it easy and let it go by its own way. So wait patiently.