She was fighting from life full 13 days but yeserday takes last breathe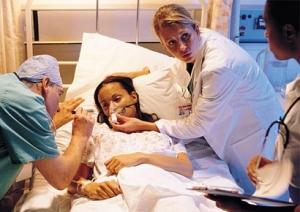 India
December 29, 2012 12:57am CST
A girl who was fighting with life yesterday she died in Singapore Hospital. I cant understand how police does their duty they announced the high alert in Delhi. Why I think noone can shouted on this event. Because now the condolence for girl is must. Her will power is more so she live till 13 days. I think women should take some steps against those cruel men..cross the cruelty limit I not understand after doing rape why the beat the girl by rod..Whats the reason behind this. Now double case runs on them rape with murder and now capital punishment should announce for them.
6 responses

• India
29 Dec 12
Yes,the innocent girl is gone.She left this world for ever at about 5 am.I am feeling as if my daughter,my sister was raped,severely injured and the murdered by the demons of our country.I am feeling deeply hurt and insulted.The girl was a medical student.Her parents had sold their only land property to enable her to become a doctor and then live an independent,respected life.I can only cry for her.My heart is crying.If we can't protect our sisters and daughters from these petty criminals,we have no right to live as a nation and be proud of it. Hanging is a mild punishment for these hated criminals.They should be made to beg for their life.They should be made to be chased and ruinning for cover.We can call ourselves a nation,a glorious and self respectful nation only if we turn into Taliban for these petty,fatal insects eating into the foundation of our nation. I am ashamed to be an Indian today.The government should be made to resign asap.It doesn't deserve to continue in office even for a moment.'Damini' was my daughter,my sister.She was raped and killed.I can't be silent. I don't know how I should express myself in a foreign language.Hope,you have got me.


• India
29 Dec 12
I don't know whether her name was 'Damini',but all news channels have been addressing her with this name. No such incident has taken place with my own daughter or sister,but if this has happened with this 23 year old girl,I am feeling as if she was my daughter or my sister.You,she and I have been the citizens of the same country and such we all are brothers,fathers,daughtersand sisters. The criminals should be hanged publicly and the property of their family should be seized with immediate effect.If the parents of these criminals have given birth to them,they should have brought up them as good and responsible citizens of the country.Since they have not performed their duty,their property should be seized immediately by the government. Only such stringent laws can make these demons think hundred times before doing such things with a girl.

• India
29 Dec 12
You are right.Girls are unsafe everywhere.My contention is that their safety can be guranteed only by the society itself.We can't depend on police.It's a bitter truth that there are places where police is no less than criminals.You can't expect police to be present everywhere.

•
30 Dec 12
To Surekharathi, The police was really unhelpful and in the other case the policemen even raped the victim when she was trying to report the raped happen to her to the police. I am sorry to say that but I think why all these happen is because the moral of the society is gone.



• Philippines
30 Dec 12
What is going on with this world ? Why some people no longer value women ? Didn't they know they come from a womans' womb ? Their mum is s woman , sister is a woman , grandma is a woman, why still they can do such thing to a woman ? Where is their heart and conscience ? I guess they no longer have that ! Useless people , garbage people. I think authority must have apply an equal punishment to this kind of people ! They must be 200% sure that this people will be put to jail , best even, they should be sentenced to capital punishment. So people who have same traits with this kind of people won't do same.

• Estado De Mexico, Mexico
29 Dec 12
hi, its really sad to hear what has happened,And I salute the girl for her willingness to fight for life against the devils. I will pray to god to give her the best place in heaven and let her soul rest in peace.

• India
29 Dec 12
Yes friend we all should salute her will power because this incident was cross the cruelty limit but she wants to live and tell her mother. Ma I want to live. The devils should punished the capital punishment. I also cried when post this discussion because she will live in our heart. The first time watch this the girl want to live even she knows this is impossible because all body parts was injured.

• India
30 Dec 12
It is was the first news that I got today and it made me very sad. Such incidents make me aggressive also. Last few days I have seen some changes within me and I act somewhat aggressive now, it is affecting my day to day life a little but I think it is normal because such an incident can make anybody feel like that. Govt. has to make the new law and I think the capital punishment is not sufficient. It should be something which can bring the real change. It is very important also to change the thinking of the people about the ladies. They should be respected just like a human should be respected. There is a need to uplift the thinking of everyone among us.

• India
30 Dec 12
Hi surekha bhabhi. Well it is really surprising to see such things happen. How can one be so cruel and heartless. Arent they educated enough to know what is the right thing to do and what not? I can not just imagine the plight of the family of that girl. Unfortunately we are living in a democratic country. Or else we could have come up with such a punishment that no one else would think of doing such thing in future again. Anyways have a nice day ... ~=SuperShames=~