Litter box...where is it?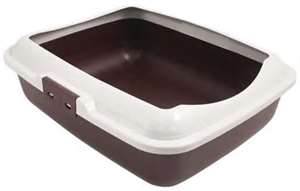 United States
December 29, 2012 1:29pm CST
I have a lot of closet space that I don't even use. I have a large walk in closet complete with a light! I have a larger sized litter box because I have 2 cats and I keep it in the back of the closet along with the container of new litter. It's out of the way and the litter I use is awesome because it doesn't smell at all. It seems like any litter that may be on their paws stays in that closet. I have nothing else in the closet except up high where there is a large shelf and I keep holiday decorations in boxes. I think they like their box in there because it's prettty private and out of the way. Where do you keep your litter box? Do you have a problem with your cats leaving litter all over the place?
6 responses

• United States
29 Dec 12
I kept a good size rug under my litter box when I had cats. I would just shake it out when there was some litter on it so it was no big deal for me. I would clean it 2 times a day so it didn't really smell and the cats were happy with that. A big closet like you have would be ideal. I had to keep mine in the bedroom but there wasn't really any problem with it so it didn't bother me.

• Canada
29 Dec 12
Each cat should have 2 -3 boxes each, they are very finiky and picky cats. We have more boxes than closetts here. All our boxes are in the unfinished basement, we have about 15 - 20 boxes. We also have one in the laundry room because my parents new cat attacks some of her cats, and they wont go down there to go. I put cardboard under it, so anything can get on there, then I replace it. My cats are very neat so no, I wouldnt have an issue with leaving them anywhere. I have one two in my room for my rabbit as well.

• United States
29 Dec 12
we have many cabinets in our laundry room. In one of the lowers cabinets we removed the door and put a large enough box to fill the entire space. we have three cats though our big boy insists on doing his business outside which none of us mind..

. It is out of the way, out of sight and not too smelly but we change the entire litter each morning so as not to get too stinky to begin with.


• United States
30 Dec 12
Well, we don't have any cats, but we have two very cute miniature rex rabbits. We have them in a cage in the entrance to the house (where it's warm) and they have a litter box in their cage. They use it too, which really surprised me. The kids let them out several times a day, and they are just like kittens. Thumper loves to lick everything and everybody. He also enjoys being on top of my daughters shoulders. Rex loves to nibble, he thinks everyone is a carrot. Now these bunnies are litter trained and will go in the litter box. We haven't really had the litter box outside the cage, so when we let them out to get their exercise and for some loving, they will go where ever they feel like going. It's a good thing it's dry, because it makes it easier to clean up.

• St. Peters, Missouri
29 Dec 12
I keep all our cat boxes in an out of the way hallway between our kitchen and garage. I just use the garage for storage, so we hardly ever use the hallway or garage. I have had a lot of problems with kitty litter. No matter how deep the boxes are, my little dumplings scatter the litter everywhere. Some of it is from when they jump out of the box and carry litter on their feet. But the vast majority of it is litter that has been pawed out of the box. I originally tried to stay on top of it by purchasing kitty litter mats to put under the boxes. I thought if the mats were under the boxes, when they sprayed the litter it would go on the mats and when they jumped out of the box, they would land on the mat and the mat would wipe off their feet. Wishful thinking! Of course it didn't work that way. The litter went under the mats and the cats quickly learned to jump over the mats on their way out. The top of the mats were probably the cleanest of the entire area. So I eventually gave in - sort of. I don't stress so much about the litter that goes outside the boxes anymore. I figure it's part of having cats. The area where the boxes are is confined. The flooring is linoleum. So now I use the three mats I purchased to completely cover the floor between their area and the kitchen. The cats would have to completely go out of their way to not walk on them - and they're designed to be soft to the touch - so they don't bother. The mats keep the litter contained in a small area and it doesn't get tracked throughout the house. I just sweep back there once a day or so.

• United Kingdom
29 Dec 12
We have our litter tray in the bathroom and yes we continually have the problem of our cat leaving litter all over the floor, the amount of times she scratches the grit and it goes everywhere! She is very fastidious about clearing up after herself and will spend ages pawing the litter. We have to hoover the bathroom on a daily basis, trouble is the grit gets trodden into the carpet around the house, as it gets picked up on the feet and shoes of everyone who goes into the bathroom!