What Makes New Year Enjoyable and Entertaining?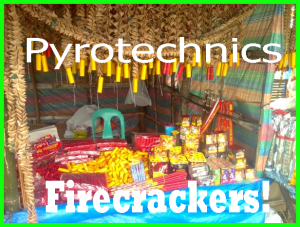 Philippines
December 30, 2012 8:46am CST
Chinese do use firecrackers and other pyrotechnic methods not only to welcome the inset of the coming new year, but to drive away evil spirits. And they do this usually in the month of February, 2 months late in our Gregorian calendar. While Christians like us have fun with these various made or style of firecrackers for a revelry, to welcome the new year with jubilation in a party, family gathering or reunion, and any celebration. Adults and the kids alike enjoy these new year "noise makers" which the firecrackers are the best resource and they are enhanced by some pyrotechnic works like sparklers, luces, fountain, Roman candle, trompillo, among others. However accidents really do happen beyond everyone's control. Therefore, the PH government is regulating the selling, distribution and production of firecrackers for they are too dangerous. Accident may happen beyond the control of anyone else, how much more with those vendors of firecrackers. Many lives have been reported lost because of accidental lighting of firecrackers by prospective buyers who are testing their firecrackers bought. After new year's eve, hospitals around the country are populated with victims of premature explosion of explosives like "bawang", "super lolo", and other unauthorized firecrackers. In spite of those deterrent incidences, there are still people who are not afraid to indulge in firing firecrackers and buying illegally made firecrackers. They still set aside a sum of money just to get a stock of their own favorite "explosives". What are we going to do with those hardheaded people? There is a law, Republic Act 7183, in our country that is so clear about the sale and distribution and even the use of firecrackers and other pyrotechnic devices, and their limitations and penalties. Thus, any violation of this act should be fine of not less than twenty thousand pesos (Php20,000.00) nor more than thirty thousand pesos (Php30,000.00) or imprisonment of not less than six (6) months nor more than one (1) year, and cancellation of their license and business permit. But yet, the small vendors are not afraid to selling unauthorized firecrackers?
3 responses

• Boise, Idaho
31 Dec 12
I find that traditions are enjoyable for me. I like to watch Holiday Inn, maybe have a drink, watch the ball fall at midnight and see the fireworks all around the world. Spending the even with family is nice although they are staying at a freind' house this year. But we will talk on the phone. We can buy fireworks here for July 4th but there are very specific laws on which ones we can purchase.

• Philippines
31 Dec 12
There are traditions which are wholesome, have a good effect on one's life and family. Like this one in new year, family stays together for a reunion, for a party and whatever they do just to gather the whole family. They enjoy much watching fireworks in their local place or they could see it in the TV, fireworks around the world. They're so amazing and splendid.

• Boise, Idaho
2 Jan 13
Yes, I watch fireworks from all over the world. They usually have it on one of the channel. China, Sidney, Hong Kong and such as that.

• Philippines
8 Feb 13
hi, for me celebrating New Year is more enjoyable with many fireworks,because New Year will not be happy at all if it is silent or no noise,and for every Filipino New Year is not complete when they don't do fireworks,many people always waiting to watch the fireworks made by riches people.

• United States
31 Dec 12
There are actually certain areas here called counties that allow the use and sell of fireworks. It is the city areas that they are illegal in. I have seen a million times people that have bought legally to use illegally. Most of the time it is also rarely enforced unless they are really causing a big disturbance.