our kitten was hit by a vehicle

Philippines
January 1, 2013 7:00am CST
one morning when i woke up, i saw our kitten lying outside our compound dead. clearly, it was hit by a vehicle. my mom was so furious about it she cursed whoever hit the kitten should die the same way. i was actually sad because it was the one i'm really expecting to grow old because it really looks healthy. a part of me wants to blame the owner of the vehicle who hit the kitten but most probably, it's pure accident. that kitten, at daytime, sleeps in the middle of the street. i carry it to a safer place inside the confines of our gate whenever i catch it doing so. our cats sleep outside the house so maybe the kitten slept in the middle of the road and the driver of the vehicle didn't notice it.
7 responses

• Leon, Mexico
9 Mar 13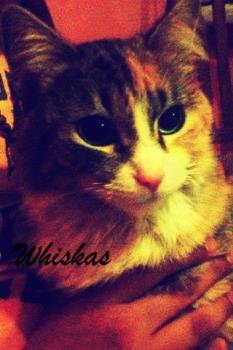 Hello Iluvu I´m so sad

to read about your kitten, it has happened 3 months now, I know what you would had felt. I have 5 cats, but one of them hasn´t come home in the last
32 hours
, I´m
anguised
for her. I had thought that maybe she suffered an accident. I hope not of course. I just hope that she has taken a good trip as she got bored a bit, and I expect that she returns soon.

I hope you can get another kitten. Rest in peace your lost kitten.
Blessings

Iluvu... dainy

• Philippines
9 Mar 13
i hope you cat returns home soon. it actually happened to our cats before. he's gone for days and then one day he just returned. he's a male so maybe he looked for a mate.

• Leon, Mexico
11 Mar 13
Thanks you Iluvu for worring about and your kind words, I hope so much that she comes back, I´m really sad and worried. Thanks your for your kind words. Blessings Iluvu... dainy

• Philippines
14 Mar 13
well, we both love cats and i understand how you feel. god bless!

• Australia
2 Jan 13
What I want to know is why a kitten so young was let out of the house? I don't know how it's done there but if you have a young kitten you should keep them inside and look after them properly. Some people here leave their cats out when they are older and they are a little safer but when I had a cat he was always indoors.


• Australia
2 Jan 13
Oh dear, like I said it might all be different in your country or maybe in your household but if you are not allowed to have your pets in I wouldn't have them at all. To me if you have a cat or dog they are your family, your child the only difference is that they are cute and fluffy and don't speak our language

But the pets you have are probably used to sleeping outside by now and if they are older that's fine. It's just a kitten is too young to know and that's the time they should be kept in at the beginning of their lives


• Philippines
8 Mar 13
the kitten was the grand daughter of the one which we sort of adapted because our neighbor who owns the cat left it. my mom gives them food so i guess they're already ours. our pets (including the dog) are not actually allowed to stay inside the house. but they are still inside our compound.

• Philippines
7 Mar 13
That's so sad, maybe the driver didn't notice it since it was still so small. It's much better if you get another kitten next time, to put it in a cage at night so it won't stray too far from your house. Once it's full grown at least it can take care of itself.

• Philippines
7 Mar 13
the problem is the mother cat carries her kittens and bring them to the roof or just anywhere else. and when the kittens are bigger, sometimes they bring it inside our compound just outside our house. we don't want to disturb them as much as possible.

• Malaysia
1 Jan 13
Hmm so sad to hear this. Cannot blame that driver maybe he/she not notice there a kitten on the road. At here people driving fast even they see a cat try to cross. Sometime they just hit the cat even they see it.

• Philippines
8 Mar 13
that's exactly what i was thinking. i don't want to blame anyone. the kitten was sleeping at the wrong place at the wrong time. am i blaming the kitten? hahaha.

• Malaysia
1 Jan 13
poor driver, running over and killing all 9 lives of the kitten will make many feel bad enough but to be cursed for it, goodness, just as well he doesn't know about the curse, anger makes many overreact..unless it was intentional which i doubt,there are probably regrets that the noone anticipated the danger of the kitten sleeping in the middle of the street till it was too late, one of those things that blaming this or that person won't make anyone feel better, whoever's fault it may be won't bring the kitty back to life

• Philippines
8 Mar 13
my mom was actually mad because of what happened. but i just accepted i calmly because i really believe it's pure accident.

• Thailand
1 Jan 13
Sad, but yes it was the kitten's little problem sleeping at the middle of the road

• Philippines
8 Mar 13
yes, i admit that. and i'm not blaming anyone.

• India
1 Jan 13
I feel so sad after reading this. i do love kittens..they are so cute. Well, your kitten seem to enjoy sleeping out of the house. But is was terrible for the driver to not see such cuteness lying asleep..may its soul RIP..

• Philippines
8 Mar 13
well, maybe because the cement is cold. i really don't know. may it rest in peace.