weird man at the gym

Philippines
January 5, 2013 9:24am CST
I hope I am not being paranoid or judgmental, but this afternoon as I was doing the treadmill, a man got on the treadmill next to what I was using. I noticed that he did not know how to use it, he was just pressing and pressing everything, so the owner/trainer came to teach him and told him nicely to wear gym shoes because he was only wearing slippers, like flip-flops. He answered that he was comfortable that way, so when he said that I thought this guy is a bit weird since the gym has specific rules for members to wear appropriate gym clothes. Those slippers were from the outside so it's dirty. As you all know, members do a lot of floor exercises so this is not acceptable. Then I noticed his clothes. He was wearing something like a basketball uniform but what struck me as strange was the fact that he was wearing two shorts. He was wearing long shorts outside and inside you could see that he had another shorts because the waistline came out of the other one. Then he went over to another equipment and just started pulling and pulling it the wrong way. He stayed there the whole time and it was obvious that it was his first time to be in a gym. What really struck me as weird were his flighty eyes. He was looking around, like observing everyone. He did not look like any normal member. He seemed to be observing members, looking around. I of course told my observation to the owner, just in case members might be careless with their belongings. I did not trust the look of that man.
10 responses

• Philippines
5 Jan 13
Hello Cutie!!You are right that that person is a newbie in all sorts of life can offer.You seem very educated and has lots of knowledge because you are already an old member of the club.Why not give instructions to the owner of the club to let a personal trainer from the club,who could assist a new comer because he does not know how to handle equipments,and so that he could be guided how to behave in the area.Now,if there were no available club employee,you should be the one who should guide him,not that you only put your eyes towards his deeds there,and just becomes angry with anxieties,when in fact he was also paying the time he was there,like you,he was still a costumer in the place.Bear this in your mind that,he was there because he was also paying the entrance fee,so proper acceptance to him should be given by the management.

• Philippines
6 Jan 13
He is just saying that because he knows that everyone was already eying what he was doing,that is why he just say it,but the truth is he really does not know how to use it.The management should have some people who should do some help to guide all customers of the club,that is to avoid any wrong actions and also to avoid some accidents due to wrongly done in using all equipments around the club.

• Japan
6 Jan 13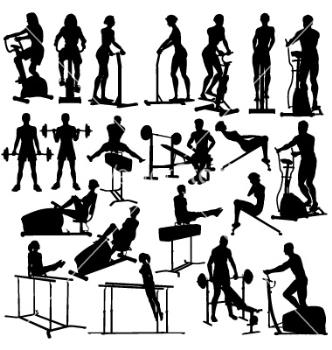 Hahaha oh man! That's weird yet funny! Very true tho all members do a lot of gym work in the gym floor and that person should follow the rules!! Glad I don't see that kind of person at gym. Slippers are big no no specially at the gym and they shouldn't let him in anyway.

• United States
5 Jan 13
Hi there, I don't think you're being paranoid or judgmental at all. These days, you can't be too carefull. You really did the right thing. I used to work at a gym some years ago. I had a very hard time trying to tolerate any of the weirdos that drifted in. As a result, we had a neurotic member banned. The other nut case was given a stern warning to watch out or else. You're much better safe than sorry.

• Kingston, New York
5 Jan 13
Hi does you gym check to make people are members when they come in? if some how this guy got thru, maybe he was not a member ,and just want to check out the ladies. if this guy did not know how to use the machines, there should been, a trainer with him for 2 reason 1. make sure he going by the rules . 2 that other members are safe.ok have a good day.

• Delhi, India
5 Jan 13
Hi! What I gather from your post is that instead of keeping to yourself and minding your own business you have all along been observing him and nothing else.

May be he was new, inexperienced or disinterested but he would paid the fees to join the gym and it was for the owner to take care of him.

• United States
5 Jan 13
Good for you with such a watchful eye. It's important no matter where we are to scope things out and watch anything that is out of the ordinary. And women, of course, have our good ol' intuition,

and it's usually right. He does seem to have something up his sleeve, and it might just be he was looking to steal something. And flighty eyes are suspicious too. Good for you also about telling the owner so he can be aware of this person should he return.


• United Kingdom
5 Jan 13
In any gym I have started as a new member you are expected to do what's called an 'induction' which consists of two sessions with a gym instructor teaching how to use the equipment and to give you a training program. That is the usual protocol of joining a gym, otherwise you could use a machine incorrectly, injure yourself and could sue the gym! So they do this to cover their backs as well as yours. I hate it when there are spare machines and someone comes and uses the one right next to me, I like personal space, and if I saw a machine next to someone, I would avoid it and choose one where there were empty machines each side of me. This guy sounds real dodgy to me.

• Philippines
6 Jan 13
i understand what you're getting at. there have been news reports of people having their valuables stolen from their lockers even in high end gyms or in hotel gyms. there are also reports of people who infiltrate basketball practice or sports competitions to steal other people's stuff. the gym owner is obligated to assist customers because one, they might damage the equipment and two, they might hurt themselves. so in both cases, it's going to be a headache for him so he has to prevent those from happening. security is also his responsibility, which is making sure nothing gets stolen and nobody dangerous gets in and hurts anyone. i'm glad you told him. you can tell the other staff, too, or other regular gymgoers that you're friendly with. suggest to the owner putting a cctv camera, if there isn't one yet.

• Philippines
6 Jan 13
That is good to know that you are keen observer... Sometimes, we need not to trust anyone. It is not wrong to listen to instinct for it will help us though. Paranoia is getting in you and that is good for we cannot trust everyone we encounter too.