$17.5 Mobile credits in 1 week!

Philippines
January 11, 2013 11:00pm CST
I just found this facebook application wherein you can have mobile credits/ gift checks and other stuffs by just inviting friend in facebook. Within a span of time, I've manage to earn $17.5 worth of load credits using just my spare time. What do you think?
6 responses

• United States
12 Jan 13
All you do is invite people? Just like add your friends and you get paid for it?

• Philippines
12 Jan 13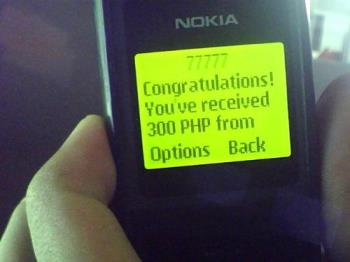 Actually, they need to register. After inviting, they should register for your points to be credited.

. Just received my 3rd payment from them. Its in Peso currency but its available worldwide (P300 is approximately $7.5).

• Philippines
12 Jan 13
Tell me about this buddy! Cos I can't earn more on earn.....fer, haha

• Philippines
12 Jan 13
Well, just add me on facebook and ill be telling more there.




• Philippines
12 Jan 13
There are also gift checks available there such as that of amazon gift checks. But as for me, I would really settle for load because its pretty liquid than those gift checks.


• Philippines
12 Jan 13
Aside from referring, you can do certain tasks that will allow you to earn points, like surveys, software downloads, registrations and other sorts.

• India
12 Jan 13
Hi what is the work we have to do there? how many days does it take to reach the payment?

• Philippines
12 Jan 13
Well, the only thing you need to do is invite friends in facebook. Just referring them in that certain application in facebook. As for the payment, if your lucky and hard working enough. You can really get paid in just hours after reaching the desired level of points. The payment also arrives in your cellphone without minutes or even seconds.

• Greece
12 Jan 13
Wow! Seriously? I wanna try it too! Haha Maybe you wanna share how to do it. It will be a great help for me. Thank you in advance!


• Philippines
12 Jan 13
Responded to one post above. Please do refer there. Anyhow, I really find this site so good to be true in the first place, but I did tried and it really rewarded me.

• Indonesia
12 Jan 13
mm..nice info, friend.. so what should we do next? i have already had a Facebook account so what should i do with it? should i register to a site or else? thanks for sharing..


• Philippines
12 Jan 13
I think its not prohibited to post my facebook URL right? hehe... Just add me here -- http://www.facebook.com/jesseroy.alcaraz then message me here with your facebook name.