I Cannot Wait Until The Light Is Fitted

Carlisle, England
January 12, 2013 1:53pm CST
We've had a good day, me and John. For a start, I didn't 'kick off' in the Opticians and my glasses were fixed in about 10 minutes. After that we walked on to BHS to pick up the chrome and glass chandelier. It was in a MASSIVE box so it was just as well John was with me to carry it to the car. The poor man must've felt like an octopus lol.

Then we visited The Range (where else?) to buy another Pyrex Measuring Jug and John spotted some glass work top savers and bought those too. My, he's getting as bad as me! They're nice though and the others were old and in dire need of replacing. 'Scratched to buggery' is how my Mum would describe them! Anyway, the light itself was in two halves, one screwed into the other. Then I placed all the gorgeous GLASS drops onto it and I must say it's BRILLIANT! John was right, chrome DOES catch the light and with the droppers on..well, what can I say? I'm so pleased. Unfortunately, you're gonna have to wait until I get a chance to photograph it as it's not up in the ceiling yet. However, John is going round to see his Dad tomorrow and he will 'mention it in passing.' His Dad can either come round there and then to do it, leave it until another time or we get someone else in he recommends. We don't want to push him into doing it if he doesn't want to..so, the light will (either) be sorted out tomorrow or..er..another time.

Put it this way; it's MILES better than the plastic one we returned and I have to pinch myself I got it so cheap compared to what it was priced originally. £99 as opposed to £220. Oh my, how lucky was that? Woohoo! By the way, I have an idea on prints for the wall up the stairs. Instead of me being selfish and picking prints I like I've decided to involve John in the decision-making. At some point he will go on the AllPosters website, pick a few he likes then run them by me to see if I agree with his choices. 'Decorative Art' will be a good place to start as the brightest prints are in that category and the point was to have the red carpet (eventual purchase, hopefully) and the bright prints to contrast with the white, glittery wallpaper and chandelier, plus the acrylic light up top of course, that we already have. Still can't decide on a console table though!!

8 responses

• United States
12 Jan 13
As I have been reading your previous posts about your saga with your chandelier, I can't wait to see a photo of it - hanging from your ceiling. It is amazing how somethings are 'blessings in disguise'. I have been in situations where nothing seems to be going my way and then, discover it was better off that they didn't go my way. Be sure to post a photo of your new, hanging from your own ceiling, chandelier!!!

• Carlisle, England
12 Jan 13
I will do, don't you worry about that lol.

Like I said to John earlier..'If the plastic chandelier hadn't broken like that we wouldn't have this BETTER one now.' It's strange how things work out. By the way, I've read in my yearly horoscope for 2013 (I'm an Aries) that the home is featured heavily this year, so expect more posts about projects! It's all down to finances, obviously, but John is a lot better off than he used to be so saving may be a bit easier from now on, and I like to help in my small way with my internet earnings. It makes me feel like I'm contributing, something that is very important to me.


• United States
12 Jan 13
Janey, how is your online earning going. I forget just what it was you were doing, I recall it had a headset involved. Were you providing online customer service? Is it going okay?

• Carlisle, England
13 Jan 13
Yes, I do have a headset/microphone combo that I use in order to test websites via software on sites such as TryMyUI and UserTesting. At first it was just UserTesting I got tests from but I've done - I think - 3 in total for TryMyUI and I just got paid for the latest one (it's $10 each test so, for me, it's around £6). I have done more tests for UserTesting and I've always got paid. The more tests I do the better rating I get (as I become more confident the more tests I conduct, which is common, apparently), so, the better rating the more likely I get tests..if that makes sense! They're both genuine sites, put it that way.






• Carlisle, England
13 Jan 13
I thought you'd lost your marbles there for a minute!


• St. Catharines, Ontario
12 Jan 13
The place will be so posh looking, you'll have to give tours... Sounds like you had a lovely day with John.


• Carlisle, England
13 Jan 13
Should I charge? Haha! Brilliant idea my friend. It's great putting my ideas into practice and I don't care if it's not all done at once..just getting started was the turning point for me i.e. old wallpaper off, new wallpaper on.


• St. Catharines, Ontario
13 Jan 13
Now there's an idea. Maybe have a little gift counter at the door?

• Carlisle, England
13 Jan 13
Free cakes, perhaps? I made a chocolate one today.


• United Kingdom
12 Jan 13
Congratulations, all that trouble has finally paid off for you! Now I can't wait to see it, I am actually quite jealous, I love chandeliers, when I bought my new home with my partner the first thing I wanted was a chandelier, we positioned it in front of the mirror and the effects it had was amazing, it was certainly a talking point amongst the visitors we had. Sounds like your home is transforming into something special my friend.

• Carlisle, England
13 Jan 13
The thing with me is, I have all these visions in my head as to what I want a room to look like, then go with that. I am quite lucky that way. Once I visualise (and measure up..then measure some more) it all goes to plan once the purchases start coming. Obviously, I had no idea what wallpaper we'd get for the hall, stairs and landing until I saw it. I got the colour already in my head (white with clear, reflective bits in it) but when I saw this particular Arthouse paper in The Range (where else, lol) it was only £6.99 a roll. And the store had all the paper we needed with the same batch number on them. It was like we were destined to buy it. Stuff like that happens all the time, now.

Because we took the broken acrylic chandelier back I was able to buy this (better) chrome and glass one, ironically from the same store. Oh, and the RESEARCH I've done the last few years is incredible. I never get bored of browsing the internet for classy bargains, even if they're not bought AT THE TIME..and my new thing now is finding voucher codes too. This is why I got the BHS chandelier for £99.

It would be wonderful if the FIL could come down later today (Sunday) to fix it but I doubt he will do this on the day, so to speak. It's a bit short notice, I realise that. I am prepared to wait. What is it they say? PATIENCE IS A VIRTUE! It's certainly true in my case!


• United States
12 Jan 13
It is great that you are getting John to help with all of this. It will be gorgeous, I am sure. I like the description. I would probably look for someone to hire to hang that new light fixture, sounds dangerous for the father in law to do. It certainly sounds as if you got a real bargain on a quality light fixture that you will enjoy for years to come.

• Carlisle, England
13 Jan 13
Yes, my FIL isn't an electrician as such but he did install the plug sockets in our kitchen when he modernised it for us a few years ago. However, his eyes aren't the best. He has this condition (I forget the name of it) where he's got kind of tunnel vision. I guess this won't affect him fitting lights but it does when he drives, so it's just as well he will be retiring from his driving job, come November!

We do know an electrician, actually but my FIL will have his number. I don't think John has it stored in his mobile phone. We shall have to make sure the chain at the top is adjusted. It is a high ceiling but clearance for John's 6ft 1 inch height is paramount. I remember when the in-laws put their naff black acrylic light up in their living-room (low ceiling) and John kept scraping the top of his head on it. It was quite funny, actually.


•
13 Jan 13
It's great to hear that things are now going better for you Janey. I have noticed that there can be a day when nothing will work right and then the very next day, everything just falls into place and I begin to wonder what all the stress was about. Maybe the universe just wants to give me a hard time sometimes and then maybe feels guilty and puts everything right! Anyway, I bet your light will look great. It certainly sounds like it..

_Derek

• Carlisle, England
13 Jan 13
There is a pic of it in the above box on this discussion. It's from the BHS website but it is a good indication of what the light is like (accurate in other words) lol.

Yes, I wonder why I get stressed as well Derek. I get more done when I'm calm!


• China
13 Jan 13
All is well. I am happy for you. You never thought you got your glasses fixed without a hitch.Sometimes ,thing isn't so hard as you imagine.I can't wait to see the photograph of chandelier. Needless to say, the chandelier will make your house more splendid.

• Carlisle, England
13 Jan 13
I certainly hope so! My FIL will be round to fix it on Saturday morning. It's obvious he won't come round when there's just me in the house (and he only works Mondays and Tuesdays) but it's better than not coming round at all, isn't it? At least he forces himself to for John's sake, unlike his daft mother who's still digging her heels in, refusing to come round. Suits me as I don't go round there as a result!!


• United States
13 Jan 13
It sounds like things are coming along nicely.

The price on the chandelier was really good. I'm glad that you were able to find such a reasonably-priced glass one.

• Carlisle, England
13 Jan 13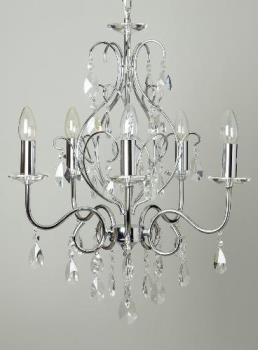 Well, it's a chrome and glass one really (pic below) and my FIL will be round on Saturday morning to fix it. Can't wait!