Prenuptial Agreement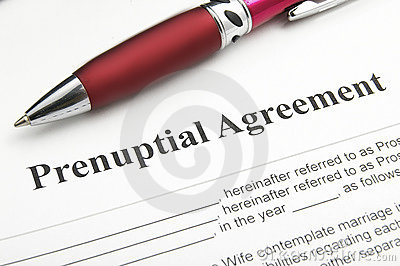 Guam
January 15, 2013 5:30am CST
So my fiance and I have got some other things to consider before the wedding date. We have the wedding bands ready, marriage license, chapel and pastor, and mini-honeymoon details worked out. He is still inquiring about me joining his health insurance under him. But another issue we are considering is a prenuptial agreement. Although it's not too big of an issue between us as we plan to be married to each other till death do us part, my family is kind of insisting on it. I've done some research into it, but we're still hesitant as to what to actually include in it, and even if we want to really go through having one notarized. Any comments or suggestions?
6 responses

• Philippines
15 Jan 13
This prenuptial agreement is a wise decision especially if you already owned properties and good investment. Yes, no one ever wish to get divorce or separation. But, we can never tell what tomorrow may brings. It is your choice if you want to go through this kind of agreement- that's for your own benefit anyway.


• Guam
16 Jan 13
Thanks for both of your responses. Yes, it is definitely a wise decision. And my fiance has also expressed that he is no way offended about it. He understands that my parents are just insisting on it because of bad experiences that others have had.. and that neither he nor I are exempt from such things. That's right, no one but God knows what the future holds. We may try and try to make our own path and foresee the future, but it is not entirely up to us. But despite the bad situations that happen around the world to have had a prenuptial agreement introduced in the first place.. I still truly believe that a good marriage is possible. Just as there are many failed marriages and messy divorces, there are just as many wonderful and forever kind of marriages.

• United States
15 Jan 13
I think that your parents are right. None of us plans on divorce when we get married but you just never can predict the future. I would reccomend some sort of agreement in writing prior to even just living together, let alone getting married. I know it isn't very romantic but it is practical.

• Guam
15 Jan 13
Thanks for your response. I was actually also thinking about it prior to the engagement. But I only recently started really considering it. You're right, we can never predict the future. Of course, we'll try our best to make things work all the time as much as we can. But only God knows the future. So it's better to be cautious than regret things later. I mean, if anything, it's just an extra assurance. And you can never be too sure about things these days. Oh, I would never live together with him prior to marriage. Everyone has their opinions, and that is mine. Anyway, thanks again for the reassurance about my situation. It really is practical; we're just using this as a means of preparing for the inevitable.

• Guam
15 Jan 13
... as a means of preparing for the uncertainty of the future.

• Canada
16 Jan 13
A prenuptial agreement, or wedding contract, is often very logical. It has nothing at all to do with whether you "really love" your partner or whether you are going into marriage already believing it might not last. A prenup is about protection for both people, under a variety of circumstances, not just divorce. Example -- when I got married the first time, I knew that in the coming years I would start my own business / become self-employed. It was something I'd always wanted and had not yet reached that stage. However, I entered into a marriage contract that would protect me, my soon-to-be husband and any children we might have. I wanted to be sure that my business actions (and any possible negative outcomes) were entirely separate from my family. Neither of us came from wealthy backgrounds, so we weren't protecting "family" money/investments, but we were doing our best to ensure a well-planned future. If your parents highly recommend a prenup and your fiance has already said he has no objections at all, consider it... there may be people who are looking to protect you in the practical sense and not the emotional one. Give them a listen

Good luck and congratulations on your upcoming marriage


• Guam
17 Jan 13
Thanks for your response. That is a good point, that it is logical. And thank you for using your personal experience as an example. I didn't even consider it that way, but you've made the decision even clearer for me. I will definitely consider having a prenuptial agreement with much more assurance now. I also plan to start my own business as well, and your example just broadened my thinking about how a prenuptial agreement has the potential to protect me, my fiance, and future children from any mishaps that could possibly result from my business. Thank you for your insight and also for the congratulations. =)


• Guam
15 Jan 13
Thanks for your response. I have thought about that as well. Like if I did have the prenuptial agreement, that it would be kind of jinxing the marriage. I agree that I should already be sure about this being a forever thing. I wouldn't want to get married with the intention of possibly ending it later on down the line. Instead, I want to get married with the intention of being married to the same man forever. Yet we also have to respect my parents and their request, so we are still debating. Between my fiance and me, we are leaning towards going without one. But we also want to have a good relationship with my parents, and that is included in the matter.

• Philippines
15 Jan 13
There are some issues on regards to prenuptial agreement, depending on how it was implied. For some reason, it is considered an issue of not trusting the partner to be. But then, it is a trend to have the agreement for possible unexpected separation in the future.

• Guam
15 Jan 13
Thanks for your response. I agree with you on that. I don't want to imply that I don't trust my fiance, which is the main reason why I'm hesitant about having a prenuptial agreement. I know that it is logical and practical, but I am debating with it on a more personal level in regards to what I'm trying to imply about the possibility that the marriage might not last forever. Yet, legally, like you mentioned.. it's a growing trend among couples anyway. So I'd like to think about it as somewhat of a protocol. I'd like to consider this more deeply, but I also don't want to make it a bigger issue than it should be.

• Philippines
17 Jan 13
If I were asked by my husband to sign a pre nup, I wouldn't have second thoughts about it. I mean, I didn't marry him for anything else but because of love. I would just want to be assured that whatever the kids would need, he will be able to provide. I found this online. Maybe this could help you out. http://nationalparalegal.edu/public_documents/courseware_asp_files/domesticRelations/ContractsMarraige/PremaritalAgreements.asp