Where will your curiosity take you?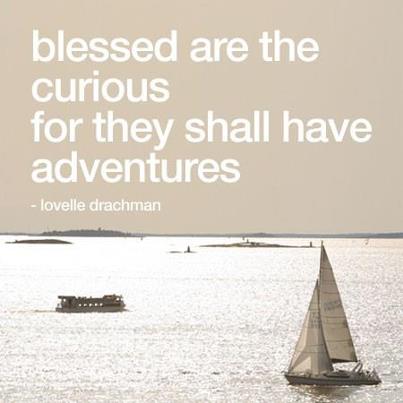 Philippines
January 15, 2013 7:10am CST
Lately I read about a few of my friends' updates/activities that show up in my News Feed and I feel strange about what I find out upon clicking through. One friend I can make out from the pictures seem to be having a new relationship. It kinda made me curious that when I clicked through his profile I didn't see the posts of his supposed ex-girlfriend anymore. But I didn't want to feed my curiosity. I feel strange because I've realized that there are some friends of mine, whether or not they are on Facebook, whom I talk with on some specific topics only even though I speak to them frequently. It's like much of what we talk about are just about spirituality, course in college and travelling, but we never get to talk about our relationships, family, or more personal stuff. Do you ever feel like there's some sort of topic segregation when it comes to some select friends of yours? Where has your curiosity taken you when it comes to talking about personal topics?
10 responses

• Thailand
16 Jan 13
yes... this is such a courageous poster. True curiosity can bring someone somewhere. either good or bad. well it will definitely give us something to learn. Curiosity killed the cat. ouchies. sorry about this.. not being pessimistic...it just crossed my mind. Anyway to your questions:
Do you ever feel like there's some sort of topic segregation when it comes to some select friends of yours?
My response: Yes, Guilty. I have some posts for me and my family's eyes only and a few selected friends. Though my facebook contains only family and friends, I still have some posts like feeds and photos for my family only. (Although I don't have posts and photos for friends only). it is not because I don't trust my friends because there should be things that only people who are close to you should know and should see.

Where has your curiosity taken you when it comes to talking about personal topics?
so far I didn't encounter any personal stuff because i don't really dwell on it.. the reason why it is personal.


• Philippines
16 Jan 13
There was a time when my curiosity went overboard and I did know beneficial information but also I didn't get around to solving the problem in a way that it would not let anyone burn their bridges with me. That's why I asked the question where has curiosity led anyone. Oh yeah then there's that family issue as well. I have to admit not every family member can be really close to us and so some posts in the FB feed need to be filtered.

Reminds me of teenagers who dread being friends on FB with their own moms/parents.

• Thailand
16 Jan 13
oh yes.. just be careful with the curiosity. It is like a Pandora's box you wouldn't know what you will inside. it could be good it could be bad....


• Philippines
16 Jan 13
Yeah there's a boundary to being curious. I sure did learn that. It was easy not to encroach that boundary by listening to my intuition. Apparently what I did in the past was not listen to my intuition and when I don't trouble starts.



• India
15 Jan 13
Hi jolielife. It depends from person to person. Genrally we hesitate to do so because of the fear that what the other person might feel about you. But I believe if the friend is close enough then I am very free to share everything. However there are lots of other friends with whom I do not share all these things because there is no need to. Have a nice day ...

SuperShames


• Philippines
16 Jan 13
Yeah I hesitate sometimes because I don't want them to think or feel I am intruding. Kinda like I don't want them to feel that "just because we talk about deeper issues like spirituality doesn't mean I can trust you with personal stuff". If some friend were curious also about my personal issue and I didn't feel comfortable telling them then I would be a bit annoyed maybe.

• India
16 Jan 13
Hi jolliefille. Well as I said that it is differs from person to person. If we reach a certain comfort level with a person, only then we share personal things. And this level varies from person to person. However there is an exception to it. If you are drunk, then one just spits out everything...

Have a nice day !!

• India
18 Jan 13
Hi jolliefille. Well there are good things as well bad things about it. Sometimes there are things you want to share but you cant. And this makes you sad from inside. And when you talk it out after drinking you feel much better. Of course there are times when you say embarrassing things. But then when you are really sad and you want to open up.. Have a drink with a friend you trust.. Have a nice day !!


• Marikina, Philippines
27 Mar 13
I never talk about personal topics. I never got curious about relationship either. Ha ha. I am much about curious about spirituality and religion, but my friends always talk about relationship and getting married. I can't relate because I am not so curious about that topic. I can talk it on forums when it comes to spirituality and religion, but not with my friends.

• Philippines
29 Mar 13
There are a few friends I could talk about personal stuff like what I feel in a few relationships I've had in the past. I'm quite selective about the persons I speak spirituality and religion with. I usually know within a few signs and in their few sentences if they are into those kinds of things. It's a touchy subject for most people and I could sense from some whether or not they're pseudo-interested or whatever. I've encountered some in my life who say they are interested in it but not deeply willing to make changes within themselves to reflect the interest they expressed. I couldn't also related regarding getting married lol.

• United States
23 Jan 13
Yes, it is interesting anymore that there are not a lot of people out there that are your friends that often times will not want to talk and share with you about what is really going on in their life and family. They pretty much keep to themselves and never come talk to anyone in person, or some share it on Facebook and such without ever telling you. And when you confront them about it, to see what is going on they act surprised like didn't you know?

• Philippines
24 Jan 13
Hahah yeah I can relate to that. Like they make Facebook a public board for all their friends to know what's up with them but if the topic's too sensitive to talk about in person then you kinda just have to assume that what they wrote on Facebook is enough for you to know.

• Philippines
18 Jan 13
I easily open up to my closest friends. There are no inhibitions in whatever comes to our minds tat we want to share with one another. And I guess with other people that we know, we should weigh things first and assess the kind of personality that person has before we could ask them certain things tat we want to know about.

• Philippines
24 Jan 13
There are a few close friends I can confide my personal issues with. Select few actually. But, yes, with other people it's not really the same. Though what I find strange in myself is even with the select few friends I could confide, there are topics I could confide in one that I cannot confide in the other probably because I don't want to hurt their existing views. I'm afraid it might conflict with their own beliefs.

• United States
17 Jan 13
Yes, my curiosity has allowed me to pick at other people's situations. I generally have experiences where I do talk to some of my peers about certain things. But it really depends on the person you are speaking with because you may or may not be able to talk to them about some subject. I guess it's because we are more conscious about what we talk about to another person and try to think about how they would react.

• Philippines
24 Jan 13
Yes, I am conscious of what my friends would think of me. I actually experienced this in high school one time. Two friends of mine whom I used to hang out with in the mall during snack time suddenly didn't want to tell me one specific topic about a guy that one of them liked. I felt suddenly out of place because we used to talk about a lot of things when we hang out and suddenly they exclude me from that specific conversation. Shrugs. They must have thought I was too childish to understand crush and boyfriend-girlfriend issues because I was indeed a late bloomer.

• United States
16 Jan 13
I tend to be a very curious peson most of the time. It can take me to the strangest of places and the wildest of predicaments. My mother always told me as a child that curiosity killed the cat. I just have to see for myself.

• Philippines
16 Jan 13
Me, too. My friend had told me once that curiosity does kill the cat without even letting me explain first what I was about to tell her.

Curiosity has paid off well for me when it comes to work and new learnings.

• Philippines
15 Jan 13
I am not the type of a person who asked too much out of curiosity. Even with my closes friends- I wait for them to speak out voluntarily. It's nice to hear and listen when they (friends or love ones) speak about their personal life voluntarily than asking them a lot of question.

• Philippines
16 Jan 13
I also like to wait being told instead of asking. I don't want to risk losing a friendship if I can still hold my tongue. Some friends do approach me when they are ready to tell their story.

• United States
15 Jan 13
We all have personal issues that are hard to talk about with friends that are not our real close friends. I think we do need to be respectful of each other. Your friend needs time to heal from a broken relationship and probably doesn't need people who keep asking him about his ex-girlfriend. No doubt, there was hurt and pain involved in the breakup. Now, he just wants to move on. I am not curious about other people because I realize that it is 'none of my business'. One of my relatives who had been married a long time but we all knew she had a rocky marriage just switched her facebook status from married to single. With NO explanation. So, one relative commented 'that was sad' but we didn't ask nor bugged her about what happened. It is just none of our business. So, I don't want to be curious about other people's personal business because I am a private person and don't want others to ask about my personal topics. If I am ready to share, then I will share. But I appreciate that people don't ask and I give people the same privacy about their personal lives.

• Philippines
15 Jan 13
Yeah in this case that's how I felt too. I didn't want to ask him about it because for him it may have been a thing of the past that he wants to move on from. We had never talked about his relationships before even though it was obvious on Facebook. Plus even in the past he hadn't said anything about that relationship when they were still together. I also notice in some friends of mine back in high school that despite the obvious update and friends' comments, a few are not comfortable with admitting the truth in person, the same truth which they had implied on Facebook. Unless I was directly involved, I wouldn't boldly ask.

• Delhi, India
15 Jan 13
Hi! I understand no one likes to be intruded, as far his privacy is concerned. Some are keen to probe personal affairs of others and when they do not succeed, they feel restless. Some people are very hesistant to share their personal details with all friends. They share it with only very close friends that too when they feel like. I also do not share my personal details with all, not at least on social networking sites as facebook.

• Philippines
16 Jan 13
I am someone who's born with a really curious streak. I am glad I bit my tongue not to ask despite my nature. I am certainly no paparazzi. Sometimes my curiosity is better aimed at scientific inquiry than on other people's issues.

• Delhi, India
16 Jan 13
To be '
curious'
is OK. But when one start showing curiosity about someone's personal affairs, then things get murkier. To know about some scientific things should be alright. By the way what do you mean by 'scientific inquiry'?



• Philippines
16 Jan 13
Sorry to be vague about that

. I mean to say by scientific inquiry those stuff that I get curious about how it works and its composition. Like probing into the internal workings of a thing.