I'd Be More Than Happy If THIS Was Sold For £99 - Or Less!

Carlisle, England
January 17, 2013 3:23pm CST
Wayfair is a site I use a lot. It's a good site for browsing on, more than anything and Mum bought my lamp off there and I bought a TV stand a few months ago, both of which were reduced. Anyway, below is quite simply (in my eyes at least) the most beautiful console table I have ever seen. It's in pine and would match perfectly our hand rail. Imagine the chrome and glass chandelier shining above it and you get the idea.

http://www.wayfair.co.uk/Tikamoon-Classika-Triti-Pine-Console-Table-1516-TKA1578.html I have researched console tables for months now but the mirrored ones tend to be too deep for the space (as drawers are a must) and some of the wooden ones have been too chunky a la 'Farmhouse.' So, this one fits the bill perfectly. One problem though..we can't afford it! Lottery, anyone?

9 responses

• United Kingdom
17 Jan 13
£222? They gotta be kidding right? Sorry but where did they get that price from, yeah I agree it is nice, but not for that price, I am sure you can find one if you shop around for half that price and more. Free delivery! LOL. For that price they should put it in a chauffeur driven limousine and have it delivered with a big red bow and quality wrapping paper!

• Carlisle, England
18 Jan 13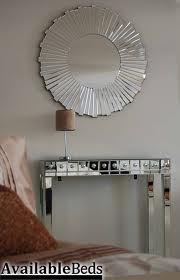 Haha! I know, I'm deluding myself that it's worth the money lol. Mind you, I've seen the oak versions and they're dearer still! I blame the 20% VAT!

What do you think of the photo below? It's gotta 'look' about it if nothing else! Oh, and it has a drawer, it goes right along the front, more or less. The same people 'Available Beds' has it on Amazon for more money but has a 'Make an Offer' on Ebay. Ooh, I'm tempted to put something silly in or have the mirror thrown in for free or something (it's not included in the sale)..what d'ya reckon? You can say it's naff if you want, I won't mind.


• Carlisle, England
18 Jan 13
I must admit, it is a bit 'girly'

but, it would fit perfectly in the space.

Also, it's impossible to buy anything mirrored that's made here unless you buy toughened glass a la Greenapple and they are waaay out of my league!!!!


•
18 Jan 13
So thats what a console table is,before I had seen one I would have imagined it would have gone under or near the television to put your playstation or other games consoles on or in.Though I suppose thats just the generation that I was born into.Though I have to say that it is a very nice table,though I would agree with you that it is very expensive.It's really annoying though when you see something thats perfect and exactly what you want but you can't afford it.This happened to me recently I saw an old football shirt that I have been looking for,for a while.Though when I eventually found the shirt I couldnt afford to buy it.I was absolutely gutted and by the time I had enough money the shirt had been sold.

• Carlisle, England
18 Jan 13
Retro shirts are the best aren't they? I bought my brother a Northern Ireland George Best shirt a few years ago and he still wears it now.

I'm still on the lookout for a console table (otherwise known as a hall table) as I'm determined to get something actually worth the money. I didn't give up with my chandelier and ended up with a bargain so I'm hoping I can do the same with the table.


• China
18 Jan 13
It is indeed a beautiful console table, only too dear.Is the pine uncommon there? Or it is due to hand-finished that they price it at such a price.

• Carlisle, England
18 Jan 13
From what I can gather the piece is pure pine but it's not always the case and one can pay a fortune whichever 'type' one gets. We tend to have Scandinavian pine, sourced from managed forests but there is no way - to be honest - of knowing EXACTLY where a piece is from. I don't know about how common or uncommon pine is. I would say oak is the more prestigious wood in this country and people will pass down pieces to their family as it never seems to go out of fashion. Also, with pine it can be painted and sold as such, therefore the price goes up even more lol. I contacted Wayfair and they told me that the drawers aren't even the 'soft close' type. What a rip-off!


• China
23 Jan 13
I meant the pine is quite common here.The oak is a sort of hardwood which is not easily rotten,so over here most of legs of tables and chairs are made of it.

• Carlisle, England
23 Jan 13
Since the chandelier has gone up I'm more inclined to go 'blingy' instead of going for wood. I don't know what's wrong with me at the moment, I keep changing my mind over A LOT of things!



• St. Catharines, Ontario
18 Jan 13
Real wood costs money. Even the crap from IKEA costs a lot, and it's mostly veneer covered chipwood, that you not only have to transport by yourself, but put it together, too.

• Carlisle, England
18 Jan 13
We don't have an IKEA in Carlisle, thank goodness. The nearest one is probably in Newcastle, about 60 miles away. They're to blame for this stupid 'flat-packed revolution' and there's no way I'm putting something like a console table together. They can do it themselves at the factory..whichever country that may be.


• St. Catharines, Ontario
18 Jan 13
About the only thing I get at IKEA is lunch.


• Shingle Springs, California
17 Jan 13
Does seem a bit pricey... 6 12 15 22 28 36

• Carlisle, England
18 Jan 13
You've lost me with those numbers.



• Shingle Springs, California
18 Jan 13
Winning lottery numbers, go out and buy a ticket.

• United States
18 Jan 13
It may come down a bit in price. You could use that 20% discount you have, or you may be able to find one that is even better. There are promo codes available for Wayfair online, and one of the sources may have a code at a higher value. Perhaps, your myLot money can go toward it when you get paid next month? It won't cover the full amount, but it could go a ways in helping to cover the cost.

• Carlisle, England
18 Jan 13
I never seem to accumulate much money to contribute to major items, which is why I tend to concentrate on things like the Pyrex Roasting Dish with Lid, for example..which has been a brilliant purchase, by the way. So versatile. I even used the lid to put a meat pie in there (based on a review I'd read) and it was awesome! The glass keeps it so hot as well. I do look out for codes all the time now but I have found out from Wayfair that the drawers on the console table AREN'T soft close ones, which I'm amazed at, judging by how dear the thing is.


• United States
17 Jan 13
Maybe yu could save up some money and then go back and you might find it on sale. Or call the company and ask for a valued customer discount.

• Carlisle, England
18 Jan 13
Funny you should say that as Wayfair sent me a 20% discount code earlier today. It wouldn't make much of a dint in the total price BUT, if it's reduced aggressively we might be tempted..bit like the lamp at BHS lol.


•
17 Jan 13
Shame it is in pine and yes it is over priced all the best, urban

• Carlisle, England
18 Jan 13
I cannot understand why it's not in the sale. Many other products in the range are. I have seen a bubble mirrored glass one (with drawer) for about £150 so at least it's coming down..gradually.