Two men suffered pregnancy pains in labor simulation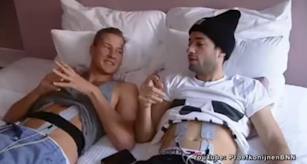 Guangzhou, China
January 23, 2013 2:01am CST
There are two men from Holland had suffered pregnancy pains in labor simulation. So that they could try to experience how women feel when they labor the babies. However, these two men could not last it for two hours and they had to give up. I think perhaps it is a good idea for men to try to experience it so that they will be much more responsible and considerate for their wives.
10 responses

• United States
23 Jan 13
This made me think of sympathy pains as men have had this for women, or so I've read. Now I do think that this would be a good idea for those men who do not believe that childbirth hurts, or is as painful as the ladies "make it out to be". I've not yet had a child so I do not know how it feels, but I do know this, it will not be easy.

• United States
24 Jan 13
women can stop the pain at any time it's call pain kills and the doctors will give it to any women if she so wants to. She has to want to not feel it.

• Romania
23 Jan 13
That's interesting, maybe it's a good idea for them to experience such pain. In that way, maybe they'd grow more respect for women. Women already knows how hard is it to become a father since some women also works for income to support their family.


• United States
24 Jan 13
I just had a discussion about this a few days ago that I started. I think it would be good for the men that just don't understand what it's like for women. Some men understand even though they have never been throw it the get it it's not easy for women to sit during labor and that some just can't take the pain.

• Philippines
23 Jan 13
Being in labor when giving birth is the hardest experienced I had when I was pregnant.. I labor for about 12 hours.., it is really painful but you are also worried so you won't really pay much attention to the pain.. anyways men should tried that labor simulation so that they will realize how hard it is to give birth so they will respect and care more for their wives..

• India
23 Jan 13
Nice discussion and thought men should understand the pain of women. Because still some men feel women is only using for house work and not give the freedom to her. I think this is good way to get the experience of men about pregnancy.

• Philippines
23 Jan 13
That's a good idea to make men experience the hardship and pain of labor. I never experience the real natural birthing, but I know and feel the pain labor. I envy those women who gives birth naturally- that made them complete.

• Kenya
23 Jan 13
it would be good because it would make men more appreciative on the role of a mother not to mention respect mothers and not just take for granted they are called fathers now.its also a nice way to make some men more sensitive to how many times they want their women to give birth.

• Australia
23 Jan 13
I've seen too many births since I work as a nurse and labor is indeed very gruesome. It makes me think I don't want to be a mother. It's amazing how a woman can take all the pain and the men in the simulation cannot. Men should take care of their wives and mothers more.

•
23 Jan 13
You are right. Men should try to undergo and feel the pain of labor pains that a mother develops while delivering the baby. My sister who has a kid says it is the pain that no one but only woman can bear in the world. She was so petrified with the pain that she is not trying for second child even when she wants it so bad. I am so scared with all this, that sometimes i feel not to get married, or if i get i would adopt a child who needs parents.