My Chow-chow are scared of rain...

South Africa
January 24, 2013 11:00pm CST
Please, please help me. I have raised this chow-chow like a baby in my house and now that he is 2 years old, he refuses to be outside! he is massive and wants to eat inside and sleep inside. He is scared when the wind blows strong and when it rains he runs inside! I have a small shed outside, but even during the day (I now lock him outside in the morning to train him and he comes inside in the evenings for about three hours)he would not go inside the shed. He will be protected against the weather if he stays there at night. But he would not do it. He sleeps on the cold paving under my bedroom window now that he is forced to be outside... He cries all night when I leave him outside. I do not want him in the house... What now...
3 responses

• Romania
25 Jan 13
Hello Dee, You raised him as a house dog and you want him to be an outside dog now? I think it's cruel.

He got used to the life inside, he wants to be with you, you won't make him enjoy being alone outside. Of course he cries. Wouldn't you if your family threw you out without any reason one day? He doesn't know he is too big for what you accept as an inside dog. He doesn't know his coat stinks (by the way, it isn't his fault it stinks). He just wants to be with you, as he was for two years. There may be ways to train him to stay outside, but I don't even want to think about them. I suggest you to get used with having a big dog inside.


• India
25 Jan 13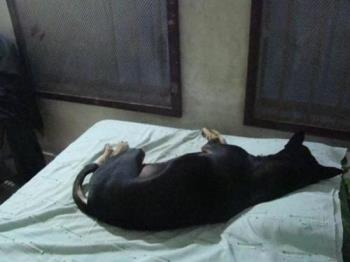 Our little one sleeps in our bedroom at our feet. She has her own sheet and pillow. Dogs are scared of harsh weather. We treat our dog as a member of the household. She is never leashed and is in and out of the house as and when she pleases. Dogs are not comfortable with harsh weather and it is not surprising therefore that your pet behaves the way she does.

• South Africa
25 Jan 13
We also raised our chow-chow in the house... in fact he also slept in my bed when he was a baby! We also treat him and the pug as family! They are only on a leash when they go for a walk. Now the chow-chow has grown into a massive dog and I am fed-up with the dog smell in the house... He acts like a little baby all the time! Perhaps if he just learn to sleep in the shed, it will make things a bit easier for me... Or am I now selfish?? Haha.

• India
25 Jan 13
I did not know that he was all long inside and now you have decided to put him out. He will not understand why you are doing this to him. Sorry dee, it is too late now for him to get used to being away from you. Just like human beings they have feelings and that may affect his health.

Our little one cannot stay alone in the house. My social life is at a standstill because of this.

• South Africa
25 Jan 13
Oh my goodness.... I have raised this dog-child all wrong!!! He was such a cutie as a puppy that I allowed him all the freedom in and outside the house. My kitchen-door was always open, so he could come and go all the time... You reckon it is too late to train him now??


• Thailand
25 Jan 13
poor dog. that's the reason why I don't like big breed dogs. I can't stand the dog outside the house. mmmm... anyway, they are scared of the noise of the rain and they don't like to be separated from you. Can you just put him a place in your house like kitchen.. it is cold outside and he is lonely. have pity on him..

• India
25 Jan 13
Ofcourse dee. It is all your fault. They will get used to something and they will stick to it like glue. Our Bull Terrier always wanted to be hand fed which we did til his last day on earth. So keep your bed room open for his highness to walk in!