I will trade my Soul for a Hamburger and Pizza... and yes.. ice cold Coke

Thailand
January 27, 2013 2:15am CST
The cross roads… they say it is where the Devil is. Your wishes will be granted anything you want fame, another inch or inches on rod, beauty, another life, anything you ever dreamed of, in exchange of a single thing you have. Yes, your soul. One great blues singer could hardly make it during his time. His records were not even selling. Lonely and desperate, He took this crossroad and guess what he did. Yes took the crossroad deal. His name was Robert Johnson was a great blues singer, one of the greatest artists in the late 30s and now known and named the Great blues Singer of all time. Historian said that the proof was written in one of his songs. He died at the age of 27. Would you trade your soul for fame, glory and beauty? I guess your answer will be a no. But what if it is about ease of suffering of your beloved, or a life extension of this person? Would you? the photo will tell you where to go in case you want to take a deal. [i]Cross roads Blues by Robert Johnson I went to the crossroad, fell down on my knees I went to the crossroad, fell down on my knees Asked the Lord above "Have mercy, now save poor Bob, if you please" Yeoo, standin' at the crossroad, tried to flag a ride Ooo eeee, I tried to flag a ride Didn't nobody seem to know me, babe, everybody pass me by Standin' at the crossroad, baby, risin' sun goin' down Standin' at the crossroad, baby, eee, eee, risin' sun goin' down I believe to my soul, now, poor Bob is sinkin' down[/i] Note: Please if you respond to this don't expect a comment from me. I will just comment to your responses as soon as the notifications is back to normal. I don't like to waste your precious time digging to your responded tab for this. I value your opinion
8 responses

• Perth, Australia
9 Sep
@Mavic123456
I would never sell my soul for anything. The scary thing is, is that I've heard some celebrities actually say that they have sold their souls to the devil. Some take it as one of those "You got to sacrifice a lot to get to where you are" kinda comments but I really feel it's something deeper than that. Singers have said it, meanwhile they do / say other weird things that are strange along with music videos being demonic / Satanic.

• Thailand
10 Sep
yes, sometimes we really need to be careful of what we listened to, we don't know it might have some kind of subliminal message. It was the "trendy topic" subliminal messages.

• Perth, Australia
10 Sep

• Thailand
10 Sep
@VivaLaDani13
but did you know why I chose that title? because during the time when I was writing here I was in the mountain. and I missed eating those junk food.


• United States
27 Jan 13
This song was also recorded in 1968 by one of my favorite groups - Cream. I don't know if you're familiar with them but Eric Clapton was the leader of this band. Here's a link re:the song, Robert Johnson and Cream's recording of the song. www.songfacts.com/detail.php?id=1285 I wonder what his deal with the devil was for? What did he trade his soul for? Would you? How desperate would one have to be before considering this? We can be sure there are those who would do the "Crossroads deal". It's very tempting. But then, isn't that the devil's middle name, Temptation? And what if your deal with the devil was eternal life? Then he would never get your soul. So the deal would never come to fruition. I guess he would call it off. That would be too bad. Nobody likes a devil that's a sore loser.

Very interesting discussion, Mavic. I wonder how the responses will go?

• Thailand
1 Feb 13
Yes, I read this one too, the Eric Clapton release his version. JOhnson's deal = become the greatest BLUES ARTIST. I think the devil will just reject my soul offer hahaha.. he doesn't like to have someone putting him trouble at all times. LOL... so he will say to me "no way" Vandana: Seriously, yes there were people who can do things like this during the time of desperation, money or fame: Remember SOME ARTISTS, who sell their bodies to the DIRECTOR for fame? the PROSTI TUTES sell their bodies and morals to eat. POLITICIANS who back fight other politicians or sell their principles for POWER. these are crossroad deals. (i think)

• United States
1 Feb 13
Vandana! I would try to stop someone but desperation is a strong emotion. Could they be stopped? My soul? (talking to myself) I wonder where it is these days....... Mavic, I should have known what you were talking about. "Crossroads" may have been on Cream's first album, which I still have. And you're right. You would cause soooo much trouble for even the devil himself!

His head would spin. And...you're right again in that these are called "crossroad deals" or "deals with the devil". Good discussion. Food for thought.


• India
27 Jan 13
Nice post. Well, i did not quite understand what you are talking about though. Sorry Mavic. And sorry to those who will respond here because i maybe look like a idiot to them for not understanding this..

• Thailand
27 Jan 13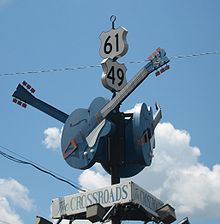 I will use this box to put the photo that I refer on top hahaha... Nice post? You did not understand... hmmmm.. maybe I have not expressed it well. No problem Nit. come back to this box and read other responders if they will respond. LOL

• United States
27 Jan 13
Hey nitin! We meet again. What the story is about is making a deal with the devil. Selling your soul to the devil for profit or something that you desperately desire. There have been many stories & movies based on this premise. Mavic, you explained it okay. It's just that you used an American blues story which nitin isn't familiar with. And maybe never heard of this type of situation before.


• India
27 Jan 13
LIKE GHOSTRIDER? I mean is that a real story that Mavic is talking about? Cool..


• Philippines
1 Feb 13
Wow, I didn't really thought that this story was true. I heard this one when I was in high school. Well for me if I have to trade my soul just to save someone or the people I love, then why not? But for fame? Nah, I don't think so.. Cz for me there are a lot of ways to be famous. Perhaps if you've already tried everything and still nothing made you famous then maybe being famous isn't just for you. I firmly believe in these sayings, "Nothing worth having ever comes easy" and "What's yours will be yours, in the right time and in the right place." Thank you for valuing our opinions. :)


• Thailand
1 Feb 13
Have you read the link I posted... I am trying to find out who "dealt in the crossroads" aside from John ... to put something more here.... Will you deal in the crossroads?

• Philippines
6 Feb 13
Yep!! But it's hard to conclude who were the other people that dealt in the crossroads.. For me, it depends upon the situation. :) How about you?

• Thailand
8 Feb 13
Yes, as stated in my title. LOL. Seriously, life of a family member? No... we have order in life... and order of nature... it will be painful, but I don't like to disrupt anything.

• Hubei, China
28 Jan 13
I will trade my soul for anything since I believe my destiny is in my own hand.As long as I'm living,I can get what I want with my hands,even though it takes a long long time.Without my soul,the success is meaningless.In Supernatural,there're lots of cases about trade with devil.Most of them get nothing but disasters.So I will try my best to realize my dreams.

• Hubei, China
28 Jan 13
Sorry,I mean I WILL NOT trade my soul for anything.

• Thailand
1 Feb 13
are you sure, what about your mother's wellness.. are you not going to be tempted to do this?

• India
8 Feb 13
In response, i say, thanks for sharing, i liked this and you made my day.

• Thailand
8 Feb 13
How did the discussion made your day sir.... I just wonder.

• United States
27 Jan 13
Trade my soul for me or to make my life easier, NO. But for a child, my child or my grand child yes I would give my soul, my life, my being. But he, the devil or whomever you believe him to be, will never take the love that has grown inside.

• Thailand
1 Feb 13
sometimes one can really think of those things... like, for my child's sake, I will give you everything, just make her well... Some people can really do that... a politician sells his principles and views for power. a woman sells her body for fame. a mother sells her child for money. These are i know some crossroad deals, when no one wins.


• Thailand
1 Feb 13
yes, trade your soul for a new hair.... if your new hair will give you physical mental and psychological peace, then the devil did it.