My puppy is so funny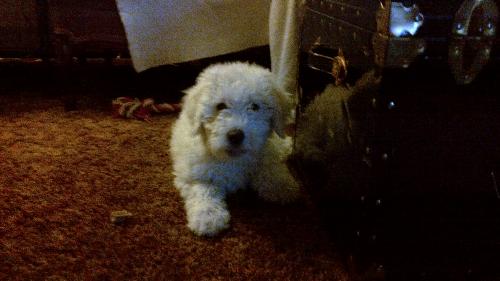 Canada
February 4, 2013 9:12pm CST
I have had her for three days now and can't get over how smart she is. I gave her a dentastick. She ate half of it I guess cause we didn't see it on the floor and assumed she finished it. Then we are sitting on the couch watching her. She goes to her food bowl pulls out the other half of the sticks and starts chewing the rest, she took a break half way through her snack and instead of leaving it on the floor she picked up after herself and put it away in her bowl It was so funny. Clean freak god I guess
10 responses

• Thailand
5 Feb 13
hahaha so cute.. I hope she loves that dentastick.. it is good for teeth and cleans her teeth too. I give that to my cute little bully too. hahaha... yes, they love putting those in the bowls, and comes back to it from time to time. be careful with the small left over of dentastick though, it might choke her.

• Thailand
5 Feb 13
yes, that's the best you are most welcome, any time for a friend.

• Malaysia
5 Feb 13
Hahaha ... your puppy is really funny! I can really imagined and laughed reading what you wrote. What is your puppy's name? He is co cute

I used to have many puppies when I am young, they are all so adorable. I name one as Eli ... she had beautiful fur and eyes. Since we left her outside the house (still in our porch), a cat attacked her. She cries as it was so painful. Now I no longer keep any pets.

• Canada
5 Feb 13
Her name is Havana. She is a Hungarian Komondor and the tradition to keep a Hungarian name for her.


• Philippines
5 Feb 13
That's so wise. Looks like your puppy is saving for "rainy days". :D


• Indonesia
5 Feb 13
It is so fun having funny puppy. I also have a very cute puppy. I always play with my puppy each time I went home. He is very cute. I gave him a nice doghouse, each time no one at my home, he would like to be alone in his doghouse.

• St. Catharines, Ontario
5 Feb 13
That is pretty smart. Must have learned that in a previous life.

• United States
5 Feb 13
She looks really cute. I hope she continues her clean and neat habits. That would make her so easy to take care of.


• United States
5 Feb 13
I can't wait to move and we get our little puppy. you make them sound so sweet to have. adrain wants one no matter what..