Forex earning is not an easy task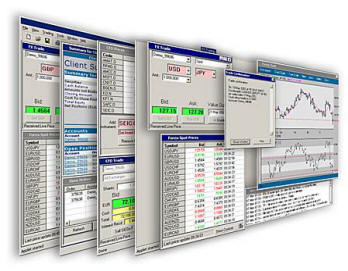 Anantapur, India
February 6, 2013 8:15am CST
Hi mylot friends, Forex is not that much easy as we think, there is no pain no gain. Nothing is free in this world we have to loose some thing to get some thing, either it may be man power or money. Earning in Forex may take at least 6 months time, the intelligent people may understand Forex and practice it with demo account and real trading account. Till now I have not started either demo account or real trading account, but I am earning money in Forex forum as bonus amount for my postings, So I need not invest a single penny from my pocket the money earned in Forum as bonus can be transferred to Forex trading site and there we can earn money after some days. Share your experience about Forex?
10 responses

• Israel
10 Feb 13
I used to bea forex trader, sometimes in profit, sometimes losing. Now I prefer forex affiliate marketing. Less risky (no risk at all actually) and good profit. Like, I am getting 1 pip per lot or $100 for each new account I refer from Forex-Metal broker.

• Anantapur, India
10 Feb 13
Hi Yasya, Thanks for the response, so you have also earned profit and loss in Forex. As said by me Forex is not an easy task. It is difficulty to earn money in Forex trading. But any how you are earning money of 100 dollars when you refer to Forex metal broker, I do not know how you are making that site affiliation. Can you send me more details about this to me, have a nice day.

• Israel
17 Feb 13
Check their affiliate program here forex-metal.com/affiliate_settings/signup They have 3 commission options: -$100 for every new trading account opened through your referral -10% from each deposit made by people you refer -1 pip per lot traded by the people you refer When you bring 10 clients, these commissions are increased.

• Singapore
8 Feb 13
I'm 3 years into forex trading now. In the inital 2 years, I was trading with very small amounts like $100 or so and I have to learn every functionalities in trading platforms and how to make long term plannings to ensure that I don't make losses in the face of volatile market. It's definitely not an easy task and that's why it's said that 95% of forex traders will make losses on forex while only 5% of forex traders are able to make profits on long term basis. I'm glad that I'm perfecting the skills and have been able to reap 10-20% profit monthly for the past 3 months. Hopefully, I will eventually be that 5%.

• Anantapur, India
8 Feb 13
Hi minotaur, Thanks for the response, you are saying that since 3 years you are doing Forex trading and earning money. Really you are great and earning money, for all people it is not possible who does have luck they only succeed in Forex trading. I too wish to check my luck in Forex, if my luck will support me I will continue in Forex, if not I will quit from Forex, have a nice day.

• Singapore
10 Feb 13
Actually, it is more to do with risk management, rather than luck. Whether the currency pairs fall or rise in forex, they are all opportunities to buy or sell. Strategies must be developed properly so that you don't miss out those opportunities and let them become crisis for you.


• Anantapur, India
7 Feb 13
HI Sshiva, Thanks for the response, now the Reserve bank of India given permission to trade currencies in India, that is in National stock exchange. Dollar, Pound, Euro and Yen these four currencies are traded against Rupee. It is quite difficult to learn Forex it is not that much easy, I am also in the same position that Forex is nothing and it can be easily known thing, now I am facing difficulty in learning Forex trading. Have a nice day.

• Singapore
7 Feb 13
Hey yugasini, Forex is indeed not easy. I have heard alot about it and i believe usually those people who say is easy will just earn some money should we just forex. Forex trading takes alot of time to watch the market. Furthermore, the money involved can bequite small. It's good for people who don't really want to take risk. I used to work in a company where they teach women how to "play' Forex so they can make money from it.

• Indonesia
6 Feb 13
yeah forex ias not an easy task, i have trained for 3 months with demo account but i still too often loss. so i think it's need to practice more and more to make me ready for the real.

• Anantapur, India
7 Feb 13
HI jirojoyman, Thanks for the response, practice is must in trading. Doing and doing we will learn in Forex, I have recently installed demo trading platform in my system,but I could not start trading how to start trading is a problem tome, I am trying to learn how to trade easily, is there any step by step guide is there to learn trading in demo and real trading accounts, have a nice day.

• India
6 Feb 13
Hi Yugasini Your are exactly right, it's not so easy to earn with Forex . You already told if there is no pain there won't be gain. But in this case if you have pain also there is no guarantee of gain. That's Forex formula. With in one day you can become millionaire or nil. You are telling that by participating in Forex forums you are getting some money. if the Forex company is genuine , it wont encourage for that type of earnings. In India doing Forex is also illegal . so be aware of all these things and go ahead . Thank you.

• Anantapur, India
7 Feb 13
Hi Rahul, Thanks for the response, who said that doing forex is also illegal in India. That is not right you are saying according to the Reserve bank regulations, but now the foreign currencies are trading in NSE we can trade with Dollar,British pound,Euro and Japanese yen, so now we need not worry about the rules. Have a nice day.

• Mexico
6 Feb 13
sure isnt, and a big gamble as well. Like the stock market I guess. How are you these days??

• Anantapur, India
7 Feb 13
Hi Tootsie, Thanks for the response, I am ok and as said by me I cannot install the mt4 trading platform in my system and even I have installed the platform I could not start trading. This is all due to lack of knowledge of the internet and computer, so it may take to me some more days to trade with demo account and after that I may go for real trading, have a nice day.

• India
6 Feb 13
As you said getting an idea about fluctuations of value of currency of a nation and factors causing it is a very complicated subject. But some persons are successful in using these fluctuations and getting profits from Forex Trade. I am interested to get some idea about this field. I am sending a PM to you for more details on it.

• Anantapur, India
6 Feb 13
Hi Mohkanari, Thanks for the response, success will come with practice and dedication in learning all about Forex. I have already send you the name of the site which give you training in Forex a good site. We have to practice some days the failures we are getting are the stepping stones for our future success in trading, have a nice day.

• India
6 Feb 13
I did not know that ,that it can be done this way also.I thought that you need to invest good amount in order to earn well from this type of system.Can a person with average intelligent do it or not?How to start it?How to go about it with out spending any amount of money?

• Anantapur, India
6 Feb 13
Hi Keynote, Thanks for the response, hard work is must to learn and earn in Forex. But by participating in Forex forum site we can earn money up to sixty dollars per month minimum this bonus amount can be transferred to real trading account and we can invest the same deposit money in trading account there we can earn money with talent and earn money from that investment. We can withdraw only the profit not the investment which we have earned by bonus for postings in forum.

• Indonesia
25 Feb 13
Yes, Forex is not easy to learn. It is high risk high return business. We can make $100 even more profit in just few hours and either we may lose all of our capital in just hours. There are many thing we have to learn and not just technically but either psychologically. Learn it carefully and always stay with our trading system, may we will success in Forex trading. May God Bless you.