...'you paid what for a dog groom?"

Philippines
February 9, 2013 8:12am CST
My dog experienced his first full grooming today. His nails needed clipping, I need to get the hair out of his ears and he looks like he needed a good cut. Plus, the fact that he's getting more headstrong when I try to groom him - basic grooming, that is. So I decided to do just that. Also, I needed to pick a breath freshener (as much I love my dog I don't like him with dog food breath) and and have him dewormed. We came home and everyone took an opinion on what he looks now. Most of them are quite pleased but aunt quickly asked how much I paid for the service. I gave a ballpark figure so that she drop the subject and let me enjoy my dog's new appearance. Then she told me that I shouldn't have paid for a professional groom as it wastes money. I agreed to her to a point (who doesn't want to save money?) but I told her it was a sort of an advanced birthday present and I told her that I would like the dog to be groomed by a professional once in a while. Also, my dog's breed is hairy and I think he will need professional services one way or another. I understand to a point that some grooming skills and materials can be bought and replicated at home. But I guess I am one of the owners who can't do it properly or sometimes, don't have the patience with the dog. I am more than happy to pay for the service but I'm willing to hunt down a groomer who can pay at a much reasonable price. I say this because I have a feeling that the shop increased its prices. I have the receipts to prove it.
4 responses

• Thailand
9 Feb 13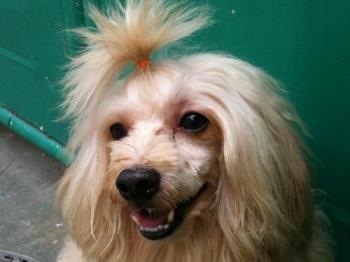 I groom my own pet. We groom our pets. We just bought special kind of kits for nails. we learned by watching how pets were groomed and we do it on our own. we bought also some cleaning fluid from our vet for the ears. the dog will complain for awhile but after the were groomed like taking the hair from ears, then they will feel relieved and sleep long.

• Philippines
10 Feb 13
I really need to get a hold of a grooming course or lessons. I would try to groom my pet myself but it depends on his attitude and resistance.I don't expect him to come around quickly. But there are times when I do lose my temper before he does. I do watch the groomer from time to time but I guess there is still fear in me on how to handle him while grooming and harming him in some way.

• Thailand
10 Feb 13
the first time I groomed Bully, I almost cut his hind toe... (paw) lol. I was so scared for it bled. I cried too. LOL. I looked like crazy. but then I know now what to do. sometimes I cut a little of his skin hihihi.. but he is a good boy so he doesn't complain. it was just difficult to the part of where I hurt him before. you can do it..

• United States
10 Feb 13
I have a Bichon and a Yorkie and get professional grooms about 4 times a year, I can bathe and do a little upkeep but never as well as the pros.

• Philippines
10 Feb 13
For me, the Bichon is a tough one. Somehow, white fur makes it more complicated. Like you,I can do only the basics everyday but I can't do it and each every grooming requirement with expert skills.

• Canada
10 Feb 13
I have a breed that is also hairy, just grows and grows and she gets mattes. So I think the service is well worth it! We get it done for $49 here a full bath, toe nails, hair cut, a little bow on her head and they do something that is like squeezing glands? not entirely sure. but it doesnt hurt and the dogs dont get as smelly. my mom has a similiar dog and both always smell good. we let them grow long for winter and only get there hair cut maybe 4x a year so easy. when i give my dog a bath or my mom (whole ordeal with family dog) they sense we arent comfortable in what we are doing and they dont like it! but they seem to like the groomer so best for everyone haaahaa.

• Philippines
10 Feb 13
I agree that is good from time to time. But I tihnk he shoudl be able to experience expert care once in a while. And I will greeted in the waiting room , with arms open for a beautiful and nice-smelling dog.

• United States
9 Feb 13
Here's what I think. Some people can groom their own dogs and some people can't. It's different if you cannot afford to do this and you're spending money on things that are not priorities. I think if you want to take your dog to the groomer's every once in a while, it's great. I'm sure the dog feels better too, so think of it that way. If you have no patience to do this, the dog will feel it and act up. Groomers are trained to do this and are used to it. I say go for it, make yourself happy, and the dog. It's no one else's business anyway on what you spend your money on.


• Philippines
10 Feb 13
I quite agree. I know that it is a luxury for me and my pet but I really don't mind because he's gonna need it anyway albeit once in a while. But it also don't mean I have to break a bank for a luxury to be possible. For me,it's sort of a one-in-a while treat.