Time to clean up my act and get on with it!

Philippines
February 13, 2013 2:05pm CST
Been two months since I got my online job, it is difficult for me to adjusting my sleeping times because I have to be awake when everybody is fast asleep, been struggling and sleep deprived for most of the time. I have to make this sacrifice for me to keep earning and bring food to the table. My husband currently stopped working so that he can in turn take care of the kids, sending them off to school. Our house is currently messy and dirty, our dirty clothes are starting to climb up the wall, I have no time to cook food for the family, limited study time with the kids too, we do not go out on weekends anymore as we usually do and I am always feeling tired. But good thing is we have money to spend now, it may not be that much but compared to before, it is enough. Now, I am asking myself…is it all worth it? Am I making the right decision? I feel useful and yet so used up. Have you had the same experience as mine? Or is it just me?
11 responses

• Poland
13 Feb 13
If you have so dirty house why can't your husband clean it up a bit since he isn't working anymore? You are acting very responsible taking care of your family financial situation and it's admirable that you are working so hard, but you can't do everything alone. You need a support from your husband. If your kids are old enough to go to school then there isn't much work to do with them and they don't need to be watched all the time so your husband has plenty of time to do something productive. He can help you to keep your house clean for example. Remember that there are TWO adults responsible for your household in this family. So yeah, you are doing the right thing but you need to get your husband to do the right things too. Good luck with your work.

• Philippines
13 Feb 13
He always says he cannot do it, i mean when i was a full time mother for more than 5 years i took care of everything now that i am working back i need to do double duty..that is why it is really taking a toll on my health. He is now feeling relaxed, taking vitamins and good food and getting in shape also, think of that. Me? oh forget it, i am a wreck..can't even combed my hair properly.

• Poland
13 Feb 13
If it weren't for the kids then I would tell you to drop whatever you're doing, quit the online job and stop caring at all about your husband or house and then he would eventually get the allusion. But you have children so you can't do something like this. You need to take care of them, and earn money for they sake. However you don't need to feed a guy who's doing absolutely nothing. Tell him that if he wants dinner, then he should go shopping for ingredients. And it will be served in a room cleaned by him. Otherwise only you and your kids will eat, and he can sit on his couch and watch like he does all day. That should teach him.

• United States
13 Feb 13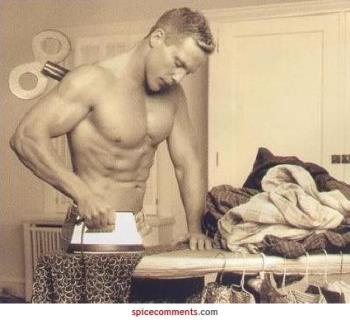 He's making excuses. Either he wants to be a kept man or he doesn't support your new online work. If he did he'd do all he could to help you.


• Legaspi, Philippines
13 Feb 13
Hi andak! I also experience the same thing some months ago because aside from the fact that I have my offline work, I am trying my luck on the online world. But as of now I was able to adjust because I drop those sites that I am not earning much and just concentrated on the sites that I know can give me enough income. By the way what kind of work online do you have as of now?

• Philippines
13 Feb 13
Hi Aries, I was lucky enough that i got a job in odesk which really pays well, and i am here in mylot to make me awake too and to vent myself out too..LOL! I also dropped sites that takes too much time to earn with so little. Actually im hitting tow birds in one stone right now.

• Israel
13 Feb 13
i also sropped sites that takes too much time to earn with so little!

• Legaspi, Philippines
13 Feb 13
Oh, so you really work online on a full time. Well, I think you should set a time for working online and some time for you home management as well. Delegate other tasks that did not need your personal attention. Divide the tasks between you and your husband. I'm sure he will understand. sometimes, men does not really know what to do inside the house. Have a nice day!

• United States
14 Feb 13
I can fully appreciate what you're saying. At one time ran sales out of my home and all could do was look around at all the little things that weren't being done anymore because was glued to my phone for 9 hours a day. I do have to agree with what others have said here though. I can understand that you were a homemaker for many years and there is a certain amount of pride a woman takes in her home; but I see what others here have said and that you shouldn't carry that load on your own. You took care of home before you worked. Your husband worked and now he's home to help with the children. So, now that you're working I don't understand why he's not helping with the house as well. Your health will continue to suffer with lack of sleep. Sleep deprivation can really wear on a person. You sleeping when the kids are in school would give you a better schedule and really there is no reason why your husband can't manage the house. I would think he would be worried about you and your lack of sleep now that you are supporting the household with your income.

• Philippines
14 Feb 13
He is somehow worried at some point but he is not really exerting extra effort which is why i am disappointed that i hate to spend my money with him, sometimes i feel like kicking him out of the house too...just kidding.

• United States
14 Feb 13
Well he can always learn. Laundry was always my biggest struggle so wrote sheet up on what how to wash clothes, what setting, detergent and what nots. I figure if I'm putting food on the table everyone else can help out with the household chores. In all honestly the kids enjoyed this because it would free up my time to spend more quality time with them on the weekends. Maybe a 'suggestion' on your part to get a fire burning under him to help out more or encourage him. Yes even though you could do it with your eyes closes, it just seems to me men need the ADDED compliments on a job well done. Not all men are like that but was married to a man that wanted me to even thank him for flushing the toilet when he was done.



• Philippines
14 Feb 13
with the current living arrangement that we have i could not afford a househelp, i may have to hire somebody to take care of the laundry, it reall piles up rather faster than i can deal with them.

• India
14 Feb 13
We are always complaining about how biased the society is towards the masculine gender. However, I would suggest you to stop taking it all upon yourself. I mean, what good would money bring if your health deteriorates in earning it and you are not able to enjoy with your family? You need to strike a conversation with your husband and define everyone's goal clearly. If he becomes a liability instead of help, then things will go out of hand.

• Philippines
14 Feb 13
Or maybe i am taking everything seriously and panicked, i am trying to give him time to adjust to this new setting maybe i am just being unforgiveful right? I am weighing things now that i get to vent out my frustration here in mylot, wow this place is really being helpful now to me.

• Philippines
14 Feb 13
I don't have a family and children yet so I couldn't really put my self in your shoes but I really admire how much you struggle to just keep the family and not let them starve. That's really an amazing act of courage and determination. I think, you just need to really balance your time with work and all what's needed to do to keep things going. But if you really want to spend more quality time with your family, you must really get another job. But if you can't yet, for the meantime, just hold on there.

• Philippines
14 Feb 13
for the moment i got no choice, but stay with my current job, it is the lack of sleep that is really taking a toll on my health.

• Philippines
14 Feb 13
Hi there ! Yes you are making the right decision ! What is wrong in fulfilling your responsibilities ? What is wrong in making ways to feed your children ? Nothing right ? Mothers are unsung heroes , working any kind of job just to be able to meet the kids' needs , forgetting even herself ! Husband must be there to support the wife or if he got no job and wife have, then no problem , exchange duties. He must take over wife's job at home without any hesitations. Wife must be able to enjoy what fathers are enjoying , no special privileges .

• Philippines
14 Feb 13
that is really not the case in my part, i feel like i have double load, instead of enjoying my off time at work, i face all the dirty clothes during weekends which makes me all the more tired, then monday i go back to work again.

• Italy
13 Feb 13
Well, I do not work from home. In fact I make the statement that I do not work at all! But just to answer your questions that conclude your discussion, I think from my point of view, you will be tired and you will have less free time, but it's worth it! You think only of the fact that I am almost 38 years I'm still unemployed. And for that I'm desperate! The work, whatever it is, is very important in life. Mainly due to the fact where you have specified that it allows you to have money and therefore to be economically better. Even though I would like to telework from home!

• United States
13 Feb 13
I'm with the other posters. Your husband quit his job. To what? Only send the kids to school and nothing else? Let him know you need some a lot more help from him than that so he's going to have to get rid of that caveman-esque thinking that cooking, laundry and other household chores is a woman's task only. If you have to, take some time aside to teach him how to do these things.

• United States
13 Feb 13
You said your husband dropped working. Cant he step in and do the house work while you work nights for the family? I mean that's the least thing that he could do for the family. It is not just you who need to clean up your act, he also needs to get his act together and start helping you out. That's what a family is about anyway, right?

• United States
13 Feb 13
I work here online but I make, time to clean up things around here,I live with my niece,which I am trying hard to move out so that, I can have my own place,and when i get my own place i will have, to change my work schedule I will, work earlier and go to bed earlier, so that I can get all my work done, during the day.