What's the scariest movie you have ever seen?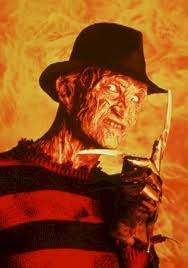 United States
February 13, 2013 7:19pm CST
I have always been obsessed with anything horror. I started watching scary movies when I was about 7. I read every scary book I could get my hands on. Today though, nothing scares me! I want to see a horror movie that makes me jump and leaves me too scared to turn the lights off! One of my all time favorite classic horror movies in A Nightmare on Elm Street. To this day it creeps me out, not to the extent that it did when I was little, but Freddy Kruger is a scary guy! What is the scariest movie you have ever seen, new or old?
6 responses

• United States
16 Feb 13
I think the most awesome movie of all time that puts Freddie, Jason, and others to shame is JIGSAW in SAW! I love that movie and the theme score to it. I can't go a Halloween without watching it. My wife and I just ordered the last few copies we needed for our entire collection 1-7. I am so happy and I can't wait until it's time to see it again.

• Poland
14 Feb 13
I like horrors too and I have the same problem as you. Nothing really seems to scare me anymore. I remember that thrill I felt as a kid when watchin some horror movie but now it's all boring and predictable. Last time I was scared a few times watching "The others" with Nicole Kidman. And the scariest movie I've ever seen? I have no idea but "Child's play" left a strong impression on me when I was a kid.

• United States
14 Feb 13
I like to watch Pet Semetary. Or anything by Stephen King. He is thr best. Followed closely by Wes Craven. They are some really gifted writers. But as far as a movie that really scares me I can't say that there is one.

• United States
14 Feb 13
Stephen King is my idol! I love his books, and some of his movies are really good. I did love Pet Semetary. I don't know if you read Stephen King but he and Steven Speilberg have gotten together and wrote the screen play for Under the Dome, one of his best books in my opinion! It will be a mini series starting in June of this year! I can't wait!


• South Africa
26 Mar 13
Noone has actually mentta proper horror movies. Yo talking about main stream commercial. Its not scary becaause its made to make money. True horror movies are made purely for fans and the love of horror. Some movies even prewarn you as some don't even have a rating because they too disgusting to be rated. Trust me you will feel fear. It will mind fk u.

• Guangzhou, China
1 Mar 13
Usually I am not very scared to watch the horrible movies. Because I know they are just movies and they are not in real. I also don't believe the ghosts. However, one day I watched a horror movie called Hostel and I felt sick to it. Since it is so terrible that some people like to torture some people just for pleasure. This is so sick. And I feel scared to it because the sick people are available in the world.