Ziggy... No facial features except his NOSE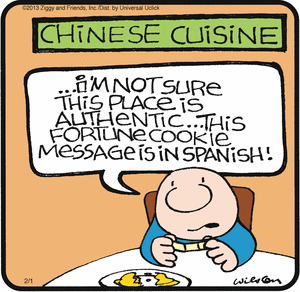 Thailand
February 15, 2013 6:03am CST
How many of you can still remember Ziggy? This is one of favorite cartoon characters when I was a kid. He is such a funny fellow. A bald and small man, Ziggy is a character created by Tom Wilson, now taken over by Tom Wilson, Jr. Ziggy is a witty whose optimism never fades in the face of adversity. Ziggy is a funny small and bald man. He has no much facial features except for his nose. He has no pants and also barefoot. Ziggy has no friends except for his dog named Sid, his parrot named Josh, his fish named Goldie and duck Wack. http://en.wikipedia.org/wiki/Ziggy_%28comic%29 http://www.boston.com/bostonglobe/obituaries/articles/2011/09/20/tom_wilson_sr_creator_of_ziggy_comic_strip_at_80/ http://www.gocomics.com/ziggy
3 responses

• India
15 Feb 13
Cool. But I never say this character.

• Thailand
16 Feb 13
what do you mean "I never say this character"?


• Thailand
15 Feb 13
phewwww... finally!!! LOL. I liked him ever since. I remembered collecting ziggy pen cap from an Orange Juice

• United States
15 Feb 13
Other than the peanuts (Charlie Brown) Ziggy was my favorite comic as a kid. Used to read Ziggy all the time in the comic section of the newspaper all the time. His funny face big nose no pants silly and cute. I did not remember who did the comic til now Tom Wilson. It is nice that his son took over and keeps it going. I would love to know where to get read or have the older Ziggy comics. Tho new ones are nice too. Yes Ziggy is one of my favorite comics and always has been always will be.

• Thailand
16 Feb 13
yup.. hehehe.... he's cute, actually some pearl cartoons (or something I forgot the name) sued Ziggy for not wearing pants. Asking him to wear pants. (funny isn't it?) but true. I think Ziggy won in the court. Yes, He's also in Peanuts group.. universal syndicated company. (I think) I will search again