DRY LEAF??? No it is a buttlerfly.. Believe me.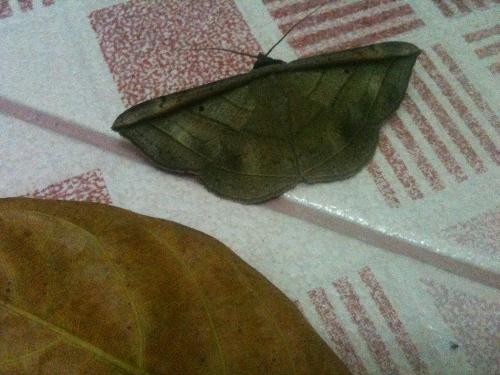 Thailand
February 16, 2013 1:07am CST
I noticed people just love butterflies, specifically women. I just don't know why? Anyway, I love butterflies too. Living in the remote area of North Thailand, mountainous and fields, I saw different kinds of bugs, animals and butterflies. I am so "unique" and "different" enthusiast. This will just be a series of different animals, bugs and whatever I found here. Have you seen a butterfly that looks like a dry leaf? [i][b] Yes these butterflies don't have any powers against the predators but mingle and appear like dried leaves.[/b][/i] There is large number of Nymphalidae butterflies which this one belongs to. They varies from medium to large size and have different shapes to. These kinds of butterflies are known as Nymphalidae, Rohana parisatis http://www.wildreach.com/butterflies/Nymphalidae.php
4 responses

• Delhi, India
16 Feb 13
Hi! I also love butterflies. It is great delight to watch colourful butterflies. When we were kids we used to catch them with our fingers, not knowing we were hurting them. Sometimes few colourful and amazing looking butterflies would come and seen on the potted planted lined in our roof garden. Now a days urbanisation is on the rise and green areas are getting reduced, therefore in big Metros, number of butterflies is dimishing.

• Thailand
16 Feb 13
this one has boring color what is interesting to it is that this one looked like a dried leaf. I put leaves beside it.. but when I took a picture of it, it is hardly recognizable.

• Delhi, India
16 Feb 13
I can understand your point. This would have made you feel disappointed.

• Thailand
16 Feb 13
yes... but it ok dpk. anyway they are rare and unique aren't them?



• Thailand
16 Feb 13
hahaha... yes, it is just small... and I amazing really. I did not hold it I just sweep it out of my house.


• Thailand
16 Feb 13
yes.. I have lots of different butterflies here Vern... interesting we don't usually see in the Philippines.