Swimming pool, lake, ocean?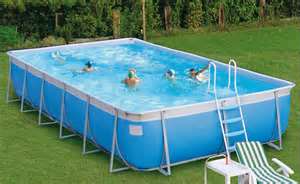 United States
February 16, 2013 5:05am CST
I'm thinking about summer a litle early but with all this snow I can't help it. I love to go swimming in the summer and although I live very close to the ocean I hate swimming in it. It's always cold and most of the time pretty nasty with seaweed which I hate. There are a couple of lakes around here but I never get a chance to go to them. My favorite would be a swimming pool. Inground or above ground I don't care I just enjoy them a lot better than anything else. I know 2 people who have above ground pools and hopefully will get invites to visit them when summer is here. Where would you rather swim? Are you anywhere near an ocean, lake or someone you know has a pool?
10 responses

• China
16 Feb 13
I like swimming very much, but not good at it. Usually I swim in pools, there is a indoor swimming pool in my college and the price is quite cheap. I do not have many chances to swim in river or ocean. But the ocean is totally different from the pool. I can stay at the side of pool if I feel tired, while in the ocean, if I feel tired, it is hard for me to find a place to rest.

• Romania
16 Feb 13

I'm thinking about summer too, I'm just tired of this cold weather. Then planning to go to beach and swim, I just love to be in the water and swimming even if I can't swim if the water is already above me

, I'm scared. I'm near a lake but it cannot be swimmed anymore, it's too dangerous so we travel 3 hours to get to my husband's relatives because they are nearer to beach and stay there for a week..dreaming dreaming



• United Kingdom
6 Mar 13
It's a double edged sword for me, because I feel so self conscious I don't like going to a swimming pool, and yet in the ocean you cannot predict the sea level bottom and how deep the water is, with the swimming pool it clearly tells you when you are going into deeper water, but not in the ocean. And besides in a swimming pool if you get into difficulty there is always someone there, not so when in the ocean or in a lake. I find I get cramp a lot when I swim and I also find swimming so boring, give me the treadmill, bike and cross trainer any day.

• United Kingdom
18 Feb 13
I live just three to four miles from the ocean. There are three lovely looking beaches: a sand bay that is rural, a town beach and a village beach. However swimming isn't possible due to sinking mud and a dangerous tide. I go swimming at my local sports center. None of my friends have a swimming pool. I would rather swim at a tropical beach in a hot country. On a trip to a place nearer the Equator is blissful. I love lazing in a warm jacuzzi. It is more pleasant than going in a cold swimming pool.

• United States
17 Feb 13
My favorite kind of body of water is one that don't have alligators or crocodiles in it! When we lived in AR, there were very few places you could go to that didn't have snapping turtles or alligators in them. In AZ, I lived right by the Colorado River. :D I loved being in the river. Here in TX, we've got the Guld of Mexico, plus a several other bodies of water to get into. I love them all. Yes, we have above ground pool as well. After a hard day at work, it's so relaxing to float in the water. :)

• United States
16 Feb 13
I live about 1200 miles from the ocean. The closest ocean to me is in Florida. Tho i loved in Florida for 4 yrs and loved the ocean and wanted to go very day. I did have a pool as well at my house and i did swim in it but i liked the ocean much better. The ocean is bluer colder i love the waves etc. I can'y help it i would live by the ocean if i could afford it. I'm a beach lover and love the warm sand cold ocean sun everything about it. Now i do like swimming pools and lakes but the ocean is best and what i like best and my favorite.

• United States
16 Feb 13
I never could swim the normal way, haha. I can swim the side-stroke or underwater, but not regular swimming like most people do. I love the water so I do go in, which is either a pool or a lake. I live about 20 minutes away from Lake Erie, which I will play around in if I'm there, but mostly the camping area's have a regular pool, or a lake of some sorts and that's where I cool myself off.

• United States
16 Feb 13
Swim? Why would I want to do that?

I may splash around in a swimming pool if the opportunity presents itself, but I don't actually
swim
.

• India
16 Feb 13
well I prefer to swim in the pool. I am afraid of swimming in lakes and ocean so for me I will vote for swimming pool.