Amazing love

Philippines
February 16, 2013 5:29am CST
I remember this post last year about my doggie http://www.mylot.com/w/discussions/2630469.aspx b] And this Valentines (a day after Vday), this is what happened...[/b] We've been seeing pigeons in the balcony everyday. But they always leave and never stayed there for long time. But just this week there were two pigeon lovers that's constantly hanging out there. There's a spare small carpet there we don't use and that is where I notice the other pigeon was sitting the other day. It was that Valentines night when one of my roommies notice one pigeon don't mind even when she's there and hanging out some clothes in the balcony. In the morning we saw the pigeon laid an egg. The male pigeon was flying back and forth - coming every after 5 minutes bringing some leaves, small branches and even popsicle sticks to build a nest for her. Today, the female pigeon laid another egg. But the male pigeon is nowhere in sight now. I wonder where is the other pigeon. I've put the photo coz I was amazed how the male pigeon took charge building the nest. Amazing love!
2 responses

• Philippines
16 Feb 13
so touching. i like stories like that.animals, not just about love, but everything about them. i remember the movie , we bought a zoo, i watched it a million times already. just today, i watched war horse.. i cried... so touching.. but seeing those two pigeon take care of each other is different, you're lucky..

• Philippines
16 Feb 13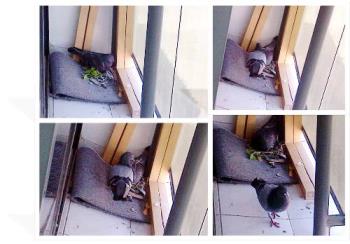 yeah that's why we are trying to look after them too... there were other pigeons that's trying to go in her nest and she's making some sounds. Seems she doesn't like any other pigeon near the eggs. let me put the photo here as I forgot to put it in the discussion.

• United States
18 Feb 13
This is totally cool. What a sire to watch for sure. Wonder if the other bird will be back?

• Philippines
18 Feb 13
unfortunately we haven't seen the other one until now...