Mum's Light Due To Be Replaced By My Brass One!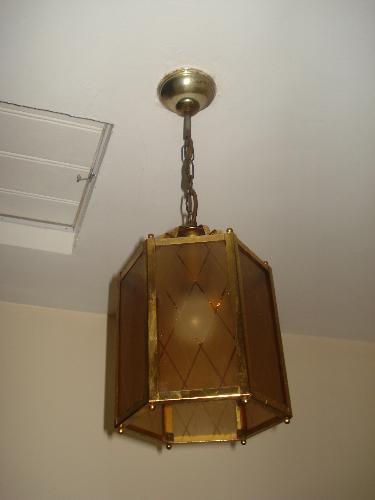 Carlisle, England
February 18, 2013 8:55am CST
I'm really pleased that Mum decided to take our old brass 3-arm light fitting away with her. I did stress that I wouldn't be upset if she changed her mind and decided not to bother with it..but she has and I'm chuffed.

Anyway, I thought I'd show you the photograph of Mum's old light fitting on the landing that is due to be replaced by our brass one. The area the light would go is fine and - once an electrician has come to fix it - I reckon it will look marvellous in its new home. I shall take another photograph of it - hopefully in April, so it should be up by then! It's great to re-use items as I didn't fancy it being scrapped. It would be such a shame for it not to be enjoyed in another home.
4 responses

• China
19 Feb 13
It was really something to satisfy both sides.Your Mum's old light fitting looks a bit out of date and your old brass 3-arm light fitting goes to the place where it belongs.

• Carlisle, England
19 Feb 13
Yes, Mum's is looking a bit sad isn't it? It's been there a LONG time and Mum has been meaning to replace it for some time. I shall take a photo of it next time I'm there.

• China
22 Feb 13
I can't wait to see the photo.I reckon you was surely relieved that your brass 3-arm light fitting went to your Mum's rather than being sold for scrap.

• Carlisle, England
3 Mar 13
I am too. It was bad enough our old Honda being sold for scrap by the in-laws. It still makes me sad thinking about it.



• Philippines
19 Feb 13
My mom and I would often do the same. When we have things in our houses which we think we would like replaced, we give it to one another and have it placed in our own homes. There is no other way than that, I guess.

• Carlisle, England
19 Feb 13
It would've been great to sell the light on ebay but I got nowhere, unfortunately, unless I wanted to sell it for peanuts, something I didn't want to do. I would rather give it away to my Mum for nothing which is what I've ended up doing, of course.

• Philippines
20 Feb 13
Seldom do I really end up in n selling the stuff I wanted to get rid of. Most of the time I just give them away to friends or family.

• United Kingdom
2 Mar 13
I am glad it's found a good home! I have a train set that I had as a child, it's well looked after, and packed away carefully, trouble is, it's too good to give away, so I asked my cousin if she would like it for her two little boys, the oldest is only 5, so still a bit young, but I have told her she is welcome to it. I have also given her a keyboard for the eldest to play on, if they get some use out of it. I know my cousin struggles financially, so it's my little way of helping out. I also gave her the children my lego which I loved as a child. I hope they get the same fun out of it as I did.

• Carlisle, England
3 Mar 13
I could only build towers with mine. Hopeless, I was with Lego.



• Carlisle, England
19 Feb 13
Mum loved my sparkly chandelier and the fact I saved a lot of money on it as well. I think she's finally realising what I'm trying to achieve in here..with little steps.