puppy genetics..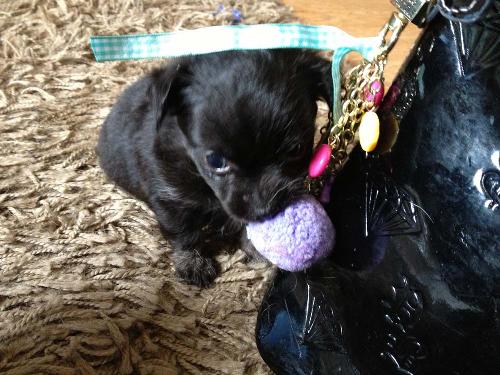 February 19, 2013 8:33am CST
I made a post about the fact that shortly before Christmas, my lovely little Chihuahua Rosie had puppies. But something really strange happened. Rosie and Elvis, my dogs that mated, are both tan, short haired Chihuahuas. Rosie's mum, is a short haired Chihuahua who is black and tan. The same with her dad. Elvis' mum is a short haired Chihuahua who is black and tan. However his dad is a white long haired Chihuahua. Not one of the puppies was tan all over, despite their parents being that colour.. They were all a mixture of black, tan, and white (also making the grey) like the grandparents. Which is ok, I know that can happen, I got my eye colour from my grand-dad.. but the weird part is, ONE puppy.. was long haired! How crazy is that? The mum and dad are short haired, and 3 quarters of the grand parents are short haired lol! its amazing the way that happened! What do you think of this?
4 responses

• United States
19 Feb 13
Wow that's too weird. It sounds like you got quite the variety of combinations. I don't know much about biology or genetics but I'm sure the fur and coloring has something to do with recessive and dominant genes that both the parents have. Maybe if you take them to a vet they'd be able to explain why the puppies are so different.

•
20 Feb 13
I looked it up.. it's actually fascinating lol!! (not a referral) http://www.prouxchihuahuas.com/id61.html

• United States
21 Feb 13
I figured it had something to do with dominant and recessive genes. It's so interesting how that works out. What I'd really like to know is how the colors come about...I guess that part is just random?


•
20 Feb 13
that is strange!! my partners sister has a tortie cat, who mated with a black/tabby cat.. yet all the kittens turned out ginger and white, not one inch of black lol! apparently a female dog and cat can both mate with 2 dogs or 2 cats, and with the one pregnancy have a mixture. so for example a chihuahua breeds with a chihuahua and a jack russell, she can have both sets of pups.. but i don't really believe this lol.


•
20 Feb 13
wow.. lol i actually wondered what that type of gene was called. thank you, I'm currently reading it. it's fascinating!

• Philippines
19 Feb 13
So cute. I love dogs. I'm missing my Gary now. He's the only one i got left. I remembered something about a couple who had a black baby and the husband divorced the wife thinking she cheated on him. As it turned out, the baby took after the father's genes. It was traced that it was the husband with a black blood in him. Genetics can be funny sometimes.

•
20 Feb 13
I read that!!! I wonder if it was actually true! Aww wee Gary is lovely. What happened to the pup??