twilight, 50 shades of grey, hunger games published in filipino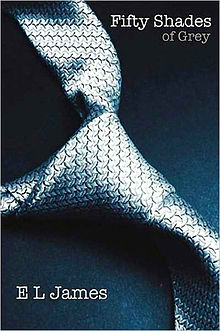 Philippines
February 21, 2013 11:44pm CST
i went to pasig city last week and a small stall got my attention. there's a paper posted on the glass door which says they are selling the filipino version of the controversial novel 50 shades of grey. i wasn't ale to check the actual copy of the novel but i heard that there's also twilight and hunger games filipino version ion the market. i'm not against these filipino versions. i'm just thinking there may be things that would be "lost in translation".
8 responses

• Philippines
22 Feb 13
Hi there!!! This sure seemed interesting and i would like to be able to know first who translated this actually see if it is an official and approved translated version... otherwise as you have said so yourself there could be some issues or items that could be lost. It happens all the time right?

• Philippines
23 Feb 13
i think it's an approved translation. the precious hearts romances got the rights to adapt them to filipino.

• Calgary, Alberta
24 Feb 13
Once 50 shades of grey gets tagalized, please try to read it out loud in front of your moms

and see her reaction. There is a video on youtube were a girl make her grandma read this out loud.

• Philippines
24 Feb 13
Link? I need some laughter here.


• Philippines
23 Feb 13
hi iluvusabado, Missed the chance to meet you I am from Pasig City

Yeah when I went to national book store I saw this books and I think it's not good well for my own opinion happy mylotting


• Philippines
23 Feb 13
i saw the store near la immaculada school near the city hall of pasig.` WERE THE BOOKS POORLY WRITTEN?

• Philippines
24 Feb 13
yeah!the old NBS I am a LICSIAN Well I think it's not poorly written it's just there is no charm when you read the Tagalog Version

• Philippines
25 Feb 13
my cousin is a freshman high school student in lcis and i had to fetch him that day because her aunt went to the province. it's not nbs near the church. it's actually just a small stall located near the male exit of students in lcis going to the city hall.


• Philippines
22 Feb 13
There will certainly be things that will be lost int translation. I have seen a translation of twilight and it was horrendous. it was a literal translation and the alternator probably just translate it word by word and didn't bother with the context. besides, I think there will be sum words which you cannot replace in a language. English is very flexible in that, I don't how the Filipino version will be. I haven't read it really because it annoys the heck out of me. I never liked those books anyway.

• Philippines
23 Feb 13
you know what i also hate literal translation. that's why i prefer watching english movies in english than tagalized.

• Calgary, Alberta
25 Feb 13
if they dont want the translation to be awful,it must not be literal. I am sure it can be pulled off with the right hands. Precious hearts have a good reputation, so I guess they wont mess up. I have some of my works published there before.... (I wont tell you my pseudonym.....

) Their books actually have lots of lovescenes, so I think they might be able to translate 50 shades of weirdporn.


• Philippines
22 Feb 13
I am not a fan of these books. And most especially reading Filipino versions of it or even the Filipino pocketbooks which has increased its popularity for the past several years.

• Philippines
23 Feb 13
there was a time when i read a couple of filipino pocketbooks becasue i really don't have anything to do.

• Philippines
24 Feb 13
I see... I guess not all pocketbook readers are into those Filipino pocketbooks.

• Philippines
25 Feb 13
well, i have nothing against filipino romance stories. but i'm just not into them. i'm more of into the fictional genre. i also like those that would inspire me like life of pi and tuesdays with morrie.

• Australia
26 Feb 13
I Am an avid reader and I was giving 50 shades of grey as a Christmas present I read the 3 books and I would say interesting? not really! at my age I Am not surprised at any thing!but I must say there is not story line in a way if you don't read the book you are not missing any thing really[except a cool shower in between chapters]I just wonder how it would sound translated into Spanish! or any other language for that matter!

• Philippines
27 Feb 13
i would love to here it i french. they say the french language is very romantic and sweet.

• Philippines
26 Feb 13
Wow! Thats cool! I hope they do not translate word by word because that would be funny. I am worried too that it would have effect on the story by translating it. I haven't red the fifty shades of grey but I really love to read it.. I hope I have a friend who will lend it to me..

• Philippines
27 Feb 13
there are times when the translated version loses the hold on the plot like the original version. well, i haven't read it yet. i'm curious how it would be like.


• Philippines
23 Feb 13
well, i've never been a fan of the series i mentioned here so i won't really be affected. but i welcome this idea. maybe this will motivate the younger kids to read.

• Philippines
22 Feb 13
Really? I am excited and curious to have one..I am excited how their translation goes..

• Philippines
23 Feb 13
i'm also curious but nervous at the same time. i'm wondering how hey would translate everything to filipino.