I had to sell my treadmill....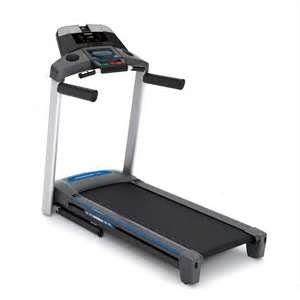 United States
February 26, 2013 7:06am CST
I was totally broke and had no money to hold me until the end of the month so I decided to sell my treadmill which I seldom used anyway. It wasn't an expensive one I think it listed for around $100. I put an ad on cl selling it for $35 enough to hold me over. This was a nightmare experience! For starters when she got here all she had was $30 and I couldn't turn it down because I needed the money. She shows up in a fairly small car that was so full of junk from front seat to back it looked like she lived in it. Ok, so there is snow on the ground still and I was hoping she would show up with another person to help her get it from my apartment to her car...not! I was still in my pj's and bathrobe and she asked me to help get it to her car...ok...I did...right through the snow! I had it folded up when she got here and showed her how to put it back upright. It's basically a cheap treadmill so very easy to fold and unfold. There is one knob to turn to get it up and running. When I woke up yesterday I found a very nasty msg on my telephone saying she couldn't figure out how to put it together. I called and left her a message telling her again what to do. Then I get a very nasty email saying I wasn't a nice person selling a "poor" person something they couldn't use. I emailed her back and again told her how to do it and saying I would never do that to anyone and that if she wanted to talk poor could she live on less than $900 a month (talk about being poor) and that I sold it because I needed money for food. I get a call later yesterday apologizing for the call and the email....she figured it out! Oh duhhhh!!! Have you ever received nasty calls or emails that totally weren't called for? How did you handle it?
5 responses

• Canada
26 Feb 13
wow, that was totally uncalled for. maybe you should have told her to forget about it and to bring back the treadmill. i know what you mean about having no money though. hubby gets paid every week and there were times when we only had under $10 in our account. hope everything works out for you with the treadmill thing though. as for nasty calls or emails, not for me personally but my co-worker (whom i work pretty closely with) and her hubby announced to a large group of friends that they were pregnant and one girl came up to her and got all angry and basically said 'how could you? you know that hubby and i are trying to have a baby' and was very nasty to my co-worker. talk about rude.

• United States
26 Feb 13
Wow that was rude of that co worker! Who the heck is she? lol....After I got the phone call I didn't return it thinking she was smart enough to figure it out since I told her and SHOWED her how to turn the one knob with the arrow on it and just pull it up. I guess she's dumber than she looked..lol...I'm so bad!

• United States
26 Feb 13
Oh my, you certainly held your temper, lol!

No, I never received any calls like that from anyone or emails...none that I can remember anyways and I'm sure I would. I guess next time you sell something big on Craigslist, make sure you tell them they will need help or a truck. I mean, she's picking up a treadmill and expects you to load it into her small car, plus she's paying you less than what you want. I would have been fuming about all of it and told her to go get more money, a bigger car, and some help. I'm not as nice as you.

• Mexico
26 Feb 13
wow how rude of this woman to do all of this as maybe you should have went home with her to set it up for her too but then again you would have had to sit on the hood or roof of the car as you said the inside was full of trash and if her car was that nasty I would cringe to even see the inside of her place of living we it is done and it gone and good bye to her

• United States
26 Feb 13
I can just imagine what her home looks like. We had to get a trash bag to take out trash in the back seat so the treadmill would fit in. I'm surprised she doesn't have bugs in that car! I've known people who just toss things in their car but they throw it out before it gets too bad. I'm just happy to be done with her.


• United Kingdom
26 Feb 13
What a piece of work! You bent over backwards to be accommodating and helpful and she throws it back in your face and you get verbal abuse for your trouble, all for $30! Anyone would think she had given you $30000 the way she was carrying on. There is no excuse for rudeness and nastiness, especially when she could have used her own 'brain' that if she had one in the first place. The last thing you wanted was added hassle! People make me angry at times my friend. Part of me hopes that she has an accident when using the treadmill but then she'd only blame you and that's not Christian is it!