i want to bring back the past

Philippines
February 26, 2013 7:42am CST
And live in the past once again. There's this thought in my mind that i wish I'm back on my younger age and live life more peacefully. And do this thing i have not done before. Maybe i I'm just getting sentimental again and just miss some few things in the past. I don't know why we humans feel this way that we wish we can bring the past like we can or if that is possible at all. We can't bring the past and we should live in the present. So I wanted to see the things i can do for now for my future.
9 responses

• South Africa
15 Apr 13
You and a host of others. Everyone wants a second chance to get it right and try again; we all want second chances. Alas. we are not going to get it; not yet and not until we have learned something. I believe staunchly that along with living right we must live positively and try and squeeze everything out of life that we can. We should have no regrets and just enjoy the life God has given us. We must fix our mistakes as we are doing them. It is too late to promise, beg, and cry when we have come to the end.

• Philippines
27 Feb 13
Great. I think everybody wants to go back to the past to redo or undo what's already done. BUT really, you're NOT what you are NOW if it weren't because of your past unless youre unhappy and / dissatisfied that you wanted to alter things that didn't go your way. It'd be cool if we can go back and forth to the past but it's i think violation of nature, life or bible. BUT if I were to choose where would I like to visit ,it would be the FUTURE because I still have time to change it, MAYBE? because what you do NOW is your future , what you are NOW is what you did in the past. What you see yourself in the future,WORK FOR IT now. you see it's never to late. God BLEss :)


• Canada
27 Feb 13
When I was younger and foolish, I wished the same thing. (Or was I simply being regretful about the couldas & shouldas?) Have grown up out of that phase, and like you, am focused on living for the now & the future. Even if time travel were made possible, I wouldn't jump on the opportunity, and trade some of the life lessons I'd learned.

• Philippines
27 Feb 13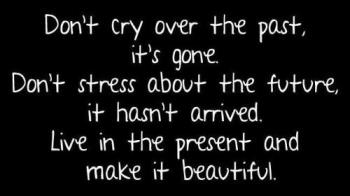 Always live in the present, be not a prisoner of the past but let it be a reminder that you have surpassed every challenge, and that you are still living today because of God's amazing grace.

There were times that I wanted to relive my past. Those were the times when I lose a loved one and could never spend time with them any longer. But as I get to know Jesus more, I learn to love the present with the hope that someday I will be with Him in His Kingdom in heaven.

I like this quote. "Don't cry over the past, it's gone. Don't stress about the future, it hasn't arrived. Live in the present and make it beautiful."

• United States
27 Feb 13
Oh to go back in time with the knowledge I have now!!!! I think it's all wishful thinking that all of us do at one point or another. Either it being past regret or just wishing for a more peaceful setting, think we need to live in the now. Here today. We can't go back and change things so I'm not going to stress about it anymore. I do miss the carefree days of being a child. We had it so easy then!!

• India
27 Feb 13
Past is past and we have to live in present. Do what you could not do in past. Enjoy your life full in present. Hope the best for future. Happy my lotting.

• Malaysia
27 Feb 13
I too at times wished I can go back 26 years ago and change my decisions. Further my studies and get a professional degree and climb the career ladder. However, as what you said no point don at the past. Learn from the past and charter our course today for a better tomorrow. I wish all of us a great future ahead. So we should make the right decisions today and not live to regret later!


• India
26 Feb 13
Thanks a ton for sharing this discussion. Well yes u are absolutely right, we all would love to live in our past and recollect all those special moments that has happened with us during those times so that we could get back that smile on our faces. i think it is no bad to think this way and i am glad that u want to dwell in your past and live it. What say?