favorite disney sound track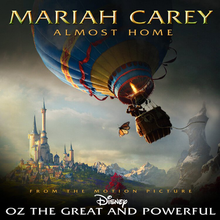 Philippines
February 26, 2013 10:59pm CST
disney movies are really popular with their great soundtrack. well, i'm not just talking about the animated films. this march 2013, disney will be showing "Oz: the Great & Powerful". and accompanied with the movie is a great song "Almost Home" sung by Mariah Carey. the song is really great. you can listen here. http://goo.gl/5t7Yk i wonder what are your favorite disney classics?
3 responses

• United States
27 Feb 13
I like A Whole New World by Peabo Bryson from Aladdin,Elton John songs from the Lion King, and Phil Collins songs from disney movies.

• Penrith, Australia
27 Feb 13
I can remember that one popular intro to "circle of life" from the lion king. Its awesome!!


• Philippines
28 Feb 13
i love both songs especially circle of life.

• Penrith, Australia
6 Mar 13
Can you do the intro to the circle of life? It is so cool lol


• Penrith, Australia
27 Feb 13
That's cool! When you say that title though, i can only think about wizard if oz but thats probably it too.

I've heard that toy story 4 is in the making too, it is confirmed. I am so excited. Anyway, my favorite Disney soundtrack is you'll be in my heart from Tarzan.


• Philippines
28 Feb 13
i'm excited about toy story 4. i wish it could live up to the last movie. i haven't heard of your favorite song but i'll check it out on youtube.

• Penrith, Australia
6 Mar 13
I am excited too, it must be about a new kid. I dont think they'll make a lot of toy story's toys get worn out too.


• Philippines
7 Mar 13
well i don't think the writers of the past movies would try to ruin the legacy of the last movies. i wish them all the best.

• Philippines
1 Apr 13
Due to sentimentality, it will have to be Beauty and the Beast and The Little Mermaid, since they are favorites of mine and my best friend since they came out when we were youger. We memorized the lyrics and I think I can still remember most of them. My sister likes Lion King probably because it came out when she was that age. I like Lion King and the Doctor knows the lyrics too.

• Philippines
2 Apr 13
i think the song in the little mermaid is a favorite especially for girls who grew up in that era.