Photo Showing New Location Of Media Unit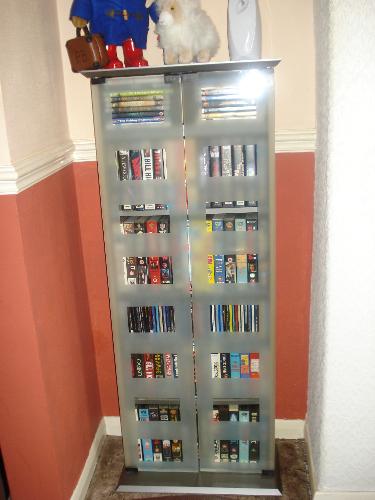 Carlisle, England
March 4, 2013 7:20am CST
There is one lady in particular I have taken these photographs for (you know who you are my fellow cat lover) but, if anyone else is interested, they're for you as well.

I cannot post the computer one (in place of where the media unit once stood) as it would have to be further on in the discussion..but anyway. The media unit is now in one of the alcoves to the left of the fireplace. I think it looks better there as it's set back and not 'in yer face.' If you notice, some of the video tapes are huge and they're not Betamax either. Apparently, (according to John) they're ex-video shop tapes and they tended to be bigger for display purposes. Bloody annoying in the unit though because they weigh a ton! Eventually they will be stored in plastic boxes so there will be more room for 21st Century DVDs!

Over the weekend we bought a couple of plastic storage boxes with lids from The Range so at least his blank tapes (ones with past World Cups on, Wrestling, etc) are now stored. They were getting a bit dusty out in the open, stacked up but there again, John hasn't bothered cleaning them before putting them in the boxes. I wasn't gonna argue though as that particular corner in the bedroom was bugging me big-time. I may post a pic of that sometime but I am ashamed of the front bedroom as it's such a mish-mash of furniture and..well, crap, to be honest!

4 responses


• Carlisle, England
5 Mar 13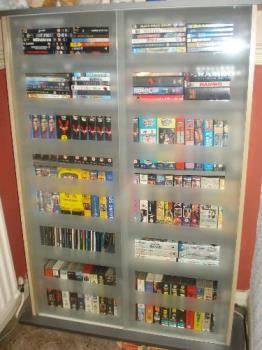 Thank you so much. I've got a bigger one in the alcove next to me. Another pic alert coming up!


• Carlisle, England
6 Mar 13
Oh, you really, REALLY must!



• United Kingdom
4 Mar 13
Now that is one shop I do miss, that's the Range, we don't have one anywhere near us, sadly, I remember always going to the Range, they had a big one in Harlow where I used to live, they had everything there, you could almost do all your shopping in there and it was always reasonably priced, although incidentally that was the same place that I bought my computer desk from PMSL. I keep telling my mum to replace her videos, any ones she wants I will gladly buy her the dvd, she still has a video player! But it doesn't work properly. The dvds would look so much better in the cabinet where the videos are, but it's her room and who am I to dictate. Don't laugh but I used to have boxes full of taped episodes of Prisoner Cell Block H. Boy did I love that. I saw dvds of Prisoner in HMV the other day, needless to say they cost a fortune and all those episodes too PMSL.

• Carlisle, England
5 Mar 13
It wouldn't surprise me if John has tapes of Prisoner Cell Block H somewhere. Do you know something, I've NEVER seen it! Can you imagine? It would be like watching a whole series from scratch! In Carlisle we are very lucky to have The Range. Blackpool does not have a store either but I do know it's expanding all the time, so you never know. It's unlikely to go where the old Comet store was near Mum's as it's next door to my pet-hate shop B&Q!

B&Q here is just down the road but we nearly always end up at The Range, even though John has to drive there. It's a joy to walk round and it never stresses me out, ever. Plus the fact they DON'T have any of those stupid self-service tills. Only REAL people that have worked there for quite some time do the serving, thank you very much!!


• Carlisle, England
5 Mar 13
The tapes are John's, therefore if he did have H it wouldn't be anything to do with me anyway, seeing as I've only known him since 2003.


• China
5 Mar 13
The alcove is just the place where the Media unit belongs.It doesn't occupy any space and makes your room look neat and tidy.


• China
6 Mar 13
I know it is an old-fashioned house and has seen its best days.However you have made the best use of it and decorated it so well that nobody would believe it was about 100 year old..

• St. Catharines, Ontario
4 Mar 13
Good spot for it. If you get really ambitious, though, you could build shelves in that spot and have even more storage...

• Carlisle, England
4 Mar 13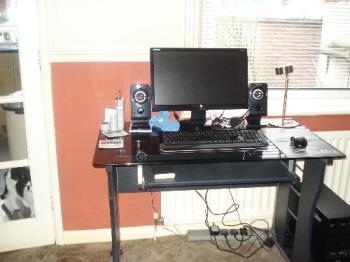 Mum suggested that but I've already got rid of shelves on the other side (further up nearer the kitchen) as they were major dust collectors. This is why we got the media units (I have a bigger one too) in the first place. Anything to make my life easier lol. Here is the photo of where the media unit used to be (to the left) which meant that my new computer desk was able to take up that space. Fortunately, when Mum visits she can sit beside me more comfortably than she did before, so that's an added bonus too. I love being able to put my feet under the desk. I couldn't do that with the wooden one.

By the way, I didn't realise Flojo was on the photograph until I downloaded it onto my computer!