i love chocolate

March 6, 2013 8:09pm CST
i really love chocolate when i'm tired,sad and stress i ate chocolate then i feel good chocolate cake chocolate ice cream and chocolate drinks anything just chocolate flavor.then one time my cousin gave a lot of chocolate then i ate it,after a while my teeth are aching and it is very painful,i don't know what to do,so i take medicines for my tooth but it doesn't work i just want to pull out my tooth because i cannot handle the pain,then i cry and cry until i fell as sleep..then when i walked up i promise to my self i will just eat chocolate more often..
11 responses

• United States
7 Mar 13
I love anything chocolate too. I eat chocolate covered nits raisins strawberries chocolate cookies chocolate pudding chocolate cake chocolate milk. I'm a chocoholic chocolate lover. Got my hubby some chocolates for valentine's Day one year and he said hes not much of a chocolate eater so i ate most of them all by myself. One time i ate so much chocolate it made me have to go to the bathroom a lot and upset my stomach so i don't eat as much anymore but i do still eat chocolate. I even like chocolate mint and chocolate with peanut butter or cherry or caramel filling.

• Cebu, Philippines
7 Mar 13
Chocolates contains caffeine and it is also very acidic. caffeine is a bowel stimulant that is what happen to you. And also acidic food can increase stomach acid which can result to heart burn acid re flux of inflammation of an existing stomach ulcer. So Redredrose slow down in eating chocolates.:)

• United States
19 Mar 13
Giex i still eat chocolate but not as much as i used to anymore.I think if it makes me that sick or uncomfortable after eating it i just will eat in small portions or moderation. Thanks so much for the info and advice.

• Philippines
7 Mar 13
chocolates are good for the health, but in moderation of course... if you're down chocolates can help u uplift your mood or if you're feeling sick. take dark chocolate it can help you somehow make you feel good

• Philippines
7 Mar 13
I am a certified chocolate lover, too!

But I try to control my intake of sweets, coz I get fat easily. But during the Christmas season, it is quite hard to resist the temptation. Lots of relatives coming home from abroad will bring me chocolates. And I literally gain about 2-3 pounds after the holidays!

• Philippines
7 Mar 13
same here, i really really like chocolate it is one of my stress reliever and feel good every time i eat sweet foods like chocolate. this is one of my source of happiness chocolate. :)




• United States
7 Mar 13

I think that a lot of us get those chocolate cravings sometimes. It is so delicious and comforting. Chocolate comes to us in so many forms and it can be hard to pass up. While chocolate can taste so good to us it is wise to remember not to go overboard with chocolate. It takes a lot of the joy from the chocolate pleasure.

• India
7 Mar 13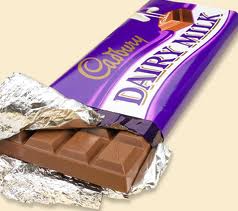 I also like it very much and it is very difficult to find people who dont like it.After eating chocolate you have to practice the habit of washing the mouth.It is a good practice to brush the teeth twice in a day.

• Philippines
7 Mar 13
Chocolates are good in a certain amount just not too much. It can benefit to your health, but when taken too much can cause problems. Like in your case you had a toothache. It's best too if you will eat some sweets after that brush your teeth, that way cavities can be prevented from forming.